Women's soccer team kicks off 7-game spring season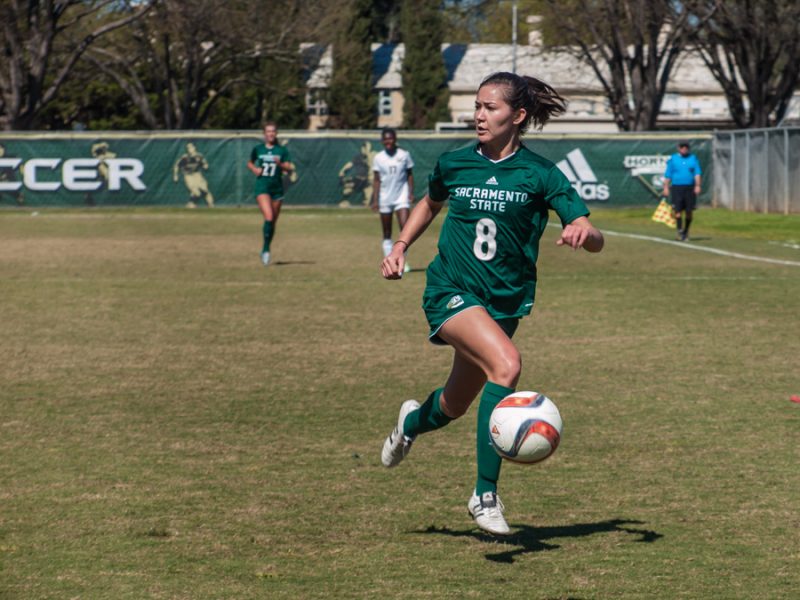 After losing 13 seniors to graduation, the Sacramento State women's soccer team will look to reshape its roster during the seven-game spring scrimmage season.
The Hornets, which finished 2016 with a trip to the Big Sky Tournament semifinals after going 8-7-4, played their first scrimmage against Cal to a 0-0 draw on March 12.
Sac State coach Randy Dedini, who received his third Big Sky Conference Coach of the Year award last season, said he was pleased with the team's performance after only being able to field 13 players against the Golden Bears.
"Just about every year, Cal is a top-20 team in the country and I thought that our girls stuck to the game plan in condensing the field and tried to create some counterattacks," Dedini said. "We didn't have many subs and our girls were tired, but they were strong mentally and kept fighting and battling, so I am really proud of them."
The Hornets will play five more games in April — one of which will be at Hornet Field. These scrimmages will help the team transition into 2017 without last year's leading scorer Jennifer Lum.
"These are important minutes for some of the people who haven't played much," Dedini said. "It is their opportunity to win some spots before some (of) next year's class comes in so it's very important to see what we have now that we've lost 13 players and start building on that. I think that the Cal game was a good start."
In its second spring season game, Sac State lost to the Sacramento Storm —  a semi-professional team — by the score of 2-1.
"I thought for about 60-70 minutes we played a really strong game, stuck to our good game plan (and) we had some good chances to score and didn't put the ball in the back of the net," Dedini said. "And that's a good team — they're a professional team, they pass the ball really well and so we've got to do a little bit better job keeping the ball so we don't have to chase so much and defend so much."
While Sac State will be without five all-conference players next season, the team brings back sophomore Caitlin Prothe (midfielder) who earned an all-Big Sky honorable mention in 2016, and last year's co-Big Sky Top Newcomer Mikayla Reed (freshman midfielder).
Also returning in 2017 are juniors Chelsea Arnold (defender) and Kayla Collins (forward) — who have both earned Big Sky honors in past seasons.
"Right now, we're just trying to fill positions and see who is best in what position and see who works best together," Collins said. "Especially with (the Cal game) everyone worked so well together and worked really hard. We're really looking forward to the fall because we're going to get more players and we're going to have bigger breaks so that people can work harder for longer, but right now it is all about effort."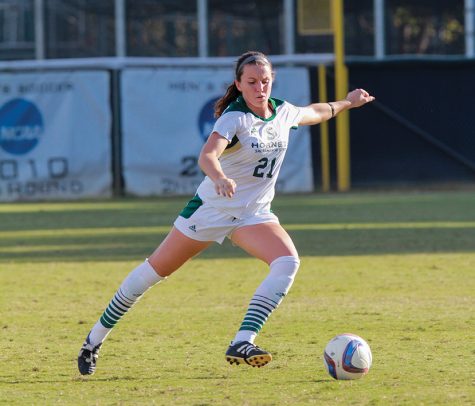 Sac State will get a chance to develop its offense and see what the defensive side of the ball will look like without 2016 Big Sky Defensive MVP Rachel Leonard.
"I thought our defense (in the Cal game) was pretty solid," Collins said. "That was something that we were worried about because we lost our two center defenders. Offensively, it is harder to play with less players because you have to keep making runs up and down the field — hopefully once we have more people and we get more fit as we are playing more games in the spring, we will see more offensive power."
With 13 seniors gone, Sac State will continue to build team chemistry, which junior goalkeeper Meghan Glisson said is improving.
"It's a lot different but we're getting more together," she said. "During practices they're going slower, but we're getting the chemistry back together. We have three new girls who came in this spring that are really making a difference and our chemistry's getting there."
Sac State — which ended its regular season by tying the longest winning streak (six) in program history before falling 3-2 to Northern Arizona in the Big Sky semifinals on Nov. 4 — will continue its scrimmage season against Chico State Sunday at the University Soccer Stadium in Chico.
Additional reporting by Will Moon