Women's tennis team projected to finish first in Big Sky
With a new head coach and three true freshmen on its 10-player roster, the Sacramento State women's tennis team is still projected to maintain its dominant reputation.
The Hornets, now coached by former team captain (2008-2012) and star Clarisse Baca, were selected to finish first in the Big Sky Conference in the 2017 Big Sky women's tennis preseason poll this January.
The program amassed 113 total points in the poll with five first-place votes from league coaches. Northern Arizona landed just behind Sac State with 111 total points and five first-place votes, while Idaho placed third in the poll (106 points) with two first-place nods.
"We've always had a pretty solid team — during the season we're beating most of the teams in the conference so I think it's pretty normal for the girls to be chosen number one," senior Alina Soltanici said. "We have some new girls on the team that are very good so we're trying to combine their power, their ambition and their desire to help with (the) experience of the juniors and seniors."
Sac State has won either regular season or conference tournament titles for the last 15 straight seasons. This spring, the team will look to win the conference tournament and return to the NCAA Tournament for the first time since the 2013-14 season.
The Hornets' 2013-14 season marked the end of a winning era under former coach Dima Hrynashka in which the program clinched 13 consecutive conference titles, beginning in 2002.
After finishing 10-1 in conference play last season, Sac State boasts five returning starters this year, including Soltanici, a three-time all-Big Sky selection who played in the No. 1 singles spot exclusively for the past two seasons.
The Hornets enter this season at a disadvantage with two of its strongest veteran performers, Soltanici and senior Deimante Bulatovaite, sidelined with injuries. According to Baca, both players will foreseeably sit out for roughly another month.
"We're practicing and just waiting for the moment when we're able to play again," Soltanici said. "We're obviously cheering for the girls and we really want them to win."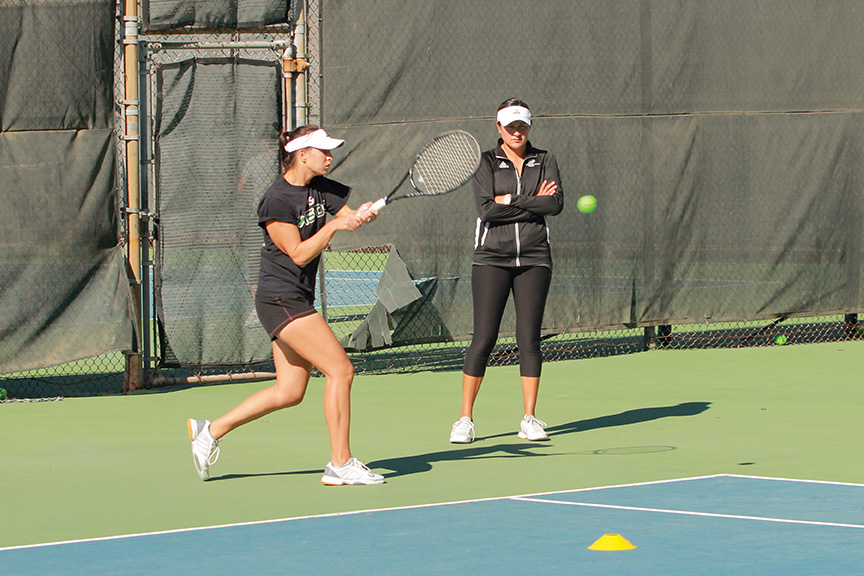 Despite the Hornets' early setbacks, Baca expects her players to compete and win matches.
"It definitely hurt us but it's not an excuse for us to say that we lost because we don't have our two best players," Baca said after Sunday's loss to Fresno State. "We are all a team and we need to step it up."
Junior Ana Loaiza Esquivias has escalated her game in Soltanici's absence, and played No. 1 for the first time in her collegiate career against the University of San Francisco on Jan. 20.
Last season, Esquivias had a perfect record in conference play (11-0) and a 16-6 overall record in singles competition. As of press time, she has a 2-0 record in No. 1 singles play this spring.
"She's a junior (and it is her) first time playing as a No. 1 player, so there's a lot of pressure," Baca said. "She really battled it out as a No. 1."
Fall 2016 marked an adjustment period for the Hornets, as the squad adapted to playing with freshmen and a new coach at invitational tournaments in the Bay Area. Since then, Baca said she has watched the team progress on the court in practices.
"We've improved a lot," Baca said. "I think the girls took it really serious and we've just been working hard. My goal as a coach is to improve every match, every practice, not so much looking at winning or losing."
In October, some players admitted the team lacked the same cohesive bond teams of the past had shared. After the team's first match, Esquivias said the team has grown closer as a unit.
"I think definitely we're closer," Esquivias said. "Everyone, the teammates (are) more together. It was amazing to see everyone cheering for each other (during the match against USF)."
Though Sac State played its first two matches at the Spare Time Indoor Tennis Center due to rainy conditions, the team will play on campus against UC Davis on Saturday at 1 p.m. after playing at the Rio Del Oro Racquet Club for over a decade.
"I think we all enjoy playing on campus because we feel (like) part of the school now," senior Andie Mouzes said.