New country, same sport for Sac State freshmen golfers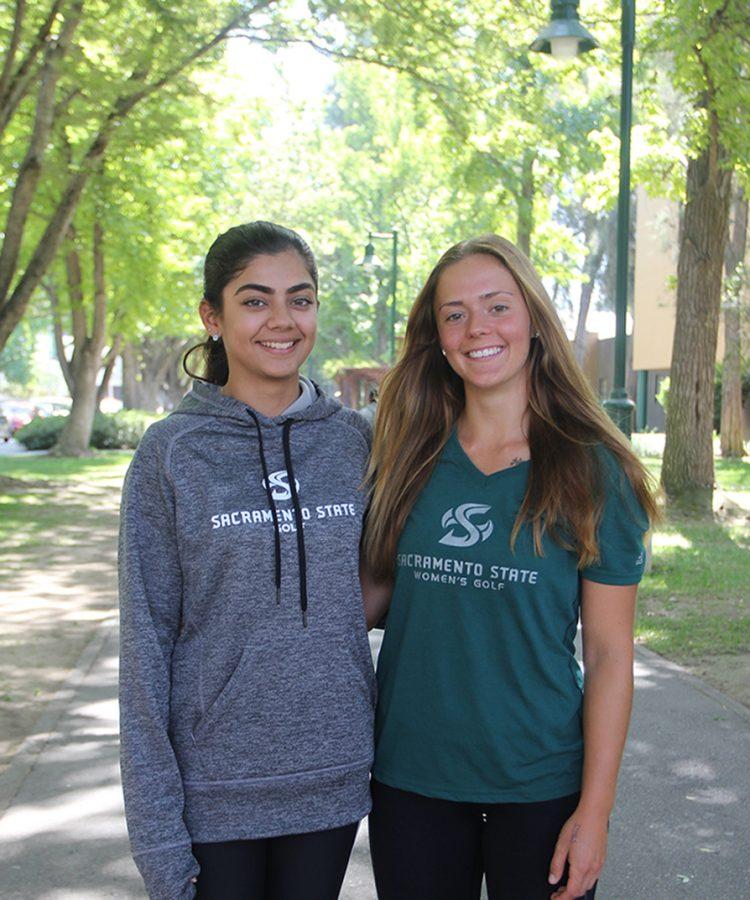 Athletes often mention the "love of the game" as their motive for competing, but how many would pack up their bags and move to another country to continue the sport?
Two student-athletes on the Sacramento State women's golf team did just this as freshmen. Sofie Babic (from Lanholm, Sweden) and Nishtha Madan (Gurgoan, India) left everything they were accustomed to in their respective countries in order to pursue a competitive collegiate golf career.
Babic and Madan both recognize that golf isn't necessarily the most popular sport in their native countries, but hope to continue the trend with their play in Sacramento.
"I mean it's definitely growing … as a men's sport it is far more known, but in the last couple years it's really been growing as a women's sport because I can say that I was probably one of the first girls to kind of start playing with my sister (Sac State junior golfer Astha Madan)," Madan said.  "It was quite strange because nobody would see girls at the golf club so it was interesting to see that we were kind of starting it out."
As for Babic, soccer is the sport that dominated the popularity charts in Sweden.  Although she grew up playing soccer and participating in horseback riding and gymnastics, Babic steered away from conventional team sports in favor of golf, which depends solely on the athlete.
"Golf was special because it's an individual game," Babic said.  "So it's not like a team because maybe not everyone on the team has the same motivation as you … so that's why I continued with golf and quit all the team sports."
Sac State women's golf coach David Sutherland thinks that Babic and Madan both have solid golf games given that this is only their first year playing in the United States.
"In terms of what makes them special I think is that they are both two gals that are just strong throughout their games," Sutherland said. "I really feel like they both have mature golf games that will allow them to go compete."
Madan also thought it was much easier to adjust to her new teammates and get into the swing of things by having an older sister who has proven herself on the golf course.
"I mean she is a part of home, she is family, so obviously knowing that I have someone from home is a lot easier to kind of cope with everything else," Madan said.  "But it has not been that huge of an adjustment as I had expected. I mean, I'm kind of easing into things so that's good."
Nonetheless, anxiety is to be expected when learning new customs and being introduced to other players who have lived in the U.S. their entire lives. But luckily for Babic and Madan, the process has been made easier as coaches and teammates have embraced the two.
Babic, for instance, didn't know much of anything about Sac State prior to joining the team, but when Sutherland offered her the opportunity to play her favorite sport in California, it was an offer she couldn't refuse.
"I think David is a great golf coach, that's why I wanted to come visit Sac State," Babic said.  "I thought I was going to another school, but then when I started talking to him I just changed my mind and wanted to come visit, so I did, and I thought it was a good campus, the golf courses are good … and it's in California."
California may have offered the most intrigue, but it was at the Cougar Cup in Pullman, Washington where Babic and Madan first established themselves as Hornets in their first tournament action as collegiate golfers.
Babic finished the tournament in 20th place (74-78-72-224) and Madan tied for 21st place (72-76-77-225) to help Sac State place fourth overall in the Cougar Cup on Sept. 20.
"My philosophy has always been … I don't care if a kid is from Sacramento or Sweden,"  Sutherland said. "If they're capable of playing at a Division I level, if they are interested in performing academically then we are going to be instantly recruiting them."
Babic and Madan seem to fit this mold and the pair will look to improve as the team travels to the Pat Lesser Harbottle Invitational in Tacoma, Washington on Oct. 10 and 11.