Men's golf finish in second place at Folino Invitational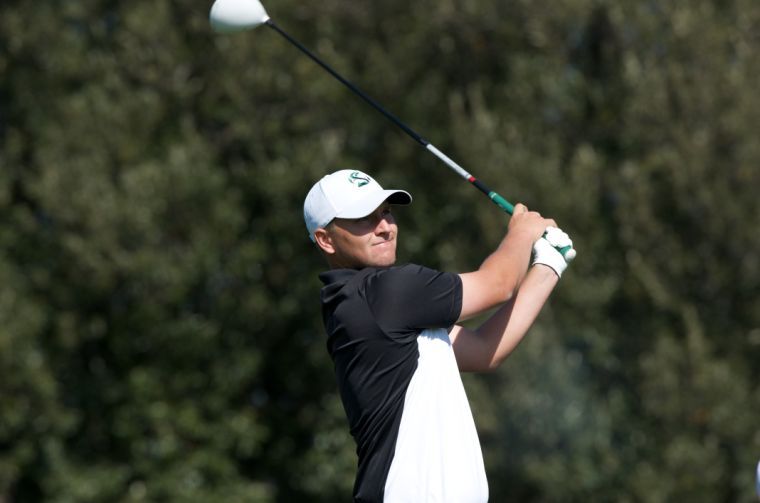 State Hornet Staff
February 19, 2014
A strong third round from junior Owen Taylor and senior Jordan Weir, helped the Sacramento State men's golf team secure second place at the Folino Invitational in Industry Hills, Calif., Tuesday.
The Hornets started off slowly, shooting a score of 302 in their opening round, only to finish rounds two and three with scores of 286 and 291, respectively.
Taylor went 1-under after the second day. He remained consistent on the front nine, with birdies on holes 6 and 8. Taylor went 1-under on the front nine, putting him at 2-under for the third round, giving him a share of second place with Fullerton junior Ryan Tetrault. Taylor finished the tournament shooting a 74-70-70-214.
After a rocky start in which he bogeyed four of his first five holes, Weir birdied holes No. 11, 16 and 18. Weir finished the tournament at even-par, and took fourth place.
Freshman Robert Parden also had a nice third round of the tournament. He played a solid back nine, before running into some trouble on the front nine. Parden hit a  bogey on 13, then birdied on 14 and 15. On the front nine, he birdied on hole 1, bogeyed on hole 3 and triple-bogeyed on hole 6. Parden finished tied for 16th place, shooting 79-75-74-228.
Junior Luke Kristo started slow but settled late in the third round. He bogeyed holes 12, 13 and 14, before finding his groove, getting birdies on holes 1, 3, 5 and 18. Kristo shot a 2-over 74 for the day. He ended up tying for 24th after going 14-over for the tournament.
Led by senior Mark Anguiano, CSU Fullerton won the tournament posting an 863.
The Hornets have now had two back-to-back second place finishes on the season. They placed second at the Anteater Invitational on Jan. 28.
The team will focus their attention on getting ready for the Sacramento State Invitational, being held at the Valley Hi Country Club on March 3, 4.