Sac State falls to Bengals in regular season finale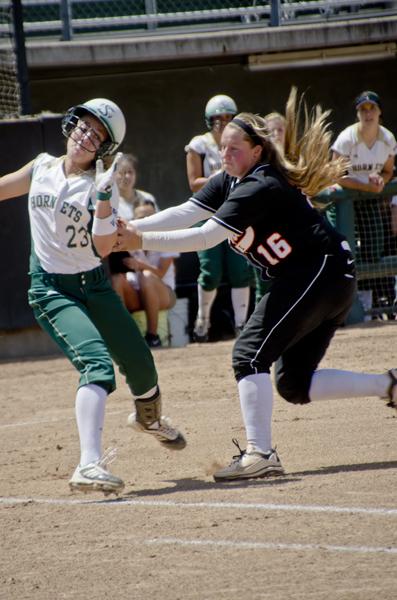 Sacramento State softball senior day and regular season ended in a loss when the Hornets were defeated by the Idaho State University Bengals Sunday afternoon, 6-3. 
Despite the loss, Sac State honored its four seniors today that included first baseman and catcher Molly Smith, third baseman Emily McCormick, center fielder Kelli Frye and senior infielder Lauren Blair. 
Hornets sophomore pitcher Caitlin Brooks couldn't fool Idaho State's batters. In the second inning, Brooks allowed a two-run home run from Bengals right fielder Katee Wiley. 
Wiley's home run was her second this weekend against the Hornets pitching staff.
Brooks pitched two innings in today's game, until head coach Kathy Strahan replaced her with junior pitcher Taylor Stroud to start the third inning. 
"The batters adjusted well to Caitlin from yesterday," Strahan said. "It was evident in the first inning with their ability to use their power."
Stroud also allowed a two-run home run in the third inning to Bengals senior third baseman Amanda Fitzsimmons, but after the third inning Stroud settled down enough to give her team a chance to win. 
"I didn't think about the two-run home run that much, because I knew there was plenty of (time left)," Stroud said.
Sac State did bounce back, after the second two-run home run by the Bengals in the top half of third inning, when freshman second baseman Kayla Papez singled in freshman shortstop Alyssa Vanderdrink. 
Soon after, senior designated hitter Lauren Blair was hit by pitch which scored freshman catcher Kortney Solis.  
Sac State scored its last run of the game in the fourth inning when the Bengals forced an error by its shortstop Hailey Breakwell that scored sophomore Alexa Chattleton.
With the ability of Stroud and the Hornets offense, Sac State cut the lead to one run 4-3. However, it was short lived when the Bengals scored two runs in two-out situations during the last three innings.
The three run lead gave the Bengals enough room to close out the Hornets, giving Idaho State the Big Sky Conference regular season championship. 
McCormick said it was a bitter sweet to end a career here at Shea Stadium, however, she wants to focus on the two games they still have next weekend. 
"We need to get to the teams early and use the momentum to put pressure on each team," McCormick said. 
Sac State finished the regular season with a 22-20 record and 7-8 in the Big Sky and marked the first time in 11 years the Hornets finished below .500 in the conference. 
Sac State will play Idaho State Friday in the second game of the Big Sky Tournament which will follow the Portland State and Southern Utah game. First pitch for the Hornets and Bengals game will be 3 p.m. PDT.
Clifton can be reached on Twitter at @jonesSHsports