SactoMoFo 6 feeds local foodies with live music and food trucks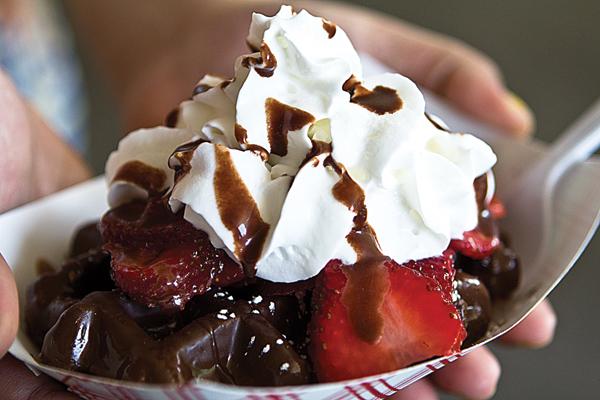 SactoMoFo 6 brought live music and an assortment of popular food trucks together in downtown Sacramento to satisfy the masses of local foodies Saturday afternoon.
SactoMoFo, or Sacramento Mobile Food, is the mobile food festival that unites Sacramento food lovers and food trucks together.
Held under the overpass on 6th and X Street, SactoMoFo 6 was filled with numerous dishes such as Mac n' Bac n' Fries from BaconMania, shaved ice desserts from Hawaiian Shaved Ice or chocolate-covered waffles topped with ice cream, strawberries, whipped cream and Nutella from Volkswaffle California.
Loaded with a bevy of popular food trucks such as Krush Burger, OMG! Yogurt, Drewski's Hot Rod and The Chairman from San Francisco, SactoMoFo 6 also featured a beer garden and live music from bands such as Hero's Last Mission for the more than 8,000 people who showed up to the festival.
SactoMoFo manager Paul Somerhausen said he hopes these events help highlight the great things about the food truck industry and the diverse cuisines it has to offer.
"We believe very strongly that it adds values to the culinary team in Sacramento and is already one of the best in the world in terms of diversity and food option," Somerhausen said. "That's what we try to highlight. We try to raise the profiles and that's where we are fortunate now and we're trying to remove the stigma that surrounds food trucks and try to make them a regular food option."
Although there have been six SactoMoFo events in the past two years, Somerhausen said it requires a lot of effort to plan the SactoMoFo festivals.
"We've had six of those events in two years, but it will become an annual event," Somerhausen said. "It takes a lot of work and it takes five to six months to get one of those events together."
SactoMoFo attendee Toni Chapralis, who has gone to the food festival twice, said she likes the various cuisines offered at SactoMoFo.
"There are a lot of cool choices and I think (the festival is) very cool," Chapralis said. "I'm looking forward to trying something different and seeing what different things are offered.
Another attendee, Claire Bravo, said although this was her first time going to SactoMoFo – she was looking forward to Drewski's Famous Tots served at Drewski's Hot Rod.
"Their tots were amazing and the flavors were perfect," Bravo said. "I could definitely taste all the flavors in it, such as the herbs that were used and what not. The tots were also very crispy and fried to perfection. The hot dog was really good as well. The hot dog was very flavorful and a little bit crispy in the perfect places. The bacon was also very crispy and flavorful, and the sauce complimented the flavors of all the meats as well."
Anthony Do, a SactoMoFo first-timer, said he would go to the festival again because it's a great event for the community.
"I like the vibe and all the people out here," Do said. "I think it's a good place for the community to come out (to) because of the cool food and the energy."
Bravo said even though the focus was on the enticing food served, she said she enjoyed the vendors, such as Gypsy's Boutique, that came out to sell items such as clothing and jewelry.
"I liked that SactoMoFo wasn't just all about food, but they had other vendors as well – such as a clothing boutique – and little vintage vendors as well," Bravo said. "I was not only able to experience great food and desserts, but also got to buy some affordable and cute jewelry I couldn't find anywhere else."
For more events, please visit SactoMoFo.com.
Camille Anglo can be reached at [email protected]