Pride Center holds forum on the role of LGBT athletes in sports.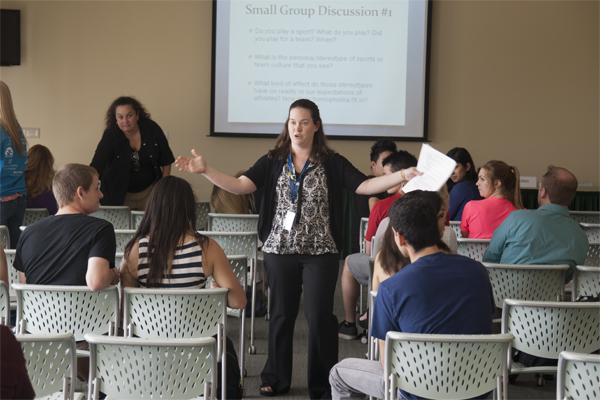 Sacramento State's Pride Center hosted an open discussion called "Out in the Locker Room" on Thursday to address issues homosexual and transgender athletes face at the collegiate level.
While stigmas about homosexuality have certainly diminished in modern society, nearly 40 guests in attendance agreed conversations such as this one need to take place for real change to occur within athletics.
In an ESPN video featuring sports columnists Stephen A. Smith and Skip Bayless, not one professional athlete in the four major U.S. sports is currently out and open about being a homosexual.
The two TV personalities debated whether it was okay for the NFL to probe potential drafts about their sexuality.
The NFL announced on Feb. 27 it was looking into claims that draft prospects were being asked about their sexual orientations at a recent scouting combine in Indianapolis.
On the flip side, 2011 Major League Baseball MVP Justin Verlander, a pitcher for the Detroit Tigers, said in an interview with CNN on March 5, he would not be bothered by having a gay teammate. Verlander said his ultimate goal was to win games with his baseball family and that a gay teammate would not affect his goal.
Americans – especially American athletes – seem to be split down the middle over this issue. A 2012 CBS News Poll shows 51 percent of Americans nationwide think same-sex marriage should be legal.
With the country undecided about openly gay athletes in sports, Sac State took an important step forward at the open forum discussion.
Chris Kent, the Pride Center's administrative support coordinator, said he hopes this event will bring more awareness to homophobia still present in and out of the locker rooms.
"(Homophobia in sports) can be challenging in a lot of different ways," Kent said. "For people that are maybe beyond the questioning process – (for those who) know they're gay or lesbian or queer – it's still really scary. I want to take some time to examine that."
With the help of Sac State Active Minds volunteers, the Pride Center was able to facilitate small group discussions as well as interview a panel of four speakers that shared its thoughts on the subject.
The panelists included Counseling and Psychological Services (CAPS) counselor Rene' Reis, sociology professor Todd Migliaccio, former UC Berkeley basketball guard Rachel Stewart and transgender Cosumnes River College athlete Jordan Moore.
Representatives from Sac State's athletic department – student athletes, coaches or staff members – were not present at Thursday's event. The only person there associated with Sac State athletics was Coordinator of Life Skills and Student Athletic Development Mark McGushin.
"I just wanted to say something on behalf of (Sac State) athletics," McGushin said. "Every sport is practicing right now, so that's part of the reason they're not here. If they're not practicing right now at this time, I don't know whether there (would) have been other representatives (sent) or not."
Based on a 2012 New York University video that was shown promoting acceptance of its gay athletes and coaches, panelists spoke as to whether Sac State was ready to be as open and accepting of its own gay athletes.
Jordan Moore said even if Sac State followed NYU's example and threw a gay-friendly label on the department, it wouldn't necessarily reflect how athletes and coaches truly felt. She said change had to happen on an individual level.
"It's not the program – it's the people," Moore said. "It takes people to inform and educate, and it's a process. But for us to be like, 'How does Sac State feel about this? Is that fair?' You can't literally get an answer. You need to get a feel for it. (This is) a step in a staircase. (It's) not something that we can answer today. That's why there's this group and why there (are) only 35 of us."
Moore also said she felt it was easier for female athletes to come out as opposed to male athletes because men are not supposed to compromise their masculinity in sports while women are encouraged to strive for masculinity.
Therefore, gay female athletes might have an easier time coming out and still being accepted. Females also tend to be more accepting and open than males in general, Moore added.
"With female athletes and with sports in general, the biggest, toughest, fastest people are going to play," Moore said. "You have girls lifting weights now and becoming this big, aggressive person – typical male qualities. Women's athletics are pushing their girls toward a male (standard) within their own sex. But it's the opposite for men; there are not any coaches going, 'Okay, let's slim down a little and watch our weight.'" 
Mark McGushin said he could see a positive light at the end of the tunnel for Sac State.
"I think there's progress being made, but men's sports are kind of the last batch," McGushin said. "I see attitudes changing, but it's (happening) very slowly. It's definitely much better than 10 years ago and 20 years ago when I started in athletics. There's still a long ways to go, but there is progress from what I've seen."
Whether Sac State is aware or not, there are – and have been – plenty of lesbian athletes on campus who are open and comfortable with their identity.
"Our team has never had a problem with it," said women's head soccer coach Randy Dedini. "The players that we've had that were gay (in) our sport, it was just never really hidden. It was always just kind of known. Once they kind of got to know each other, I think they said, 'Yeah, I'm gay.' And it's never been a problem with our program or any of our players in any aspect."
Men's head basketball coach Brian Katz said he did not know if any of his players were gay. Even if one of them was, however, he said he would have no problem with it and expected his team would feel the same way. 
"I would respect a person for being open about it," Katz said. "We need to be accepting of all people. I would demand that in the locker room as well. It's all about acceptance." 
Katz said he did not feel a gay player would negatively affect the men's basketball team dynamic. He also said it was about time this subject was getting the attention it deserved. 
"For years and years, people didn't talk about this," Katz said. "I'm glad it's being brought up now." 
Sophomore psychology major Jasmine Cunningham runs on the women's track and field team. She is also gay.
"Yes, I'm gay," Cunningham said. "I'm open about it, and my team knows. And my coach, he knows (too)."
Cunningham said she had not heard about the Pride Center's "Out in the Locker Room" event. She said these kinds of programs need to be promoted more aggressively.
"I think they need to find more ways to show off and advertise (this event)," Cunningham said. "You never hear anything about it, especially on campus. You just see one poster and that's it."
Cunningham went on to say she did occasionally feel uncomfortable in the locker room, but that she just dealt with it and moved forward.
"From a personal standpoint, it's cool sometimes," Cunningham said. "But I feel awkward when they change because they're probably like, 'Oh she's gay. She's probably looking at me.' Other than that, it's fine. The team loves me."