Volleyball needs a win tonight for postseason acceptance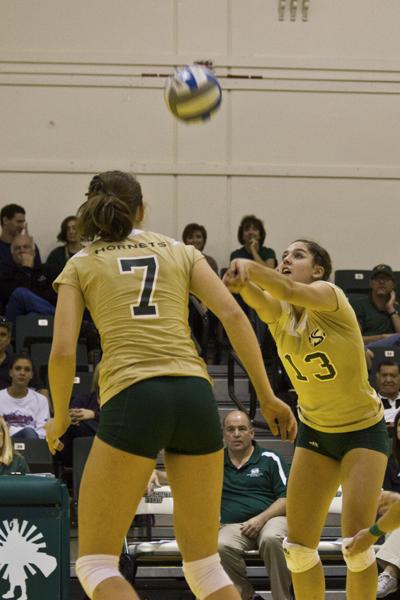 Thursday night's women's volleyball 3-2 set win against Montana State was necessary in order for it to still have a chance to play in the Big Sky Tournament.
The first two sets kept onlookers on the edge of their seats as both teams started out strong, going back and forth in leads. The first set ended 30-32 and the second 23-25 with the Hornets coming out on top due to small mistakes Montana State made.
From those sets, outside hitter Janelle Currey walked away with a total of 17 kills as opposite hitter Kayla Beal racked up 14. The two contributed key points that gave Sac State the extra push.
"I was overall happy with the first two games," said head coach Ruben Volta. "Montana State played really well and they're a really solid team. "Those first two games were close and it was just a battle."
Montana State countered Sac State's first two wins by gaining two of its own in the third and fourth sets (25-23, 25-18). Montana came back with a quicker offense and strong kills, which were hard for the Hornets to adjust to.
Outside hitter for Montana State Sarah Horton had a total of 36 kills within the third and fourth sets. Montana's libero Nicole Baker also picked up 42 digs during those games.
"As a team, our serve receive passing and our serving was not good and they were in system a lot which was hard to defend," Beal said. "Our coaches believe that they quickened their sets up because the last time we played them, we blocked them pretty good."
With a tie game, the fifth set was bound to be intense. Sacramento State came back stronger than before and dominated the last round with a 5-15 victory.
"We knew in the fifth game we had to come out with the determined mentality from the start and not let them get those runs," Currey said. "The pressure was on, we didn't have an option (and) it was a do or die. Play hard now, win now or you're going to lose."
That same night, Southern Utah lost against Northern Colorado allowing Sacramento State to bypass them in the standings for the tournament. The Hornets need to win their last game in order to continue in the postseason tournament.
Tonight's last regular season game against Montana starts at 7 p.m.
Maikalina Madali can be reached at [email protected]