Tennis streak at 92 after Big Sky title win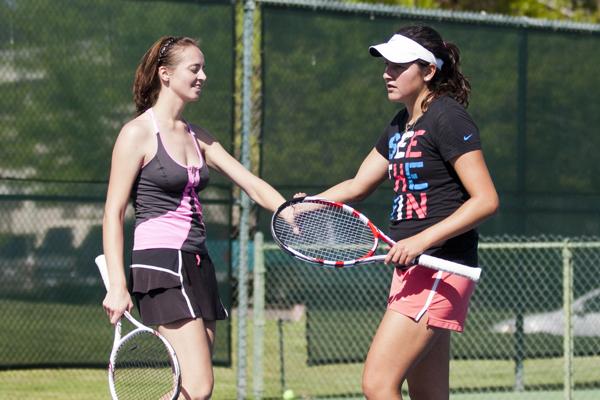 Joe de Ocampo
April 25, 2012
The Sacramento State women's tennis team's leadership and successful history has earned 92 consecutive Big Sky match wins and earned its 11th Big Sky Tournament title this past weekend in Gold River, Calif.   
The Hornets ended their regular season 15-9 overall with eight wins in the conference. Senior Tatsiana Kapshai earned three Big Sky Conference Player of the Week awards this season.
Head coach Dima Hrynashka said one of the reasons behind the success of the team is the reputation previous teams set with their dominance on the courts.  
"They have had motivation and a little extra pressure from the teams before who started to build the wins," Hrynashka said. "Now it's already at 90. Everyone is trying to keep winning and keep the line going."
The Hornets earned the Big Sky Conference Tournament title in 2002 when it beat Northern Arizona University 4-3. The team later competed in the NCAA Tournament and was defeated by then No. 2 Stanford 4-0.
Since then, the Hornets have dominated the Big Sky with 11 regular season titles.
Kapshai said during her two and a half seasons with the Hornets, she saw the team grow and develop an attitude to continue the tradition set by its predecessors.
She said the team has a strong spirit and determination despite losses and mistakes it makes during play.
"Winning or losing we are keeping (team spirit) up and playing our best and change whatever is needed to turn the game around and start winning," Kapshai said.
Teammates said one of the reasons for whose success is the relationship they have with each other.
Senior Clarisse Baca has been on the team for four seasons and said its success is due to the passion, determination and the relationship players share.
"Everybody (on the team) has a love for the sport. We wanted to not lose any matches in the Big Sky and become top 20 in the nation," Baca said. "I think we also have a good relationship outside and inside the court."
Baca said despite the diversity in background each player has, the coaches and coordinators helped players bond into a familial atmosphere. She said her teammates poke fun at each other playfully, go to dinners and movies, which helps on the court.
"We have a pretty good connection; we joke around a lot and I think it helps us have better communication as a team," Baca said.
Baca ended her regular season 12-9 in singles on a six-game win streak and 15-7 in doubles. As a sophomore, she earned first team all-Big Sky honors after collecting 16-7 in singles play with 6-0 in the Big Sky.
She said her position as captain enabled her to keep the team motivated and focused while learning lessons in her last season.
"I think I did a decent job in trying to put the team together outside and inside the court and the best thing about being a leader is you get to learn about respecting what others want and taking it into consideration," Baca said.
Senior Maria Meliuk said the team has stronger lines of communication compared with  other teams, which contributes to the successful season.
"All of them feel like family, so I guess this is something that gives us power; we support each other all the time and keep it together," Meliuk said.
Meliuk said the team's attitude toward each other has changed since she first started playing and attributed it to the roster changes with new seasons.  
"In the beginning, nobody knew each other, it was a little bit different and harder to communicate," Meliuk said. "But once we got to know each other, it became better."
Meliuk ended her regular season 15-7 in singles and 14-7 in doubles. She posted a perfect 6-0 record in the Big Sky competition and earned first team all-Big Sky honors in 2010. 
Kapshai said the team is strong but still can better itself and focus on its strategy to outwit opponents. 
"Keep working hard and try to improve everything," Kapshai said. "Not only tennis, but psychologically. If the team were to focus on tactics the game would improve and give confidence to players."
Meliuk said she hopes the underclassmen learned the value of hard work and its payoff.
"Stay tough on court, even if we are hurting," Meliuk said. "We get injured often, but it's a part of our college tennis life and we have to play through the pain."
She said although the team competes individually, the goal should be the success of the entire roster.
"We have to put the team first and put our feelings and ourselves second," Meliuk said.
Joe de Ocampo can be reached at [email protected]