Volunteers chip in at Girl Scouts' cookie drop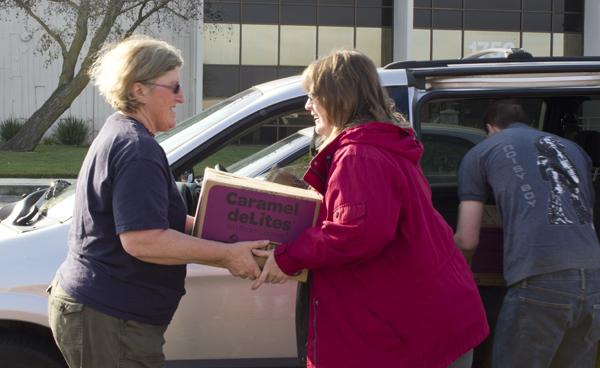 More than 400 volunteers, including staff, alumni and students from Sacramento State, helped distribute more than 1 million packages of Girl Scouts cookies to local troops.
Volunteers gathered at Graebel Movers in West Sacramento to help out with the annual "Mega Cookie Drop" event.
Troop leaders picked up the cookies to deliver to their Girl Scouts, who will then deliver boxes to each of their pre-ordered customers.
Kathryn Palmieri, Associate Director for Sac State Academic Advising Center, arrived at 7:30 a.m. to volunteer as a loader for the cookie drop off.
"I still remember the time when I would go door to door selling the packages of cookies for $1.50," Palmieri said. "Girl Scouts is a good organization that teaches you the skills to survive in the world."
More than 2,000 vehicles drove down to fill the cars with cases of cookies. U-Hauls, trucks with trailers and RV's were picking up cookies for the troops.
"Community service is not a need, but a want to help better the community and better yourself," said George Haith, an Alpha Phi Omega fraternity webmaster who volunteered as a walker.
There were four positions filled with volunteers. The walkers and counters were in charge of guiding the car to the different piles of cookies. Then others were directing the traffic to the lanes available. From there the loaders filled the vehicles with boxes of cookies.
There are multiple varieties of cookies: Caramel deLites, Thin Mints, Thanks-A-Lot, Shout Outs, Do-Si-Dos, Tagalongs and Dulce De Leche. Thin Mints are the top selling cookies, made of thin chocolate wafers dipped in a chocolate coating with peppermint. Second best selling is the Caramel deLites, which is a vanilla-flavored cookie with a creamy caramel coating and coconut.
The Thanks-A-Lot cookies have the words "thank you" embossed on top in five different languages English, French, Chinese, Swahili and Spanish.
Alicia Balili, 14-year-old freshman at Oakmont High School in Roseville, has been part of the Girl Scouts for five years. She said she has learned many skills as a Girl Scout including being a great sales person. She has sold 400 boxes of cookies in one year alone.
"My group decided not to go camping one year and my mom signed me up with another troop and sent me off for a whole week. I was so afraid because I didn't know anyone there, but it ended up perfectly. I met new friends and had lots of fun," Balili said. "What I enjoy the most is helping little children earn their badges."
Diane Bosley, director of sales for Girl Scouts, said about 2.8 million boxes of cookies were sold this year alone and that is just from the local council, which includes 18 counties.
According to girlscouts.org, the founder Juliette Gordon Low organized the first Girl Scout Troop on March 12, 1912, in Savannah, Ga.
This organization today has 3.2 million Girl Scouts, 2.3 million girl members and 880,000 adults members working as volunteers.
Some of the activities Girl Scouts do include hiking, camping, sports and community service projects.
The American Red Cross, a partner of Girl Scouts, was serving coffee and bread for breakfast. They also served chicken and cheese tamales for lunch to thank volunteers and staff.
People can buy cookies from them when they start holding booth sales in front of local stores Feb. 24 through March 18.
The Girl Scouts will celebrate their 100 year anniversary at the Cal Expo Fairgrounds on April 28 from 10:00 a.m. to 4:00 p.m. The fairgrounds will be given a Girl Scouts theme, showing everything Girl Scouts have to offer.
Melanie Glover, communication and public relation specialist for Girl Scouts, said Sac State Serves is just one of the amazing community groups that volunteers year after year at the "Mega Cookie Drop."
"It's very inspiring to see so many young people come out to support our local Girl Scout Council," Glover said. "The Girl Scout Cookie Program helps fund the activities that build girls of courage, confidence and character, and it's important to have the cookie program run smoothly."
Glover said every year thousands of girls are unable to join Girl Scouts because the lack of volunteer troop leaders. Sac State students are encouraged to find out ways they can volunteer or become a troop leader.
"We're always looking for more leaders to back our young girl leaders, and it's a really great experience," Glover said.
Mari Del Angel can be reached at [email protected].