Student encourages meditation through art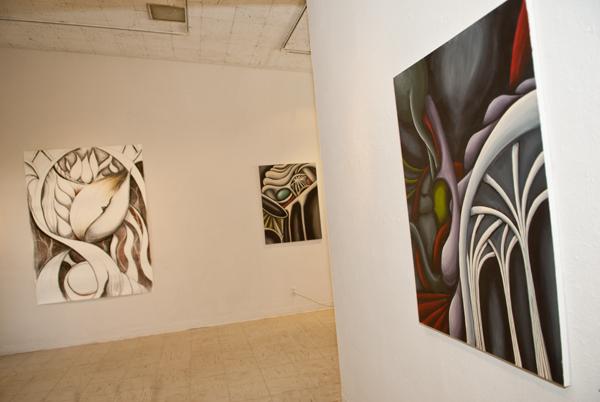 Pushed toward art in high school by teachers who sensed she was troubled, senior studio art major Karissa McHurd quickly found art to be a meditative experience. She soon realized art is where her future was heading while teenage anxiety, McHurd said, was the root of her trouble.
McHurd's "Internal Investigations" exhibit is up for all to see in Kadema Hall's Witt Gallery this Thursday through Friday.
"I ended up being put into some art classes because teachers thought it would be something mellow that I could do and it just kind of took off from there," McHurd said. "I kind of realized that's what I was probably supposed to be doing."
McHurd's show last year, "Spirit Remains," contained drawings, paintings, paintings on the walls and sculptures.
The present exhibit investigates organic forms related to the human body and its functions while also taking influences from architectural images; the exhibit contains mainly acrylic paintings since McHurd was going for a more traditional and quiet feel.
"Since these paintings have so much to do with internal forms and creating spaces that are quiet and connected, I want it to be something people can walk into and really feel," McHurd said. "While exploring the paintings, they have time to stop and think about how things are connected and how they exist in space."
McHurd draws inspiration from contemporary works, social issues, experimental topics and personal experiences.
After exhibiting last year, McHurd was encouraged by professors to apply for the space again to gain experience with having an entire space to display whatever art she chose.
"She has really embraced widening the scope of her vision to include other areas," said associate art professor Sarah Flohr. "Through that widening, she has focused the intensity of her work."
Though a main theme with her show combines human forms and architecture, she has not always realized the potential for combining the two.
She began adding more architectural themes in her work after discussing how closely related the body and its functions were to architecture.
"I know her work from advanced drawing," Flohr said. "The imagery is personal and autobiographical. What's interesting is her work has underpinnings with Gothic architecture as well as being reminiscent of Antoni Gaudi's architectural work."
McHurd's process for starting a project is one filled with ideas, a sketchbook, and contemplation of what she can do with an idea.
The sketchbook is where projects start for McHurd. She said, she uses it as a sort of storage so she can go back through and dissect an idea further.
"My projects usually start with ideas that come from things I've read or experienced," McHurd said. "My sketchbook will be everything coming out on to the pages like words, people and drawings. Then then I go back to my sketches and find things I like, might be possible to build three dimensionally, or just concepts that I want to explore further."
McHurd received additional encouragement at Sac State from sculpture professors Robert Ortbal and Andrew Connelly. Her work impressed professors with a fierceness that hides beneath first impressions, said Flohr, who has known McHurd for two years after having her in advanced drawing.
Flohr also said she was impressed with McHurd's large-scale work in her class.
"Karissa is the kind of student you not only hope to have in your class but would like to follow in the future and see how her work develops and grows," Flohr said.
"Internal
Investigations"
will be on display in Kadema Hall's Witt Gallery until Friday.
The reception is
at 7 p.m. today in the Witt Gallery.
Benjamin Dewey can be reached at [email protected]