?Super High Me? producer Doug Benson comes to CSUS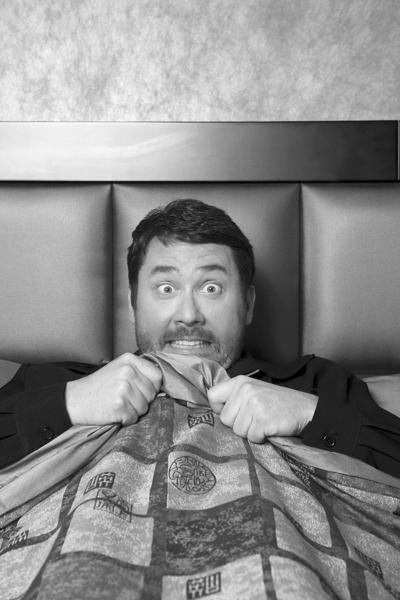 Smoking pot is not only Doug Benson's favorite hobby; it is also the punchline to many of his jokes.
"Doug defies a lot of stereotypes because he smokes a lot of weed but he is sharp and completely on top of his game. I don't smoke "cause I just turn into a blithering idiot," said Keith Jenson, a Sacramento-based stand-up comedian.
Benson will be performing a free show at 7:30 p.m. Thursday in the University Union Ballroom. The event is open to all ages so that people can just come and have fun, said Zenia LaPorte, programs adviser for UNIQUE events.
Benson has been a stand-up comedian for 23 years. He produced his own documentary, "Super High Me," which is a pot parody of "Super Size Me." In 2006, High Times named Benson "Stoner of the Year." He was also a creator and star of "The Marijuana-logues," which is self-explanatory.
Many of Benson's media interviews focus on his open use of pot, but Jenson pointed out that none of Benson's wit ceases when he is high.
"He is so productive and such a quick mind," Jenson said.
Graham Elwood, the opening comedian, said that college students are always fun to perform for.
In an interview with UL Magazine, Benson said: "Young people are completely down with pot, whether they smoke it or not. As a result, my college shows over the last few years have been among my favorite. "
Jenson said that Benson excels at adapting to audiences, especially ones to which he can connect.
"Sac State is an audience full of people a little more likely to pay attention and a little less likely to be drunk. At a comedy club you mostly face an audience that is just looking for funny people to make them laugh while they drink," Jenson said.
This is not the comedian's first time in Sacramento, but it is his first time at Sac State, LaPorte said.
Benson was last in Sacramento filming his documentary "Super High Me" with Elwood. In the documentary, Elwood asked Benson not to smoke weed in his car, but Benson just tries to be secretive.
"He said "no problem' and then sat in the back seat and smoked. I got all mad," Elwood said.
Elwood said that he is very good friends with Benson but their acts, and lifestyles, are completely different which makes for a good show.
The comedy night will start off with Elwood's high energy, observational and physical comedy. Then Benson will come on as the stoner comic, Elwood said.
Elwood said he loves being a comedian and he loves complementing Benson.
"I knew at a very young age I could never hold a real job. Then I realized that all the things that got me sent to detention in school I could probably use on stage," Elwood said.
When he was growing up, Benson never thought that he would be a comedian. He began his career on a dare from a friend. Then he became a part of the Comedians of Comedy, a touring stand-up comedian group.
Now Benson is a professional comedian and busy working on a new movie and mingling with the comedian community.
The first time Jenson met Benson, he pretended like he knew him. Jenson said he could see the comedian scrambling to remember his name.
"I said to him, "No, it's OK you don't actually know me'. And Benson said "Oh thank God,'" Jenson said.
Jenson said he knew it was unlikely that Benson would have actually forgotten his name, high or not.
"Benson has a sharp memory and is a cool and approachable type of guy, which comes across on stage," he said.
Benson has a unique voice, he connects with his audience on an observational and relational level, building a repertoire with them until he is loose and comfortable on stage, Jenson said.
"Comedy is a unique art form and a lot of the development happens in front of the audience. You have to try out a joke several times and really polish it before it starts to sing. It's like super charged creativity and you can only try to write on that level at a coffee shop," he said. "Live audiences add the funny."
The process a comedian goes through to develop jokes is pretty universal, Jenson said.
"You have to carry a notepad around with you at all times. When you get an idea you have to get it down immediately. It could be new takes on an old joke, new ideas or something that you witness. You jot it all down and then try it out," he said.
Jenson said that comedians like Benson truly shine when they are on stage.
"Words just come out of your mouth and then you think, "What the hell did I just say?'" he said.
Benson's goal is to make people laugh, and if they are laughing then he is happy, Jenson said.
"What do I think about Doug Benson? He is a god among men," Jenson said.
Leia Ostermann can be reached at [email protected]