Sacramento State freshman receiver now a team leader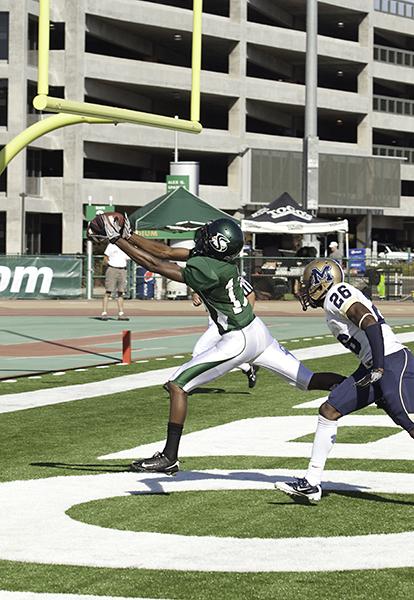 It would hard-pressed to find a reason why Sacramento State wide receiver Morris Norrise would not be a part of the football program.
Norrise has 302 yards and leads the team in touchdowns this season with five, including an 80-yard touchdown in the homecoming game against Northern Colorado University.
But all of his success this season almost became the success of a Southern Utah University receiver. Norrise said a last-minute change of heart, a scholarship offer and a phone conversation from head coach Marshall Sperbeck brought Norrise to Sac State.
"It started as they recruited me, but they didn't offer me," Norrise said. "On the last day, the coach offered me and I was still hesitant because I already committed to Southern Utah. We talked for a long time and talked about how he buttered me up like a biscuit and left me to the side. But in the long run, it all worked out."
In high school, Norrise played receiver and defensive back for Berkeley High School, but Norrise said he only wanted to play receiver when he got to Sac State. Norrise came to the program and found out the transition to college football was not as easy as it seemed.
"Freshman year, I sat out the first game and had a chance to play the second game, but then I got cut from the traveling team," Norrise said. "So I had to start working hard. I played against the starting defense every day and learned how to run my routes better. I learned how to be coached too because you have to listen to the other teams' plays and run your routes perfectly."
Even though Norrise was not able to travel with the team and was redshirted, Sperbeck and the rest of the coaching staff focused on getting him to where he needed to be.
"Well one, he had to work harder and two, he was only a freshman," Sperbeck said. "He had to get bigger and stronger and learn what we're doing. It's hard for any freshman to come in and play, so the year redshirting really helped him grasp those skills and develop."
Spending a year with the rest of the team not only made him a better player, but gave him enough time to let his personality come out. After practice, on the sideline and in the locker room, Norrise always finds time to crack a joke and get his teammates to laugh.
"I can get funny at times. I tell jokes and I like to have fun," Norrise said. "I like to not be serious all the time because I can have fun and play well at the same time. I'm loving the people around me and the atmosphere. Everybody is making it fun."
Norrise's mindset is holding true. Norrise experienced the greatest game he has ever played, in the 64-61 overtime loss to Montana State University – dating back all the way back to the beginning of high school.
"It was lovely. The feeling I had after the Montana State game was amazing, it was incredible," Norrise said. "We lost, though. So the feeling is still good, but bad after the game. From high school to now, that was the most touchdowns I've ever scored in a game."
Norrise had three catches that game for 76 yards and three touchdowns. Forget calling it the greatest game he has ever played, call it the greatest quarter. All three of his touchdowns and catches came in the third quarter and helped the team rally back from a 24-point deficit at halftime.
Quarterback Jeff Fleming has been making opportunities like these possible. In the last three games, Fleming connected to Norrise 10 times for 218 yards and four touchdowns. Fleming said Norrise has a talent for making the most of opportunities on the field.
"I can always count on him. I just know that if it's a bad ball, he can either get to it or make a big play and get up there and grab it for me," Fleming said. "Even if he's covered, just put it up there and he'll grab it."
Fleming said the two working together every practice, running routes and correcting timing issues, has translated well to game days.
"He's really making some great plays on the field, especially as a freshman," Fleming said. "He's great to have out on the field. He's a guy who can create separation and find open zones."
Fleming came onto the team as a New Mexico State transfer and knew no one on his offense. But Fleming said Norrise's sense of humor allowed Fleming to create a bond between the two.
"He's a little character, he's pretty funny," Fleming said. "He can make everybody laugh and it's good to have that in the locker room because he can make everybody smile."
As the team passes the halfway point on the season, Norrise is well on his way to breaking his mark of six touchdowns and 500 yards in a season, a record set during his senior year of high school.
Even though he still carries team-leading stats, the team and the coaching staff will always get a laugh in and acknowledge his work ethic as a freshman.
"I'm glad he has fun. He should have fun playing football and he likes to come out to practice and work hard at it," Sperbeck said. "I think he enjoys the guys and the guys enjoy him. He's fun to coach and brings a good personality to our team."
Marshall Hampson can be reached at [email protected]