Ozomatli binds cultures together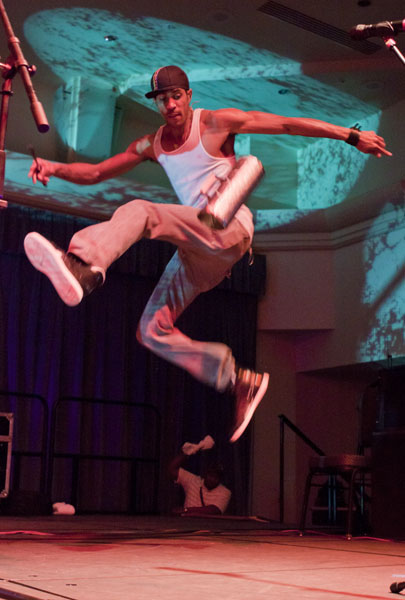 Ozomatli, a multicultural fusion band from Los Angeles, is a grassroots music uprising that stands for peace, justice and connecting cultures, said Wil-Dog Abers, one of the creators of the band.
Ozomatli is all about combining diverse cultures and diverse styles to create a new type of dance music.
Their music is a combination of urban-Latino-hop-salsa-dance-cumbia-funk-merengue-R&B-reggae and more, said Zenia LaPorte, director of UNIQUE programs.
"Every band has their own built in audience. If you are an indie rock band, you have a scene and a market built for you.
"There is no music scene for us. So we created our own music scene," Abers said.
It is a combination of many genres that all blend together, whether it is the punk rocker or the indie guitar player, LaPorte said.
"We would teach each other how to play different styles," Abers said. "Then we would just try it out. It's just like everything we do; you have to just try it out."
Even the back row of the crowd was jumping and dancing during Ozomatli's Sunday concert at Sacramento State's University Union Ballroom.
"It's never a real Ozo show unless you sing along," said Raul Pacheco, guitarist and lead singer for the band.
The whole band was very involved with the audience and invited everyone to hang out with them all night.
"It is a treat for us to be on a college campus," Abers said, "We used to be younger and able to relate a lot more but we still have a youthful energy."
Ozomaltu, an Aztec word for monkey, is a multi-ethnic, seven-piece band that combines elements of Aztec cultural dancing, Danza.
"It is more of a dance party than a concert," LaPorte said.
Other than the fact people have demanded they come back to Sacramento State over the past 12 years, LaPorte said she loves having Ozomatli come because they are fun live performers and even more fun as people.
"They bond cultures together without really standing up there and talking about it. They just encourage everyone to come together no matter your age, culture or economics," LaPorte said.
The group was formed 15 years ago when Abers worked for the Los Angeles Conservation Corps, a community-based program to help inner-city kids find jobs. The jobs were meaningless, Abers said, not providing any hope of advancement for the youth and merely becoming the statistic for politicians to prove that they help people.
Abers and the original drummer from the band decided to start a union in order to receive the benefits they were promised. They were instead fired. Still wanting to help the community, they began the Peace and Justice Center, which was devoted to arts and inner-city kids.
"There were classes and instruments and dancing and the whole center was covered in graffiti," Abers said. "It was the only place in the city where graffiti was not only allowed but we supplied the paint."
Ozomatli began as a way to raise money. The band has now played for crowds of 300 to 30,000. The band have travelled through Africa, the Middle East, Europe, Japan, Myanmar, Nepal, India and North and South America.
From each country, Ozomatli took a little piece of music, like the Malagasy style from Madagascar. In this way, the L.A. band is not only the voice of their city, but citizens of the world, Abers said.
"On a basic human level, when looking at everything we have learned, we all need that cultural exchange, we are trying to share the music of the U.S. and connect with people," Abers said.
A few years ago the U.S. State Department approached Ozomatli and asked them to be cultural ambassadors for the U.S. in a primary tour to India and Nepal. This was an honor that no musician has been given since Louis Armstrong, Abers said.
"Every country we go to we share that we don't support American foreign policy but it is a wonderful cultural experience and understanding," Abers said.
Even in the U.S., Abers said Ozomatli is a cultural ambassador representing politics and diversity.
"We are trying to encourage people to go out and vote. Young people are not represented and politicians are representing corporations instead of people," Abers said.
Ozomatli is participating in the sound-strike against Arizona, along with Hall and Oates and Maroon 5 in order to show their disapproval of racial stereotyping laws, Abers said.
The entire band is a close-knit group after so many years of touring together.
"We are brothers. We are a family. More than friends and less than lovers," Abers said.
Leia Ostermann can be reached at [email protected]