Women's soccer falls to UC Davis in season opener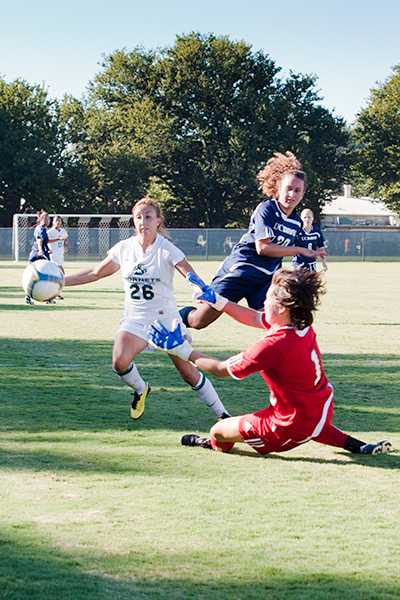 Sacramento State's women's soccer team lost its season opener against rival UC Davis 1-0 on Friday night at the Hornet Soccer Field.
The Hornets' loss resulted in the Aggies earning the first points in the Causeway Cup.
Only 4:48 into the first half, Allison Kelly took a pass from Aggie teammate Lisa Kemp and scored the game's only goal.
UC Davis maintained a fast pace the entire first half by recording six shots on goal and controlling possession.
Senior midfielder Cori Shreve said the lack of aggressive plays by the Hornets in the first half was key.
"You can't go in easy at first," Shreve said. "You have to expect that they're going to be physical. You have to expect that they're going to be tough. You have to go all out."
The Hornets came out from the halftime break and started matching the Aggies' aggression. In the second half, Sac State had 10 shots on goal while committing 11 of the 15 second-half fouls.
Head coach Randy Dedini said he liked the way his team was playing after halftime.
"It took us about a half to figure out the speed of the game, the physicality of the game and I think we adjusted nicely in the second half," Dedini said. "I think what we took from it was that we can play a physical game and that we can play much better."
Sac State managed to pull together several late rallies in the last 10 minutes of the game, but still resulted in zero goals.
"It was two different halves," Dedini said. "We can't expect to win if we only put together one good half."
The Hornets' second game of the regular season will be on Sunday at 1 p.m. at the Hornet Soccer Field, as they host San Diego State University.
Goalkeeper Savannah Abercrombie said the team will be ready on Sunday to get back the team's physical gameplay.
Come Sunday, we shake this game off and don't think about it," Abercrombie said. "We need to prepare ourselves mentally for Sunday's game and be ready and learn from what we didn't do today."
Marshall Hampson can be reached at [email protected]