Veteran Success Center paves way for former service members at Sac State
Sacramento State's Veteran Success Center is doing everything in its power to create inclusiveness for veterans and dependents of veterans on the campus, according to director Austin Sihoe.
According to Sihoe, former members of the armed services having a sense of inclusiveness adds to their success while enrolled at Sac State. 
The Veteran Success Center, which is located on the third floor of Lassen Hall, has earned a noticeable difference from other veteran centers in the greater Sacramento area, but according to Sihoe, there's more to it than that.
"We call ourselves the Veteran Success Center because we provide more than resources," Sihoe said. 
The current G.I. Bill is set up to make navigating the CSUS system much easier for veterans, according to Sihoe.
"One of our main programs is the veterans career pathways program," Sihoe said. 
Sihoe said he is focused on helping veterans become more competitive as they enter the workforce.  
He also said the Veterans Success Center has adopted a proactive approach toward aiding veterans to make the most of its resources and achieve their potential. This is particularly important in ensuring they can receive daily support in their studies instead of when a problem arises. 
Story continues below photo.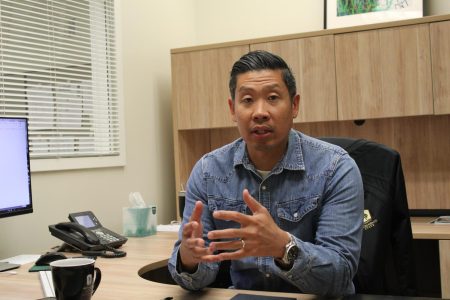 In some cases, veterans re-entering the college setting fall into the non-traditional student status. One of the barriers identified by Sihoe is a lack of courses available in non-traditional time frames at Sac State. Veterans working regular nine-to-five  jobs to support their families cannot meet with professors during normal office hours.
"So the times we are open, the veterans are working," Sihoe said. 
Jennifer Gomez, president of Sigma Omega Delta, a coed fraternity for veterans, said she feels that student resources are present, but that the lack of awareness is a roadblock. 
"We're adding in televisions,"  Gomez said. "We have a fridge, a microwave and a Keurig; all available for veterans to use free of charge."
Sihoe credited the Department of Defense for prioritizing health and wellness and ensuring that veterans transitioning from a military career can get the support they need to succeed in school. 
Graduation rates are higher than other students because they tend to be transfer students focused on using graduation according to Sihoe — which a step for vets towards more opportunities to support their families. He added that there is a need to enable vets to translate their military service experience into transferable skills which, combined with their degree, makes them the best candidates for employment. 
Gomez said she's hoping to improve how veterans access information about the resources available to them at Sac State. Part of that improvement is shifting communication mediums from email to social media platforms. 
"The younger the students get, the less they'll be on outlook and the more they'll be on Instagram," Gomez said.
At Sac State, there is no academic counselor in the Veterans Success Center, Gomez said. She spoke from personal experience of the frustration of being unable to meet with counselors who could assist in picking the correct classes for the upcoming semesters. 
For military science professor and Army ROTC officer Maj. Marshall Angerman, awareness of veterans is critical to creating inclusiveness for veterans at Sac State's campus. 
"Veterans feeling welcome, knowing that there are organizations on campus for them, helps veterans feel a sense of community," he said.
Story continues below photo.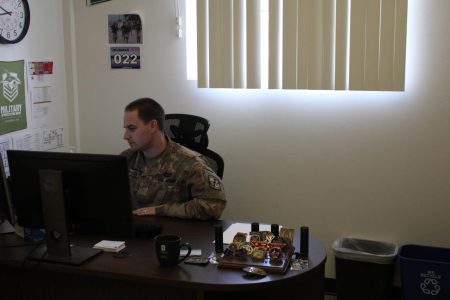 Acknowledging that the campus aims to be an inclusive environment, Angerman said the state of California is not regarded as one of the most favorable places for veterans due to the stigma associated with military service.
Military science Lt. Col. Justin Ottenwalter said learning institutions must create an environment where veterans feel respected, welcomed and valued. He said ensuring programs cater to their aspirations, needs and priorities is essential in encouraging more veterans to pursue academic endeavors after service.
Elena Takanikos-Corti, office manager at the Sacramento vet center, observed that access to childcare is essential in enabling more veterans to pursue graduate studies.
"Finding childcare in the houses that would benefit me is a big problem for many veterans and students," Takanikos-Corti said.
 She agreed with Sihoe about the need to acknowledge that veterans are not traditional students due to their age and experience. 
 Takanikos-Corti noted that a failure to create an inclusive learning environment could undermine vets' graduation rates. Moreover, she called for an intentional approach to classroom management and creating spaces that embrace and foster diversity. 
"You know militant life — military life is very structured," said Takanikos-Corti. "There may be chaos, but it's complete, ordered chaos."