Sac State Veterans Success Center supports Veterans in life's new chapter
The center has grown to include a comfortable environment for female veterans, resources for dependents
This semester, Sacramento State is home to 495 student veterans who can receive support in registering for classes, transitioning into civilian careers and using educational benefits in Lassen Hall room 3003.
Mario Garza, the Veterans Success Center coordinator, said he loves giving back to veterans. Garza said he joined the center's staff because his brother is a Marine Corps veteran.
According to Garza, 290 Sac State students are currently using the GI Bill this semester.
"The Post 9/11 is a GI benefit for veterans who have served some percentage of time in the military," Garza said. "Depending on their percentage, that is how much of their tuition is covered at Sac State."
According to the U.S. Department of Veterans Affairs, 100 percent eligibility requires 36 months of active service and 40 percent eligibility is given to personnel who served 90 days of consecutive service.
Garza said the Veterans Success Center offers veterans a place to use computers, free printing services and a place for veterans with similar stories to share their experiences with one another.
The Veterans Success Center serves around 200 visitors a day, according to Garza.
Jesse Janda, a Sac State criminal justice major, is one of those visitors. Janda said he chose to come to Sac State to be closer to his family when he got out of the Air Force.
Janda said he chose to be a criminal justice major because of his experience in the security forces of the U.S. Air Force.
"It was an easy transition, and I like to study the law," Janda said.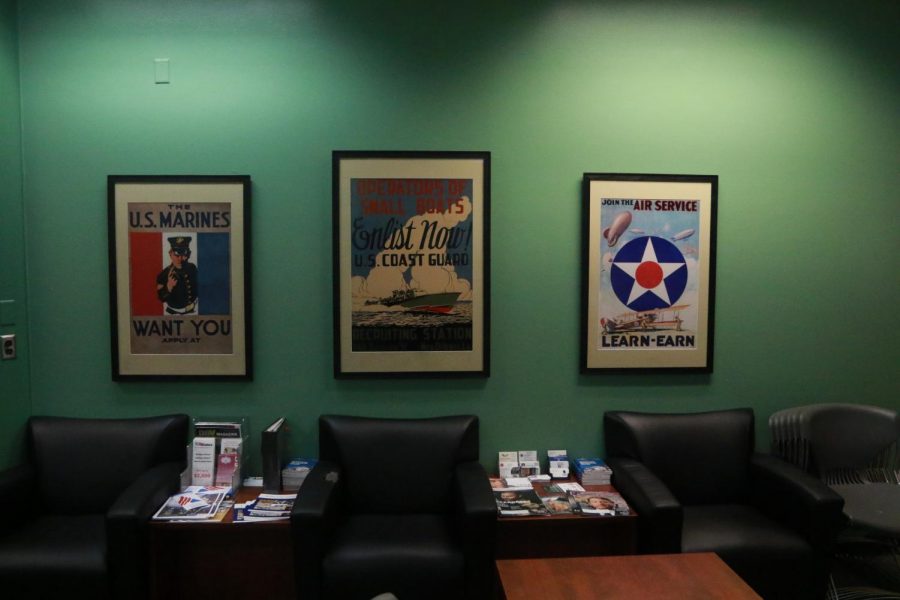 Garza said he is proud of bringing more female veterans into the Veterans Success Center by creating a safe and comfortable environment with more female staff.
"I did a big push to get females into the center," Garza said.
Jacqueline Hooks, a health administration grad student who works in the Veterans Success Center, chose to join the Armed Forces to be more independent.
"I wanted to become a stronger person and more disciplined," Hooks said.
Hooks said the Veterans Success Center has helped her meet a lot of people to network with.
Garza said that his ideal next step is to expand the number of dependents of veteran benefits using the center.
"The center is not just for veterans, it's a center for connected military families," Garza said.
Garza said veterans have the option to pass on their educational benefits to their spouses and children.
Noah Rodriguez, a business major who also works in the Veterans Success Center, uses benefits his father earned from serving in the Coast Guard to help with school.
"I wanted to learn more about veterans and help them," Rodriguez said.
Rodriguez said that working in the Veterans Success Center has also helped him learn more about the benefits he received.
The Veterans Success Center is open Monday through Friday, 8 a.m. to 5 p.m.
Donate to The State Hornet
Your donation will support the student journalists of Sacramento State University. Your contribution will allow us to purchase equipment and cover our annual website hosting costs.