'Return of the mack': Hornets catcher came back to finish what he started
The fifth-year senior returned to play after being honored at senior night in 2022
The late 90s hit single "Return of the Mack" by Mack Morrison plays over the loudspeakers at Sacramento State's John Smith Field as senior catcher Martin Vincelli-Simard walks up to bat for what will be the start of one last ride.
Hornet baseball fans last saw Vincelli-Simard sporting his white and green home jersey on senior night in May 2022, where they thought they'd watch him play at the university for the last time.
Little did anybody know, Vincelli-Simard was thinking — as he was playing his last home game — about exercising his final year of eligibility, made possible by the NCAA's Coronavirus competition policy, to play ball at Sac State for another season.
Story continues below photo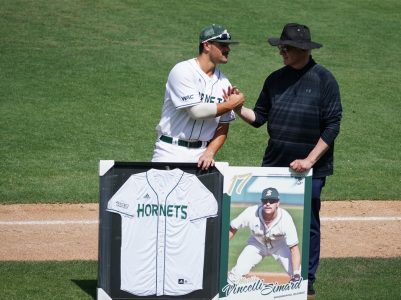 Vincelli-Simard solidified his decision over the summer when he was home in Quebec, Canada, saying he felt he "wasn't done" with his time as a Hornet.
"I went back home for the summer and I just realized 'Man, I wanna finish this thing,'" Vincelli-Simard said. "I wanna go do my fifth year, meet the new guys, help them out." 
Sac State head coach Reggie Christiansen said with the transfer portal, the older the roster is, the better chance the team has to be successful. 
"We convinced [Vincelli-Simard] it would be worth his while to stick around," Christiansen said. "Keeping a fifth-year guy like him and [senior pitcher] Jack Zalasky certainly helps."
Story continues below photo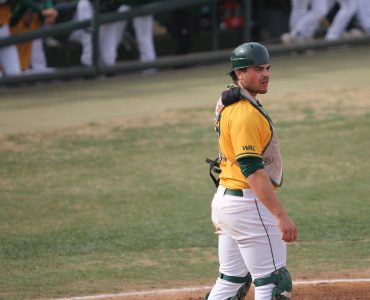 In March 2022, Vincelli-Simard suffered an oblique injury that put him out for around a month and a half. 
He said he took a swing and it didn't feel right, but he tried to stay in the game. By the third inning, Vincelli-Simard said the pain was too much to bear — he had to stop playing. 
"On top of that, I did not have a great start to the season," Vincelli-Simard said. "I was like, 'Goddamn; this is tough.'"
He said missing that time, as well as the fact that he came back from the injury and did well for the last month and a half of the 2022 season — hitting .285 with 27 runs batted in — contributed to him wanting to finish his time at Sac State.
Vincelli-Simard was 17 years old when he enrolled at Sac State. Being across the continent from his parents, Vincelli-Simard said he had to adapt to being on his own and grow up in a short amount of time.
"I came in freshman year, had a good start of the season and thought I had it all figured out," Vincelli-Simard said. "Baseball is going to humble you quickly."
Despite the stiff competition at the cathcer positionat the start of his Hornet tenure, Vincelli-Simard said he managed to start some games. 
Story continues below photo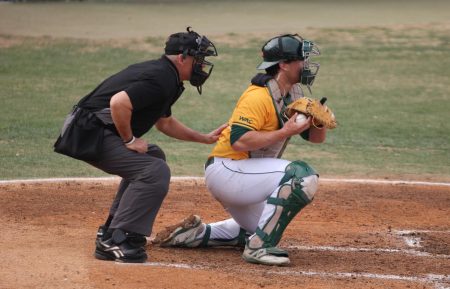 He said there wasn't a first-base position set in stone and, coming out of high school, he could play both positions.
"To help out the team, I went to first," Vincelli-Simard said. "I'm glad that happened. I would've not liked to just be a third-string catcher and just play in a quarter of the games."
Now that Vincelli-Simard returned to the position for his final season, he's had an impact leading the Hornets in home runs per at bat with one per every 16.17 at bats while also leading the Hornets in runs batted in with 26 among qualified hitters.
Vincelli-Simard also is third among qualified Sac State batters with a .309 batting average over 27 games.
With his return, Vincelli-Simard said he hopes to help the younger players with some things he struggled with when he was starting out: getting too much in his head, feeling pressure about getting a certain amount of hits and having to hit a homerun when he was up to bat.
"It's never going as good as you think; it's never going as bad as you think," Vincelli-Simard said. "Sometimes looking at numbers is a trap."
Baseball is a rollercoaster, Vincelli-Simard said. He said players are going to have high moments and low moments.
"It's like, 'I was the best baseball player in the world yesterday and today, I suck,'" Vincelli-Simard said. "It's just averaging those feelings."
Along with playing with Vincelli-Simard for five years, Zalasky has lived with him for three. 
Zalasky said Vincelli-Simard is a hard worker and a great leader who holds players accountable.
"Tino is a tough dude," Zalasky said. "He's not afraid to tell you if you're doing something wrong. He's not afraid to get you on the right path."
Off the field, Vincelli-Simard said he enjoys visiting his family in Canada, watching movies like "Stepbrothers" and working out.
In their time together, Zalasky said he and Vincelli-Simard play Call of Duty: Warzone and take sports quizzes. 
"It's just togetherness," Zalasky said. "You're doing stuff other than baseball. It makes you closer."
Vincelli-Simard said since he has all of his credits to graduate, his focus now is to give himself the best chance he can to be the best baseball player he can be for Sac State.
"Just go out there and win a regional," Vincelli-Simard said. "That's the next step in this program. I think we have the guys to do it."