ASI asks Sac State administration to remove Columbus Day from academic calendar
Sacramento State's Associated Students Inc.'s Board of Directors unanimously passed a resolution on Wednesday to advocate for the removal of Columbus Day from the university's academic calendar and observe the holiday as Indigenous People's Day on Oct. 11. 
The academic calendar for Sacramento State currently lists Oct. 11 as both Columbus and Indigenous People's Day.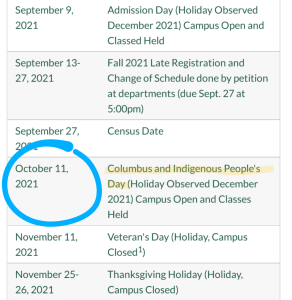 While ASI does not have the power to change the name of the holiday on the university's calendar, ASI President Samantha Elizalde said the idea for this resolution came from Executive Vice President Joseph Sais, who happened to be looking at the academic calendar and felt ASI should say something about the name of the holiday. 
Sais summarized the history of Christopher Columbus and Columbus Day, describing how the celebration of Columbus Day is a celebration of the violent colonial efforts to drive Native Americans out of their land during Europeans' expansion in the area.
Elizalde said that ASI's power lies in advocacy for change. 
"We [ASI] can advocate for what we want to see," Elizalde said. "[The resolution] is what that work really is." 
ASI begins every meeting with a land acknowledgement to the Native land of the Miwok, Maidu, and Nisenan tribes that Sac State resides on, as do some events that the campus administration hosts. 
"For them to do that, but we still acknowledge Columbus Day, is a bit hypocritical," Elizalde said in an ASI meeting on Sept. 22.
On Sept. 29, the resolution was on the floor for members to vote on, but it was postponed. Sais said after the meeting that he did not want to pass the resolution without input from indigenous voices on campus.
Maria Elena Pulido-Sepulveda, the secretary for Sac State's Ensuring Native Indian Traditions club, spoke during ASI's meeting on Oct. 6 prior to the vote on the resolution.. 
"I'm here today to express our support for this resolution," Pulido-Sepulveda said, adding that she hopes administration listens to ASI's call. "It will show that the university takes the students and [ASI] seriously, and that they're aware of what it means to take that power away."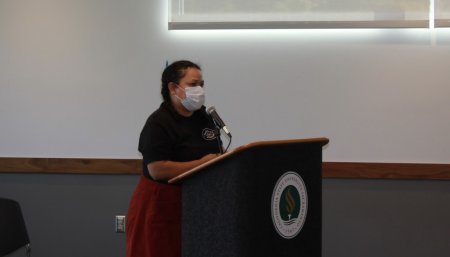 Pulido-Sepulveda believes that still celebrating Columbus Day and listing it on the calendar gives power to Columbus. 
"It's acknowledging someone who did very terrible things and it's giving them status," she said. 
During the meeting, Sais gave a speech in favor of the resolution, saying that the violent and tyrannical side of Columbus is "forgotten to history" and that supporting the resolution would go along with the campus' anti-racism agenda. 
RELATED: TIMELINE: A look at the recent history of racism at Sac State 
"[Columbus] was a genocidal tyrant who took the lives and land away from many indigenous individuals," Sais said. "Which is why, as we are trying to step forward and claim that we are an anti-racist campus, I believe that October 11 should solely be Indigenous People's Day."
Pulido-Sepulveda said it would be nice if the administration acknowledged Columbus Day should no longer be celebrated even if they do not act on changing the name of the holiday on the calendar before Oct. 11.
Director of News and Communications Brian Blomster, Public Information Officer Anita Fitzhugh and Director of ASI Sandra Gallardo did not respond to requests for comment at the time of publication.