Being a college student can be difficult at times, but Sacramento State has tons of valuable resources readily available to make the experience a little easier.
From accessing financial scholarships to utilizing academic tutoring opportunities, Sac State has plenty of resources to maximize the student experience and create a sense of community. Here's what you need to know about student resources available for the fall 2023 semester.
The Associated Students Inc. is a student led organization which provides programs and services for the campus community.
Safe Rides encourages students to commute to campus from rideshare services such as taxis and public transportation in an effort to reduce DUI incidents.
The program allows students to request up to $40 cash back in financial reimbursement each semester for rides taken from these services while funds last. Safe Rides also gives students the opportunity to earn cash back on smog checks and vehicle inspection fees.
Located on University Drive East, the ASI Children's Center serves as a family support resource, prioritizing the needs of Sac State students who are parents, staff and faculty. The Child Care Center has earned national accreditation by the National Association for the Education of Young Children.
The ASI Food Pantry is located on the north side of the University Union with its own outdoor entrance in the alleyway between the Union and Santa Clara Hall. The pantry's main goal is to provide food for students with food insecurities.
"We're open every single day in order to serve our students," Food Pantry Manager Sommer Hayes said. "We offer students supplemental food to offset the rise in inflation, like the cost of food."
Hayes said the pantry also offers toiletries and menstrual items in addition to food. To access the pantry students will need to complete a registration form and have their OneCard ready.
"They can shop with us every week," Hayes said. "It's a pretty cool environment."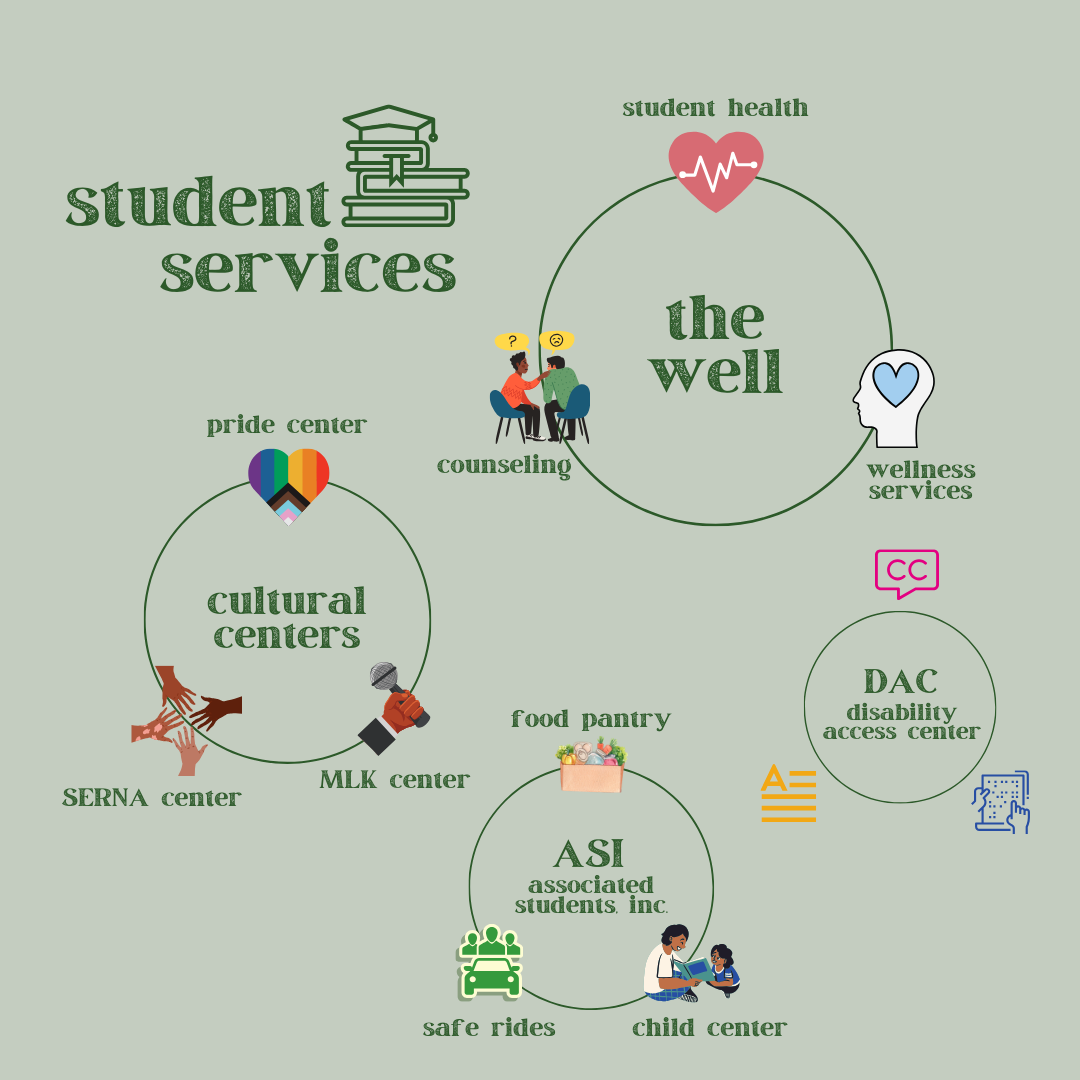 Sac State has a variety of different communities and cultures represented on campus. To help meet their different needs, several campus resource centers are available and ready for students to utilize.
The MLK Center, located in Lassen Hall Room 2201, works as a hub designed to explore African American heritage and culture. The center partners with local businesses to help students build life-long connections.
Established in 2015, the center offers opportunities for engagement in leadership development, community advocacy, workshop topics on social justice issues and entrepreneurship through its Martin Luther King Jr. Scholars Program.
The center is dedicated to ensuring African American students, and those interested in learning about African American culture, succeed while progressing toward their degree.
The Serna Center, located in River Front Center 1 Room 1031B, aims to bring Chicana, Latino and other underrepresented students together by promoting leadership, empowerment and civic engagement.
In addition to social efforts, the center provides a multitude of advising services. This includes Financial Aid and Scholarships Guidance, Internship and Job Search Assistance and First-Year Advising and Advising Guidance.
The PRIDE Center can be found in the University Union on the first floor next to Round Table. The center functions as a space for inclusivity and social gathering, while giving students a chance to learn about LGBTQIA communities and their experiences.
"Resource wise we have Queer Welcome, we're going to have pride week , which is a list of different programs," PRIDE Coordinator Angelito Zamora said. "We're gonna have just a lot of community bonding things."
Pride Week will take place Oct. 17 to Oct. 21. The PRIDE Center will also be partnering with the Office of Equal Opportunity for toxic queer relationship and safe zone training.
Zamora said the center also provides one-on-one and group counseling services for its queer and transgender members.
"As of right now, it's making sure that we are community building and providing a safe and comfortable space for queer and trans students to be able to be themselves and find that community space," Zamora said.
The university itself provides a variety of resources to help students navigate their college journey.
Crisis Assistance & Resource Education Support, or CARES, is located at The WELL in Office 1031. The program strives to meet the basic needs of every Sac State student facing crisis insecurities. This includes housing, food, clothing, technological and financial insecurities.
Additionally, CARES coordinates referrals to other campus resources such as counseling services, the Parents and Families Program and Sexual Violence Support.
The CARES office also focuses on Transportation Barriers, Mental Health & Wellness and Physical Health & Wellness, among others.
Student Health, Counseling & Wellness Services can be found at The WELL and acts as the central hub for other campus services, including the CARES office.
Specifically, they offer many counseling services centered around mental health. This includes confidential individual and group counseling.
The WELL has a Student Health Pharmacy that provides Prescription & Refills, Vaccine & Flu Shots and Over-the-Counter Products, Additional fees may apply to specialty services, procedures, pharmaceuticals, and vaccines.
Currently enrolled students who pay health fees are eligible to access services.
For students with disabilities, there is the Disability Access Center located at Lassen Hall in Room 1008.
"Our primary mission is to provide in-class accommodations for students with disabilities so that they have a fair playing field," Shannon Brown, administrative analyst for the Disability Access Center said.
The center's new Sensory Room was designed to meet specific needs of neurodivergent students. . The room's adjustable lighting, soothing colors and comfortable seating helps create a calming environment for students.
Other resources at the DAC are available such as the Assistive Technology Lab and the Disabled and Non-Disabled Student Alliance club.
Sac State offers a variety of scholarships for the diverse community of students who major in different fields and come from all walks of life.
The university has a scholarship office in Lassen Hall Room 1000 and a web page that lists a variety of available scholarships. To apply online you just need your Sac link username and password.
Whether the scholarships come from the university itself or as a part of the wide range of awards available through ASI, there are plenty of scholarship opportunities for students to utilize throughout their academic journey.
Conclusion
These resources just scratch the surface of what the university has to offer to students who want to make the most of their academic endeavors.
Learn more about all the resources Sac State has available for students.