Hornets defeat No. 1 men's tennis team in Big Sky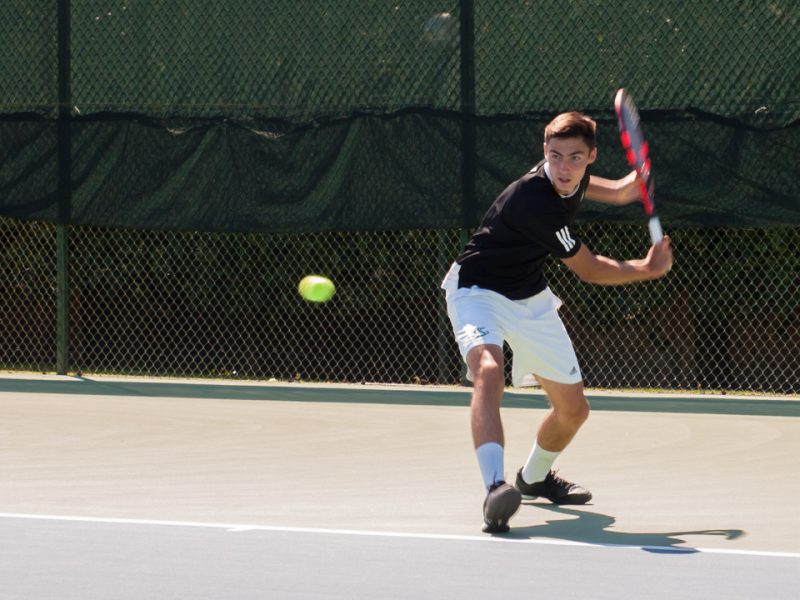 The Sacramento State men's tennis team nearly shut out Northern Arizona 6-1 Sunday at the Rio Del Oro Racquet Club.
With just four weeks left before the Big Sky Tournament in Phoenix, Arizona, Sac State needed a bounce-back performance after going 1-4 in its last five matches.
"Winning gives us more confidence after the losing streak we had," junior Christopher Clayton said. "Even though we were playing good teams (we were) still not as confident going into the next match because we're always asking ourselves, 'we will play good today?' "
This question was answered as the Hornets (9-10, 6-2 Big Sky Conference) jumped out to a 1-0 team lead in the doubles round over Northern Arizona (11-7, 6-1 Big Sky Conference), which boasts the best conference record in the Big Sky. The tandems of junior Kasparas Zemaitelis and sophomore Mikus Losbergs (No. 1) and Clayton and sophomore Dom Miller (No. 3) both defeated the Lumberjacks 6-2 to clinch the doubles point.
Northern Arizona took four of the six first-set matches in the singles round. However, freshmen Louis Chabut (No. 4) and Hermont Legaspi (No. 6) — who were the only Hornets to not to lose in the first set — achieved straight-set wins over Felix Schumann and David Nguyen, respectively, by the score of 6-3.
Northern Arizona managed to earn its first and only point of the day at No. 1 after Tim Handel recovered from a 6-4 set loss to edge Losbergs in the tiebreaker, 7-6 (7-5). But with a 3-1 team advantage, Zemaitelis rallied from a 6-2 first-set loss to Sebastian Eguez en route to 6-1 and 6-4 victories at No. 3 to clinch a Sac State victory.
The final two matches carried on as Miller then beat Lucas Taylor (3-6, 6-1, 7-5) at the No. 2 position, and Clayton ended the day by defeating Ruben Montano in a back-and-forth No. 5 contest (4-6, 6-1, 6-3) to end the game with a 6-1 finish.
"This was a great win for us in the conference," Clayton said after helping the Hornets give Northern Arizona its first loss in the Big Sky. "We knew it would be a really hard match coming in."  

Sac State, which has just over three weeks left before the Big Sky Tournament, will have a few days rest before hosting Hawaii at 1 p.m. Wednesday at the Rio Del Oro Racquet Club.