Women's tennis team struggles without top seniors due to 'ongoing investigation'
With two months down and less than two months remaining in the spring season, the Sacramento State women's tennis team has defied expectations, for better or for worse.
Though the Hornets were projected to finish the regular season atop the Big Sky Conference in January's preseason coaches' poll, coach Clarisse Baca said she has also been focused on laying down the foundation for the program's future during her first year at the helm.
"I think there were bigger goals like transitioning on campus (from the Rio Del Oro Racquet Club), getting new recruits, working together with the school and building up the program," Baca said. "I know this year's … going to still be tough but with the hopes that in the long term we'll even be better than what we were before."
While Sac State currently stands with a 3-8 overall record, the team has played the first half of the spring season without seniors Alina Soltanici — who played at No. 1 exclusively for the last two seasons — and Deimante Bulatovaite. The State Hornet previously reported that both players had been injured, but recently discovered both players have been ineligible for the last eight months.
The Sac State tennis department could not be reached for comment regarding Soltanici and Bulatovaite's situation "due to an ongoing investigation," said Assistant Athletics Media Relations Director Andrew Tomsky via text message.
Bulatovaite, who has been practicing with the team alongside Soltanici, said the duo had planned to make its return for Sac State's Feb. 18 doubleheader but remain ineligible until the NCAA and the university close the investigation.
"We don't know when we're going to be back," Bulatovaite said. "It's heartbreaking to just sit on the benches and look how the girls are playing (while) not being able to contribute to the team."
Junior Anna-Maria Nau was also scheduled to play against Northern Arizona and Southern Utah on Feb. 18, but was sidelined after a car accident left her with with undisclosed injuries. While Nau is expected to return shortly, the Hornets only had 6 of their 11 total players available to play in the doubleheader.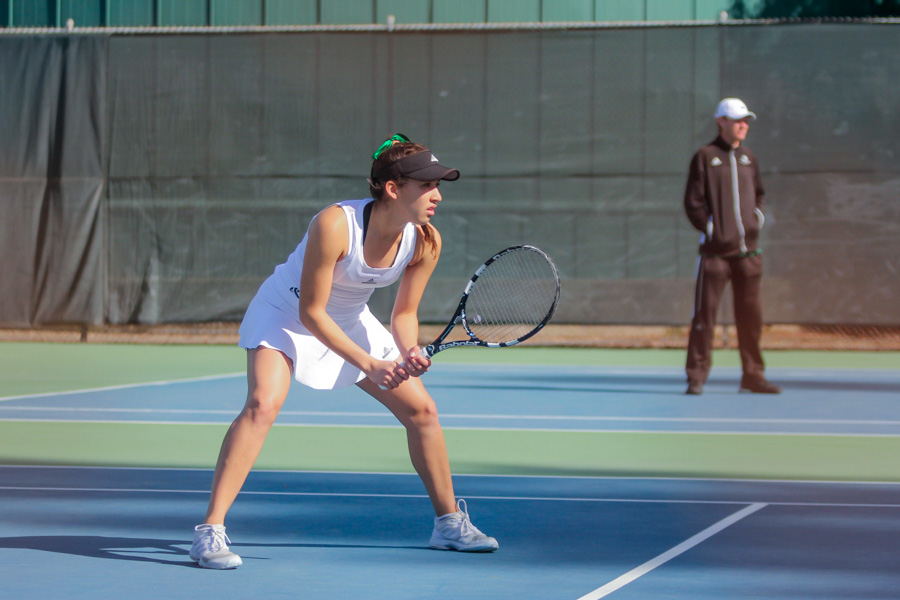 Among the bright spots for the team so far has been junior Ana Loaiza Esquivias, who has been named Big Sky Player of the Week three times in a four-week span. Loaiza has played every match this season in the No. 1 spot after playing last season in No. 3 and No. 4, and holds a 8-1 singles record as of press time.
"Since the circumstances we've had have been kind of off, I just decided I just wanted to play my best and try to be confident," Loaiza said. "I just had to do it."
Though Sac State is ranked sixth in Big Sky standings, the Hornets are 2-2 in conference play and could still claim the top seed with seven conference matches left to play this spring. However, Baca said the team needs to improve its doubles play to have a serious chance at winning, especially after losing four matches 4-3 this season.
"I think one of the key points is that we get too tight on the specific points and we're just pushing the ball and letting our opponents just get ahead," Baca said. "We're going to work on … pretty much just changing direction, (getting closer) to the net and changing the rhythm."
Many players, including senior Andie Mouzes, have had to climb up the lineup in the absence of Bulatovaite and Soltanici. Mouzes went from playing No. 5 in all but three singles matches last season to playing No. 3 every match this spring — aside from Jan. 28 when she played No. 2 against UC Davis.
"I'm two or three positions higher than last year, so that's definitely a challenge but I think gaining some confidence with some wins will help all of us, including myself," Mouzes said.
After splitting the March 4 doubleheader with a win over Montana and a loss to Montana State, Sac State will travel to Southern California Friday to face San Diego State.