Foul trouble leads to 92-78 loss for women's basketball team
The women's basketball game between Sacramento State and North Dakota was expected to be a physical matchup — Wednesday night's game featured a total of 40 fouls.
However, when one of those programs (North Dakota) is the fifth-best free throw shooting team in the nation, it's usually not ideal to give them multiple opportunities at the charity stripe. The Fighting Hawks made 26-of-29 free throws en route to a 92-78 victory over Sac State at the Nest.
"In a lot of ways, it was a familiar theme that we didn't help ourselves as much as we needed to sometimes (and) had a lot of unnecessary fouls," Sac State coach Bunky Harkleroad said. "When you get beat by 17 at the line in your own gym — a lot of the calls were hard to argue. We made a lot of bad decisions."
The size comparison of North Dakota and Sac State was evident from the start, with 5-foot-8 senior guard Ashlyn Crenshaw going up for the jump ball against 6-foot-2 forward Lexi Klabo.
The Fighting Hawks got an early 15-5 lead with 6:42 to go in the first quarter, but that evaporated to a two-point lead when Sac State senior guard Brianna Burgos made two 3-pointers in 18 seconds. However, North Dakota ultimately finished the first quarter with a 24-16 lead.
Burgos smiled as she recollected her first quarter artistry, when she made four of the five 3-pointers she attempted.
"I was just thinking, 'I've got two more games left, shoot the ball,'" Burgos said. "I've been hesitant all year — and it hasn't been the easiest journey since I tore my ACL and I keep telling myself all that matters is when we go to Reno."
Burgos started the second quarter by scoring a quick layup to cut the North Dakota lead to six. However, it didn't seem to matter how many times Sac State scored as North Dakota found a way to match it or neutralize the threat. With less than 50 seconds to go, Klabo put North Dakota up by 17 with an inside layup, and helped her team end the first half with a 52-36 lead.
North Dakota used its size and physicality (three of its starters were 5-foot-10 or taller) to bully Sac State in the paint, scoring 36 of its 52 points in the box. The Fighting Hawks' bench also outscored the Sac State bench 22-4.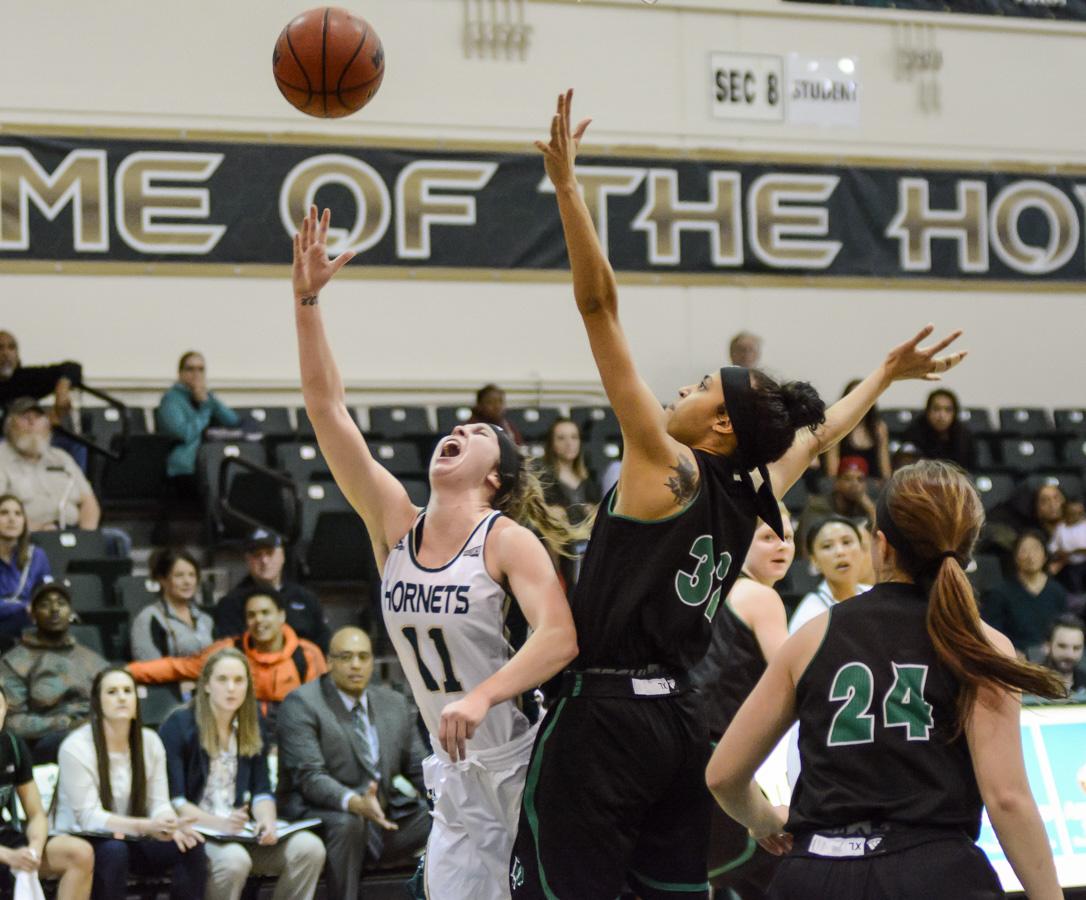 "We could've stayed in front of somebody and boxed out," Harkleroad said about the team's lack of an inside presence. "We got dribbled with three different defenses. They're so big and physical — and they manhandle you."
Sac State received some early momentum in the third quarter after a 3-pointer by Crenshaw. For the first six minutes of the quarter, Sac State went on a 19-6 run that got the Hornet faithful out of their seats, trimming the lead to four at 58-54. However, North Dakota earned some room to breathe after Klabo, Makailah Dyer and Leah Szabla combined to go a perfect 10-of-10 from the free throw line to give North Dakota a 66-56 advantage headed into the final quarter.
Sac State junior guard Justyce Dawson, who finished with 14 points and nine assists, attributed the fouls to a lack of discipline on the defensive end.
"We weren't smart on defense," Dawson said. "Knowing the refs were going to blow the whistle, we needed to be more careful not to be overly aggressive, but still putting ourselves in position to get steals."
The Hornets cut the deficit to eight with a pair of free throws from senior Gretchen Harrigan in the fourth quarter. North Dakota, led by nine free throws in the final three minutes and managed to keep enough distance ahead of Sac State to maintain its lead and secure the victory.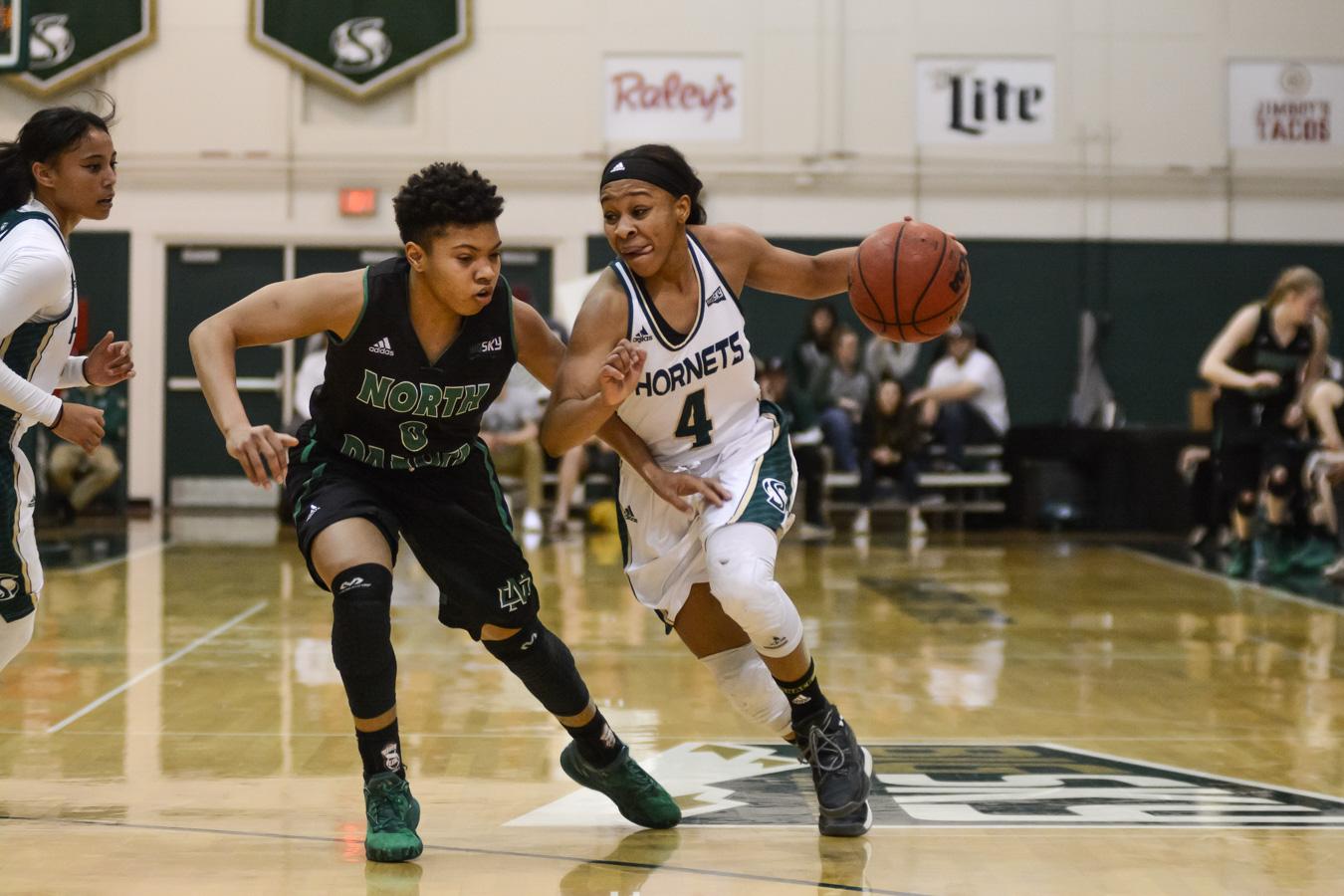 North Dakota had four players score in double figures, led by Dyer's 21 points. Burgos and Dawson had 14 points apiece for Sac State, with the latter finishing one point away from her career-high. Harrigan finished with 12 points for the Hornets, which had all but one player score.
With the win, North Dakota clinched at least a share of the Big Sky regular season title, with Montana State winning on Wednesday night against Idaho State to keep its hopes alive. If North Dakota wins and Montana State loses Friday, North Dakota would win its first outright regular season conference championship in program history.
With the loss, Sac State is now in ninth place, and is guaranteed to finish no higher than seventh in the conference standings. Sac State has a chance to move up to seventh on Friday when the Hornets host third-place Northern Colorado at the Nest.
The buzz from the Nest:
Before the game, junior guard Maranne Johnson was presented with a commemorative ball in honor of reaching the 1,000-point plateau in her career. Johnson is the 13th Hornet to reach the mark, and only the fifth to do so in her first three years.
Johnson, who went 1-for-4 from the 3-point line, is now one 3-pointer away from tying the single-season record for 3-pointers made in a season. The record is 86, which was set by Hallie Gennett in the 2014-15 season, then tied by Brianna Burgos in the 2015-16 season.
Friday night's season finale will also serve as senior night. Sac State will be saying farewell to five of its six seniors, as Ashlyn Crenshaw, Emily Easom, Gretchen Harrigan, Margaret Huntington and Burgos will suit up for the final time in front of the Nest. Senior forward Kyhonta Doughty — who hasn't suited up all season due to offseason knee surgery and back problems — is expected to file for a medical redshirt so that she is available to play in the 2017-18 season.