Women's basketball team snaps four-game skid in victory over Montana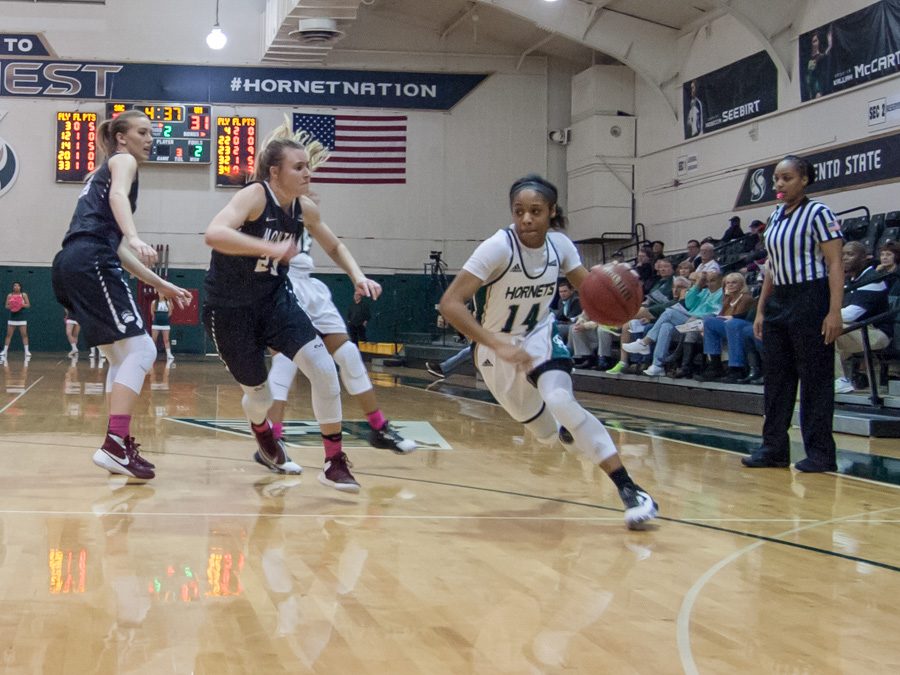 A total of 25 turnovers ended the Sacramento State women's basketball team's four-game losing streak en route to a 99-69 victory against Montana at the Nest Thursday night.
However, Sac State's team goal every game is to force a total of 30 turnovers, according to junior guard Maranne Johnson.
"I think forcing that many turnovers helped us a lot," Johnson said. "That's taking possessions away from them offensively. It works on our behalf to play as fast as we can and make them play sporadic and chaotic, so it helped us."
Johnson led all scorers with 21 points, while senior guard Emily Easom contributed with 18 points. Senior forwards Margaret Huntington and Gretchen Harrigan both added 15 points in the Hornets' favor.
On the defensive end, Sac State (9-15, 4-8 Big Sky) combatted the Grizzlies' (5-20, 2-12 Big Sky) offense with a full-court press which forced them to take tough, contested shots from start to finish.
"Setting the tone defensively is everything for us," Sac State coach Bunky Harkleroad said. "If we don't do that, it's going to be hard to win games. We want to play at a fast pace and in order to do that, we have to play extremely hard, especially on the defensive end."
Over the course of their four-game losing streak, the Hornets averaged 60.7 points per game, while permitting 72.3 points per game. Sac State's field-goal percentage over those four games was 32.3 percent, but against Montana, the team shot 40 percent from the field.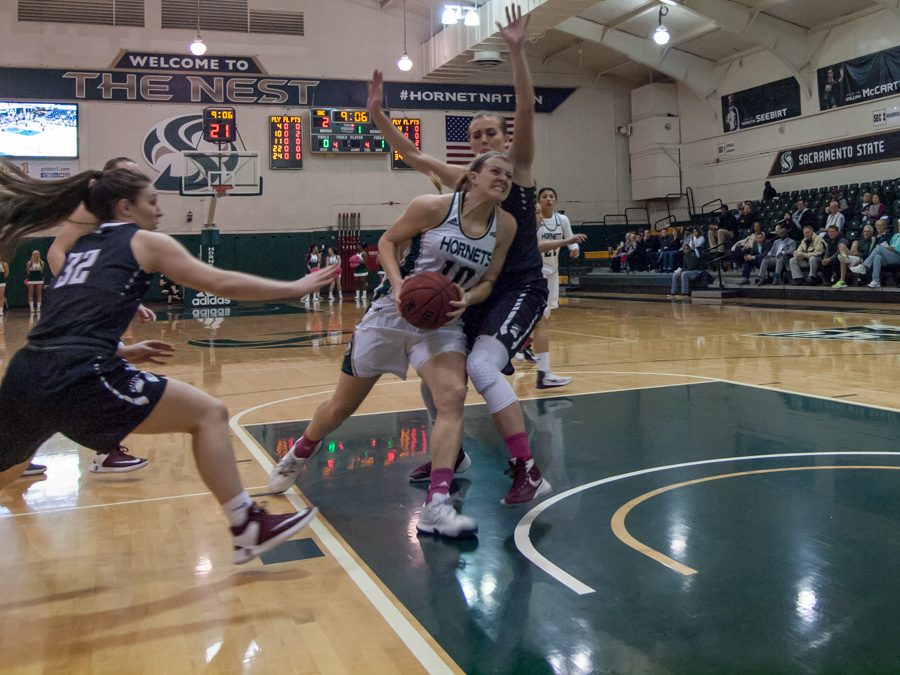 Sac State also outrebounded the Grizzlies by a total of 59-45. The Hornets had a total of 26 offensive rebounds and 24 second chance points. Huntington led all players with 17 rebounds — the fifth time she has had 15 rebounds or more this season. Johnson also added 10 rebounds.
"Coach (Harkleroad) told me before the game that I could either be an energy giver or an energy taker," Huntington said. "That was my mentality going into the game because we haven't been winning much in the past couple weeks and I just wanted to bring the energy."
In the first half, Sac State led for all but the first 10 seconds of the game. The Hornets outscored the Grizzlies 52-39 in the first half, shooting 18-of-40 from the field and forcing a total of 12 turnovers.
In the second half, Sac State gained its largest lead of the night (75-48) with 1:32 left in the third quarter and outscored the Grizzlies by a total of 25-10.
Sac State's next game will be against Montana State where the Hornets will look to even the season series after losing 84-80 to the Bobcats on Jan. 19. Montana (18-6, 11-3 Big Sky) is currently ranked third in the Big Sky Conference standings.
The game against Montana State is set to tip-off at the Nest on Saturday at 2:05 p.m.