Sac State rower pursues dance career after car crash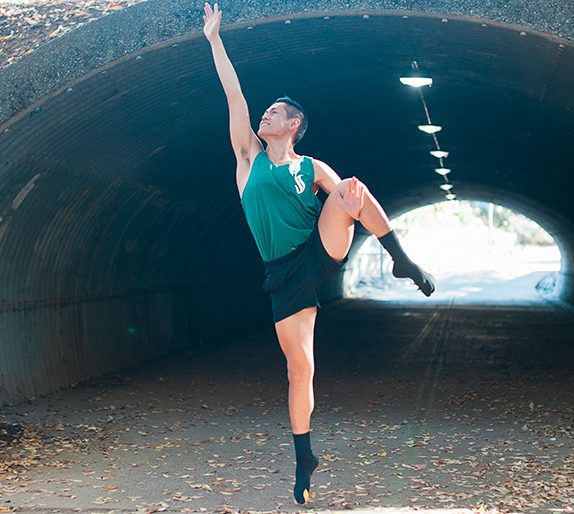 Though some suggested he blacked out, Sacramento State student Vuong Nguyen remembers closing his eyes and screaming as his foot bent backward and pain surged through his body.
The Elk Grove native was driving 55 mph through the intersection of Bond and Waterman Roads in Elk Grove in January 2015 when another driver — making an illegal left turn — struck the side of his car. The other driver walked away with no injuries, but Nguyen was rushed to the hospital in an ambulance.
Among the injuries Nguyen suffered was whiplash, which required him to wear a neck brace and sidelined him from rowing with the Sac State men's team for one month. Though amid the team leaders rowing in the top-eight boat, Nguyen lost his top spot during his time out when another rower surpassed his numbers.
Nguyen resumed practicing with the rowing team once his neck brace was removed, but he still experienced pain in his foot that barred him from dancing — his minor at the time and one of his favorite activities since he was 17. After auditioning for a dance team his sophomore year at Pleasant Grove High School and later taking classes at Sac State, Nguyen had gained proficiency in an array of dance styles, including jazz, contemporary, ballet, hip-hop and modern.
According to Sac State men's rowing coach Justin Boman, who also rowed on the team as a senior during Nguyen's freshman season, Nguyen trained to regain his technique and learned to row on the opposite side, eventually earning another spot in the top eight.
"His accident obviously set him back but it made him a better rower overall because now he can row both sides which makes him a much more valuable asset to our team," Boman said. "(It) also just shows his ability to overcome something so detrimental, so quickly."
When the pain remained after a year and he still could not stand in a relevé position on his toes, Nguyen decided to quit dance altogether.
"It was heartbreaking," Nguyen said. "I was like, 'I'm already behind, I'm going to quit. I just need to move on and forget the past and just go on with my life.' Of course I wanted to dance but I (knew) it wasn't an option anymore."
However, after some time away from dance, Nguyen began to reevaluate the role of dance in his life. Sac State modern and contemporary dance instructor Philip Flickinger says Nguyen came to him during the later stages of his recovery inquiring about taking more dance classes and getting back into shape.
"I almost didn't recognize him because his body use was so different because he was still in so much recovery from (the accident)," Flickinger said. "What I see today having him in class — it's almost as if this accident never happened."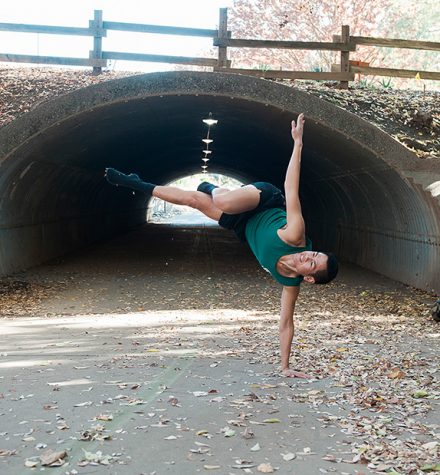 This semester, after taking more dance classes and fully regaining his physical health, Nguyen decided to transition from a dance minor to a full-fledged dance major.
"Before all this I just danced recreationally," Nguyen said. "Losing that year made me want to dance for the rest of my life basically — it just changed my whole career path."
Nguyen admits he knew he wanted to be a dancer from the start of college, but never saw it as a feasible option prior to the accident. He also credits the faculty and the dance program at Sac State for helping him recognize and fully embrace his abilities.
"I'm moving on to dance in the future because Sac State taught me how (to) love myself and my body and my movement because I didn't have that before," Nguyen said. "I don't have to beat myself down because I'm not perfect — it's more (like) encouraging myself to get better."
While Nguyen will graduate in the spring of 2018, this year marks his fourth season rowing for Sac State. Since the men's program began in 1984, fewer than 40 student athletes have completed all four years with the team — this spring Nguyen's name will be added to a commemorative plaque alongside Boman and the other 30-plus rowers to accomplish this feat.
Nguyen says he benefits from cross training between the two sports, with flexibility from dance and physicality from rowing, but neither he nor his coaches truly understand how he manages his schedule.
An average day for Nguyen starts at rowing practice at 5:45 a.m. and ends at 10 p.m. when he gets off work at East West Cafe, a phở restaurant run by his parents and brothers in Elk Grove. Additionally, Nguyen has to maintain his schoolwork and still occasionally finds time to hang out with friends after work.
"We can use him as a model for all the new incoming freshman and all other rowers to say, 'look, this is the guy (who is) able to do the near impossible — you guys have no excuse,'" Boman said.
This November, Nguyen was accepted to his first professional dance company, the Nhan Ho Project, an up-and-coming contemporary-modern dance troupe founded by Nhan Ho, who teaches advanced jazz and hip-hop dance at Sac State. Nguyen is among 14 dancers who were accepted out of the 40 who auditioned and will begin rehearsing in January, two years after his accident took place.
After graduating with a degree in dance in 2018, Nguyen plans to move to Los Angeles to train with a professional dance company and eventually earn his teaching credential to teach dance at high schools.
As he prepares to fully embrace this new life, Nguyen's only regret is that he did not start sooner.
"I just wish I knew earlier to be a dance major my freshman year," Nguyen said. "I would've been so much happier throughout my college life, but it's OK — it's never too late."