Kellogg kicks the injury bug, keen to remain in soccer
After breaking her leg, getting two surgeries and recovering for two years, Sacramento State women's soccer forward and team captain Kassidy Kellogg had the best season of her career.
Kellogg's sophomore season screeched to a halt during the fifth game of 2013 — against the University of Nevada, Las Vegas — when she collided with the UNLV goalkeeper, fracturing her tibia and damaging her meniscus (knee tissue). A native of Sandy, Utah, Kellogg was confined to the Sac State campus and unable to travel with the team for the remainder of the season.
"I came out here to play soccer and so when that was taken away from me I felt pretty lost and I was really sad — I hated it," Kellogg said. "It was rough not being able to travel because you just don't feel as a part of the team — you still are but it's just different."
Kellogg initially had a bolt drilled into her leg in the emergency room, but after cartilage was found lodged in her tibia, she returned for a second operation. Despite the lengthy recovery process, Kellogg made the most of her injury.
"I think being able to just watch the game in front of my eyes and really study it really helped me when I came back," Kellogg said. "Not being able to play really makes you hungry to get back out there and really not take anything for granted after that."
Kellogg, however, often played through pain after returning as a starter in 2014 and 2015. Sac State women's soccer head coach Randy Dedini observed that the spring of 2016 was the first time Kellogg played without the physical and mental inhibitions that followed her injury.
Entering this past summer fully healthy for the first time in years, Kellogg set out to train harder than ever. Though she started this season on the defensive end of the field playing outside backer, Kellogg was moved to the outside forward position in an effort to alleviate some of the team's scoring woes.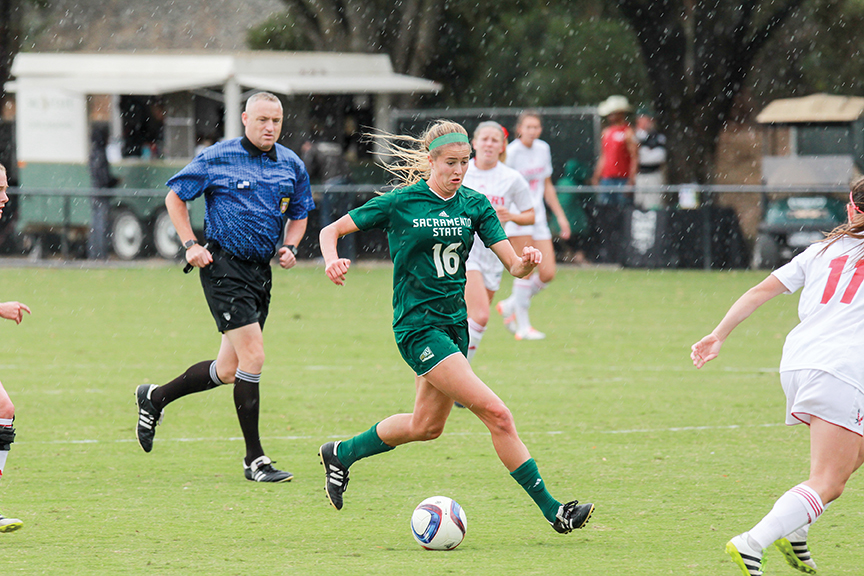 "She came in after this summer even fitter than where she was before. And her first step was quicker, and she had developed a couple of moves so that she can get around defenders. And so once we put her up there (as a forward), we as a team started scoring more goals, whether directly or indirectly due to (Kellogg)," Dedini said.
In 2016, Kellogg scored a career-high three goals during the regular season — two of which decided the final outcome of games. On Oct. 9, the forward found the back of the net in the final seconds of overtime to lift Sac State 2-1 over conference rival Idaho State on senior day.
While Kellogg contributes in games with her speed, physicality and 5-foot-10 frame, Dedini says she leads the team by example outside of soccer.
"Off the field she's one of the sweetest girls on the team and one of the first ones to raise their hand if a volunteer is needed," Dedini said. "She's just always in good spirits (and a) very positive thinker — willing to help out a teammate whenever necessary — just one of those kids that you just dream of having on your team and in the program."
Kellogg is among 11 seniors in 2016 who helped the team finish the season as the second seed in the Big Sky Tournament — after finishing last season as the sixth seed — before falling to Northern Arizona 3-2 in the semifinals on Nov. 4.
"I think this year has probably been the closest our team has been," Sac State senior midfielder Jennifer Lum said. "Everyone keeps pushing and everyone's fighting for each other, not just for themselves."
After graduating this December with a bachelor's degree in business, Kellogg plans to return home to Utah. Before returning to school to pursue her MBA, Kellogg hopes to keep her footing in soccer by landing a marketing position with the Real Salt Lake — Utah's Major League Soccer team.