UPDATE: SEPT. 16, 4:32 p.m.

The cause of the fire is still unknown, according to Sacramento Fire Department officials. One Sacramento firefighter was treated for smoke inhalation and has since been released from the hospital.
Story updated on Sept. 15 at 5:20 p.m. 
A two-alarm grass fire burning south of Cal Expo near the American River Parkway led to evacuations of the surrounding area and caused a large plume of smoke to be visible from Sacramento State on Thursday.
The fire was reported at approximately 1:15 p.m. near mile marker five, according to Sacramento Fire Department public information officer Chris Harvey. Possible injuries were reported.
Business Interstate 80 was backed up in both directions as the Sacramento Fire Department battled the blaze, which Harvey said was "not even close to being contained" as of 2 p.m.
As of 5 p.m., the fire's size was estimated at 176 acres. The eastward spread was stopped at Ethan Way.
Two events were being held at Cal Expo the time of the evacuation.
Mike MacManus, a sales representative with Roussos Construction, was participating in a trade show at Cal Expo at the time of the evacuation.
"Fortunately I had a bullhorn at the trade show, so I used the bullhorn and went back to the buildings and told everybody that they had to leave the property," MacManus said. "We were at building six at Cal Expo, and you could feel the heat from the fire for sure."
MacManus added that he wasn't surprised when he was notified of the fire.
"That area seems to catch on fire once a year," he said.
Sabrina Rodriguez, the media director for Cal Expo, said the evacuation was controlled and that parts of Cal Expo would remain open for additional events taking place near the racetrack this evening.
"You can see the smoke itself … and you can smell it on the property. However, the fire itself is still fairly far away from the racetrack itself," Rodriguez said.
Despite the large amount of smoke visible from the Sac State campus, there is no immediate threat to the campus community, according to Harvey.
"You don't need to evacuate right now," Harvey said. "We're well away from campus."
Sacramento State spokesperson Elisa Smith said that classes will not be rescheduled, but advised students to "stay away from that area and be careful."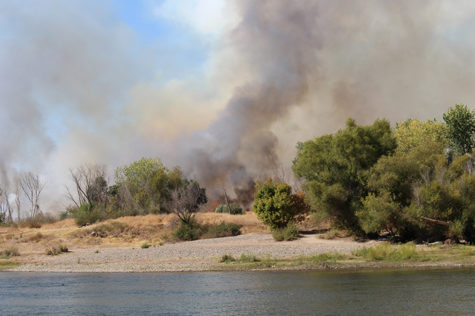 The State Hornet will update this story as more information becomes available.
Additional reporting by John Ferrannini and Joseph Daniels