Tyler Beardsley among best relief pitchers in America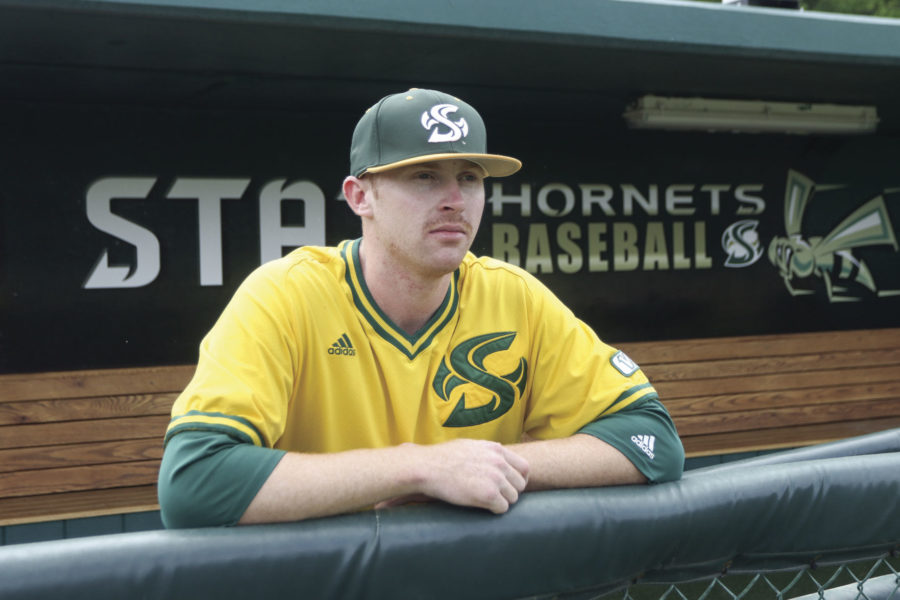 It is the top of the eighth inning and Tyler Beardsley's number is called on to close against one of the top five collegiate teams in the nation at Louisiana State University with a one-run deficit. He gives up a single to lead off the inning but records three straight outs afterward to give his team a chance to come back and win.
"We go into the top of the ninth, and we put up two runs to lead 5-4," Beardsley said. "Being in that situation, going against the number five team in the nation in front of about 13,000 fans, it was probably one of the coolest moments ever."
Beardsley went on to pitch in the bottom of the ninth inning and sat down LSU's top three hitters in order to win the game against arguably one of the top collegiate baseball programs in the nation.
"When I go up there on the mound, I just tell myself that the guy in the batter's box, he can't beat me," Beardsley said. "I go with that mindset every time."
Beardsley, 21, has been playing the game of baseball for the majority of his life. He started playing tee-ball as a young boy at about the age of 5. He was born in Lancaster, California but grew up in Tehachapi, California. Beardsley attended Tehachapi High School where he played four years of baseball under head coaches Dough Degeer and Chris Olofson. However, Beardsley did not really start pitching until his senior year of high school, and even then, he mostly played first base.
"Growing up and in high school, I didn't pitch much," Beardsley said. "It's been a real journey that I've been on these past four years of baseball just because that's all I do now."
Coming into this fall at Sacramento State, Beardsley was looking to be the third starter that the Hornets were in need of after losing two starters from last year. Beardsley was a reliever for the Hornets during his junior year, but he previously started in his sophomore year at his junior college, College of the Sequoias. That was one of his most memorable years in baseball, because his junior college team made it to the state finals.
However, the coaching staff saw more potential in Beardsley as their closer, someone who can shut games out with a close lead or keep the team in the ball game with a slim deficit, rather than a starter. Beardsley also fits the definition of a closer to a tee. He is a fearless individual who throws in the mid-90s with three secondary pitches to keep the hitters guessing.
"The week before our first road trip, he basically told us our roles," Beardsley said. "Ever since then, I've kind of just took on that role as the closer, and to be honest, I've been having success with it, and I absolutely enjoy the pressure."
Beardsley has done more than meet expectations. This year so far, Beardsley has made 23 different appearances with a 4-0 record and a 1.04 ERA in 34.2 innings pitched. He has only given up four earned runs with 18 strikeouts, averaging 4.67 strikeouts per game.
"I think what makes him so successful is that he has an electric fastball that he can throw for strikes," said Gunner Pollman, junior catcher for the Hornets. "It's been a blast catching him. It's not every day you get to catch a major league fastball, and that's what he's got."
Beardsley's performance this year has done more than create a buzz at Sac State. The National Collegiate Baseball Writers Association introduced the Stopper of the Year award in 2005 to honor the nation's top relief pitcher in NCAA Division I baseball. The NCBWA puts out a list to commemorate the top 40 relief pitchers in the nation halfway through the season. Beardsley found himself on this list, which was announced on April 28.
"I was on the plane and just checking social media right before we take off, and I happened to see that," Beardsley said. "I kind of had to look twice at it, but it was a pretty cool moment for me."
Beardsley credits his current and previous coaches for him being a respectful person and learning how to be a team player and play the game the right way.
"From my junior college, I can't thank my coaches Jody Allen and Scott Laird enough for preparing me for Division I baseball, and I can't thank Reggie [Christiansen], Steve [Holm] and [Jake] Angier enough for everything they've done for me," Beardsley said. "I definitely give credit to them, for sure."
With Beardsley being a senior, he is looking to enter the draft and advance his baseball career to the next level. When asked the possibility of Tyler playing professional ball, his current head coach, Reggie Christiansen, said absolutely.
"A lot of teams already really like him, and he has a great opportunity to go out and pitch in professional baseball within a year," Christiansen said.
After his baseball career comes to an end, whenever that may be, Beardsley plans on using his criminal justice degree from Sac State and aspires to be a part of a new team, the California Highway Patrol.