Hornets score third straight sweep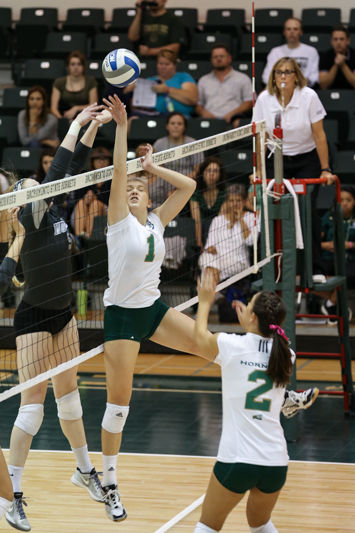 The Sacramento State volleyball team swept the University of Montana (25-14, 25-18, 25-20) on Saturday for the Hornets' fourth-straight win.
The Hornets completed the third-straight sweep to record their 20th win of the season. It is the first 20-win season for the program since 2007. The win snapped a three-game losing streak to Montana for the Hornets and is the first time coach Ruben Volta has recorded 20 wins in a season as head coach.
"We're just starting to play really consistently," Volta said. "We're playing good volleyball in every area… when you're doing everything pretty darn well it's going to hopefully lead to success."
Sac State improved to 20-5 overall and 7-3 in the Big Sky Conference. They are undefeated at home (6-0) against conference opponents and 9-1 overall.
"It feels great, we love winning at home," said outside hitter Sloan Lovett. "I think we come out fighting."
After setting a program-best hitting percentage of .467 against Montana State University last Thursday, the Hornets had a .312 hitting percentage on the match and hit over .300 in all three of their sets.
The Hornets were tough defensively, collecting eight blocks on the evening. The Hornets continue to have a great serve this season, with nine aces in the match. They're averaging 1.58 aces per set, which ranks third in the Big Sky.
Sac State got off to a great start, leading 7-0 at the beginning of the first set. The Hornets kept the lead the entire set to win 25-14. Sac State had a hitting percentage of .382. They had a strong serve with three aces coming the first set, two of which came from defensive specialist Lexie Skalbeck.
Lovett had a strong performance with a hitting percentage of .379 and had 14 kills in the match, which led the team. She also led the team with three service aces. She ranks sixth overall in the Big Sky Conference averaging .32 aces per set.
Outside hitter Morgan Stanley had a strong match with 10 kills and a hitting percentage of .556. She also had seven digs and a service ace.
"I think I played really aggressively and passed really well," said Stanley.
Lauren Kissell had another strong match with 13 kills and a hitting percentage of .297. Her average of 4.13 kills per set is third best in the Big Sky, and she also ranks fifth in hitting percentage.
The Hornets' next match is on the road against the University of North Dakota (16-9, 4-4 Big Sky) at 5 p.m. on Oct. 29.