Hornets shut out, fall 49-0 at Washington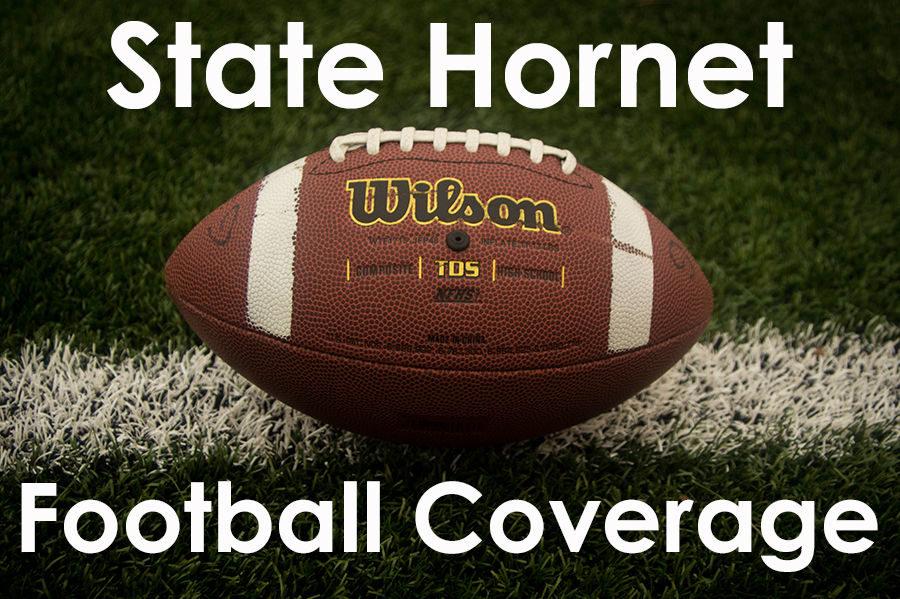 After holding the University of Washington's offense to 79 total yards in the first quarter, Sacramento State football couldn't handle the Huskies' rushing attack, as the Hornets were shutout 49-0 on Saturday morning at Huskies Stadium.
Sac State's record drops to 1-1 overall after last week's 41-20 blowout against Eastern Oregon University.
Hornets' coach Jody Sears said he loved the heart the team played with throughout the game.
"We got out chess matched," Sears said. "[We] could have put the kids in a little bit better position to make a couple of plays in the end, but that's on me. That's on the coach, but I can't fault our heart and our toughness."
The Hornets got off to a solid start on offense, but had several missed opportunities to score on their first drive. After converting on two long third downs, the Hornets tried a trick play when Kniffin handed the ball off to Jordan Robinson before the running back attempted a pass to Nnamdi Agude that was overthrown, when the receiver beat double coverage.
Shortly after the play, the Hornets failed to score when Brad Cornish missed a 44-yard field goal, his first miss of the day.
After Sac State's defense stopped the Huskies on a fourth-and-one attempt on the ensuing drive, the Hornets failed to convert on a fourth-down attempt after driving the ball into Huskies territory for the second straight drive.
After a scoreless first quarter for both teams, Washington got on the board with a three-yard rushing score by Myles Gaskin, his first of the day on a nine-play, 63-yard drive early in the second quarter.
Washington's rushing offense was too much to handle for the Hornets' defense, as the Huskies added three more rushing scores from Gaskin (his second) and two from Dwayne Washington before halftime.
With the Hornets down 28-0 at halftime, Washington quarterback Jake Browning threw his first collegiate touchdown pass to Marvin Hall for 78 yards after the ball went through defensive back Manny Scott-Anderson's hands, attempting to make an interception on the play.
The Hornets' deficit would increase after Browning threw his second touchdown pass of the game for 49 yards to Chico McClatcher and a 78-yard rushing score from Gaskin, his third of the day.
Sac State weren't able to contain the young Huskies offense as Gaskin, a freshman, rushed for 146 yards and three touchdowns on 14 attempts, and Browning completed 17 of 24 attempts for 326 yards and two touchdowns.
Browning went 14-for-14 in the second quarter, including 5-for-5 on the final drive of the half.
Overall, Washington outgained the Hornets 544-212 total yards, as Sac State's offense couldn't stay on the field after a solid start early in the game.
"I didn't feel like they pushed us around," Sears said. "[Their] guys made some plays and [we] missed a couple of tackles."
For the Hornets, quarterback Daniel Kniffin had a tough game, completing 18 of 35 attempts for 181 yards and one interception that was thrown in Sac State's own territory.
The sophomore also suffered an injury when he took a helmet shot on his hand during the fourth quarter.
"He's fine," Sears said. "It's just a bruise, he'll be fine."
Kniffin said he'll be ready for next week's game against Weber State University.
Heading into next week, Kniffin said the team played tough throughout Saturday's game.
"Nobody gave up and it's real easy to give up when you're down by that much," Kniffin said. "I feel confident going into next week understanding how tough our team is."
The Hornets will look to get back on track when they play on the road for the second straight game, when they'll take on Weber State University in a non-conference matchup at 5:05 p.m. next Saturday.
The road game comes before the Hornets start Big Sky Conference play against Eastern Washington University on Sept. 26 at Hornet Stadium.