Rowing breaks school record at Lake Natoma Invitational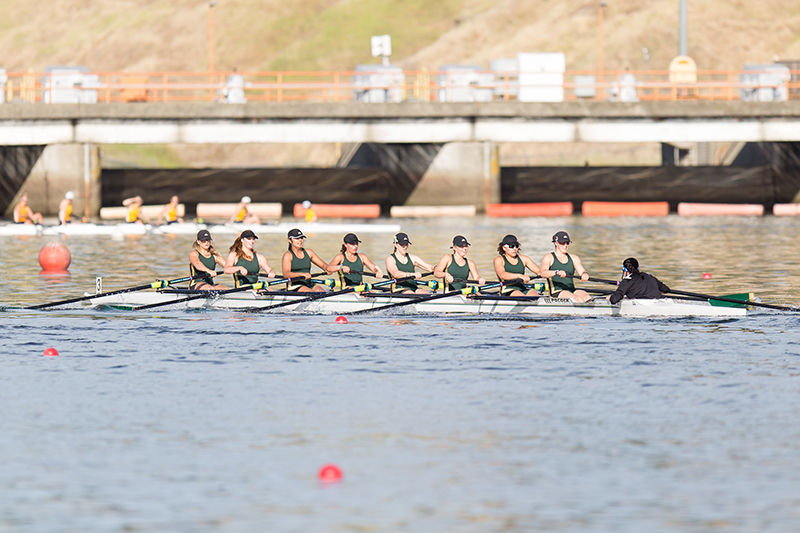 State Hornet Staff
April 13, 2015
Sacramento State women's rowing team competed in the Lake Natoma Invitational on Saturday and Sunday against high-profile colleges.
Sac State's eight opponents were composed of Stanford University, UC Berkeley, University of Notre Dame, Brown University, Loyola Marymount University, Gonzaga University, University of San Diego and University of Rhode Island.
The schools were divided into three groups. The first group had Cal, Notre Dame and Rhode Island. The second group had Brown, Gonzaga and Sac State. The third group was San Diego, Stanford and Loyola Marymount.
Sac State's varsity four came in second and broke a school record with the time of 7 minutes, 28 seconds behind Brown's 7:12 and ahead of Gonzaga, who came in third with 7:39. No other varsity four team has finished that fast in a 2,000-meter race.
This boat was significant for the Hornets because it was named after junior Megan Boggs' late father Ernie Boggs.
Senior and team captain Kim Gross is proud of the way her team competed this past weekend.
"It went pretty well; for a team as a whole a lot of the boats made a lot of steps forward," Gross said.
Sac State's second varsity eight came in third with a time of 6:53, following behind Brown's 6:29 and Gonzaga's 6:49.
"The four and the second eight did very well," Gross said.
In the third varsity finals, Sac State came in second and third with the final times of 7:23 and 7:33. Gonzaga came in first with 7:06.
The Hornets varsity eight team came in third with the final time 6:58 behind Rhode Island's 6:53 and Loyola Marymount's 6:50.
Sac State finished in seventh, Cal came in first, Stanford and Brown tied for second, Notre Dame came in fourth, San Diego in fifth, Gonzaga in sixth and Loyola Marymount and Rhode island tied for eighth.
Senior Michelle Evers is happy with the outcome from this past weekend, in which the team competed against nationally ranked teams.
"Overall our boats made progress, and we have pretty good idea of our speed going into future races." Evers said.
Sac State's next regatta will take place on April 25 and 26. The Hornets will be hosting the Western Intercollegiate Rowing Association Championships at Lake Natoma.