Turnovers force Hornets into must-win game Saturday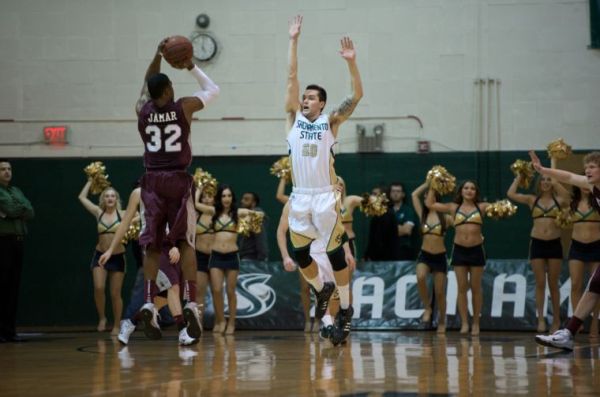 State Hornet Staff
March 7, 2014
Sacramento State head coach Brian Katz said his team picked the worst time of the year to play the worst game of the season.
The Hornets committed 15 turnovers and junior guard Mikh McKinney was held to 10 points as the University of Montana defeated Sac State, 70-55 Saturday night at The Nest.
"People say you can't lose after the first four minutes, but (Montana) certainly set the tone," Katz said. 
The loss drops the Hornets down to a tie for eighth place in the Big Sky Conference.  They not only have to win Saturday against Montana State but need either Eastern Washington to lose, or Portland State and Northern Colorado to both lose to make the Big Sky Tournament.
Before the game, the Hornets were only averaging 11 turnovers a game all season and committed no more than 12 since their win against Portland State on Feb. 16.
"Not taking anything away from Montana, but a lot of the turnovers were unforced" Katz said. "That was the biggest difference in the game."
Sac State jumped out to a quick 3-0 lead when junior point guard Dylan Garrity hit a 3-pointer early on, but the Grizzlies capitalized on four Hornet turnovers in roughly three minutes to take a 21-12 lead.
Sophomore guard Cody Demps committed five out of the 11 turnovers in the first half.
Not only was Sac State turning the ball over, but it struggled for the second game in a row shooting against a zone defense.
Mikh McKinney, who came in scoring 16.5 points per game, only made four of his 11 shot attempts, and in his last two games has made 38 percent of his shots against a zone defense.
"I felt sometimes I forced my shot a little bit too much because the zone is restless," McKinney said. "When you drive by one person there is another person right there, so I really need to work on my jump shot."
Although the Hornets were trailing by 19 points, which surpasses their biggest halftime deficit of the season, they cut Montana's lead to as little as nine points with 9:56 left in the game.
Sac State had the chance to cut it to a seven-point game in the final five minutes, but sophomore guard Dreon Barlett missed a 3-pointer and was matched on a 3-pointer by Montana's freshman guard Jordan Gregory. 
Gregory finished with a team-high 18 points off of six 3-pointers.
The Hornets' chance at the postseason came down to the final game last season, which they lost. Garrity knows how important this year's finale will be.
Everybody knows that this is going to be the biggest game of the year," Garrity said, who finished with 18 points and three assists. "Our backs are against the wall right now, and you are going to see a team that is going to fight their butt off every play."
Sac State faces Montana State on Saturday in the final regular home game. Seniors Joey Quigley, Kendall Groom and Jordan Salley will be recognized before it starts.
Tipoff is at 7:05 p.m.
Ryan can be reached on Twitter at @rskuhn