Men's basketball focused on winning, not standings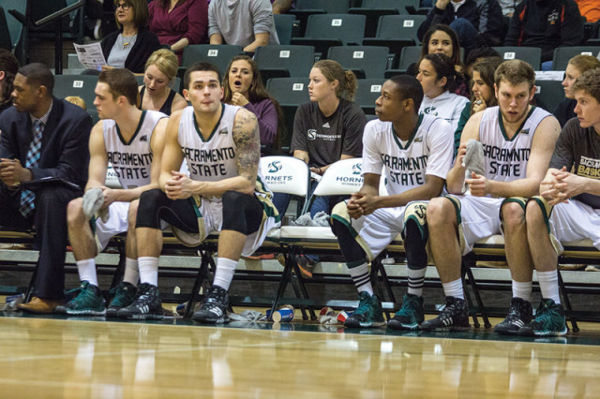 State Hornet Staff
March 6, 2014
Sacramento State's opportunity for its first Big Sky Conference Tournament in eight years comes down to two games against Montana and Montana State starting Thursday.
If the Hornets defeat both teams, it will not only guarantee them a spot in the tournament, but tied the program's best record with 15 Division I wins and will be their first winning season since 1989. 
But you won't find any copies of the conference standings or hear scenarios when walking around the locker room or Sac State head coach Brian Katz's office. He is focused on just winning.
"I told the team to not look at the standings or get in conversations with people about it," Katz said. "It just causes distractions."
The Hornets had a chance to clinch a spot in last year's tournament but lost to Montana State in the final game of the season, 71-55.
The difference this year is that the two games are at The Nest.
"We control our own destiny," Katz said. 
Unlike most conference tournaments that are played at a neutral location and includes most if not all the teams within the conference, the Big Sky accepts only the top seven teams and the regular season champion, hosts the tournament.
Currently the Hornets are in a four-way tie for sixth place with Eastern Washington, Portland State and Montana State all 9-9 in the conference. If a tie should occur after the two games then the top two teams will be awarded the final two positions based on their record against one another.
Senior guard Mikh McKinney has never defeated Montana since arriving to Sac State, but came close last year during a 61-60 loss at home. The Hornets last victory came in 2007 under previous head coach Jerome Jenkins. Overall Katz is 0-13 against the Grizzlies.
"We have to approach this just like every other game," McKinney said. "We need to go into it thinking we can win. We have to handle our business."
The Grizzlies come in with an 11-7 record and after a slow start during the pre-conference season, they have won eight out of their last 10 games led by guards Kareem Jamar and Jordan Gregory.
Although both are in the top 10 in scoring highlighted by Jamar's 19.3 points per game, the Hornets said they just need to stick to the scouting report.
"He is one of the best players in the league," McKinney said. "He has accolades in the Big Sky but, we have a game plan for him and if we execute, we can stop him."
Under Katz the Hornets are 1-4 in March and although some are feeling the grind of the end of the season like freshman Nick Hornsby, said he knows his team needs to keep winning.
Tipoff at The Nest is at 7:05 p.m. 
Ryan can be reached on Twitter at @rskuhn