USPS considering whether to halt mail on Saturday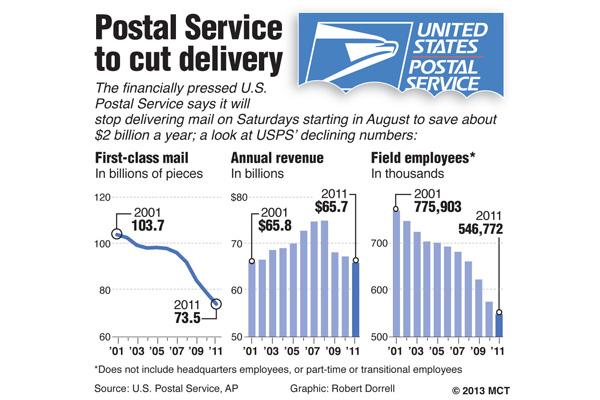 The U.S. Postal Service announced the discontinuation of Saturday post in order to save money due to financial issues. Postal workers will stop delivering Saturday mail in August.
The USPS has announced it will cancel letter mail services starting on August 5. Package services and the post office will remain open however.
Although canceling Saturday mail saves the Postal Service money, it also creates more problems. Cutting a day does not solve all the funding issues and displaces many people.
According to its website, the U.S. Postal Service expects to save $2 billion annually when the five-day plan goes into effect. Though the Postal Service is expensive business to maintain, there are other ways to save money.
"I think it's a smart overall strategy," said psychology major senior Alonzo Sharp.
The Postal Accountability and Enhancement Act of 2006 requires post offices to prefund employee pensions. This law mandates the Postal Service pay for current and future retiree's health benefits. A July 2011 report from the U.S. Postal Service said this is the only governmental agency required to do so.
The report said the Postal Service made payments twice in 2010; $2.2 billion for the people who were already retired and $5.5 billion for the people who planned to retire. The document also said the prefunded payments "have contributed to large losses for the Postal Service."
Congress needs to void the pension law so the Postal Service can retain money instead of paying benefits out of its own pocket.
America is in an age where the post office is not used much because of the ability to pay bills and shop online. However, not everyone uses the Internet. Some seniors, the poor, and people living in rural areas depend on the mail because of limited Internet access. Others use the mail because they prefer it.
Small businesses also use the mail system to send out packages and important documents that can't be sent via the Internet.
"My parents own their own business and a lot of their stuff goes through the mail; they rely on it, said sophomore undeclared major Jordan Ferris. Ferris said his parents sometimes end up working extra hours on Saturday when certain projects need to get out fast. "If the post doesn't deliver on Saturday, it's kind of a drawback for them," he said.
People who require deliveries specifically on Saturdays will have to go elsewhere to complete their postal needs. These people will go to places like FedEx or UPS Inc. to send out mail. It costs $16 to send a large envelope from Sacramento to San Francisco overnight by U.S. Postal Service and $44 for the same envelope by FedEx. This was based on estimated calculations from both websites.
While the Postal Service is cheaper than FedEx and UPS Inc., the Internet saves a lot of paper and time. There is no need to buy envelopes, fill out forms and mail them out. People get what they need done instantly instead of waiting the standard three to five business days for an item to get sent.
"It doesn't really affect me," said junior history major Jerika Birton. "I'm a student and I don't have a lot of time to check the mail so it's always piling up anyway."
On the other hand, without another day to deliver the mail postal workers are not needed as much.
The Postal Service website said it employs more than 500,000 workers. Some of these people's income and benefits- which help them provide for their families- may be reduced if a day is lost.
The U.S. Postal Service can benefit from becoming a one-stop shop. Make the ability for people to bank, pay bills, and other government services on their website and in offices. People can access the website through their smartphones and computers. Thus, through this way, the digital and
Traditional methods come together.
The post office already made major cuts to hours and workers, but funding issues still exist. It is time for another tactic before the Postal Service is cut completely. The mail system needs to find procedures that work with the digital age and don't include the loss of many jobs.
Shanel can be reached at: [email protected]