Sac State rowing joins NCAA conference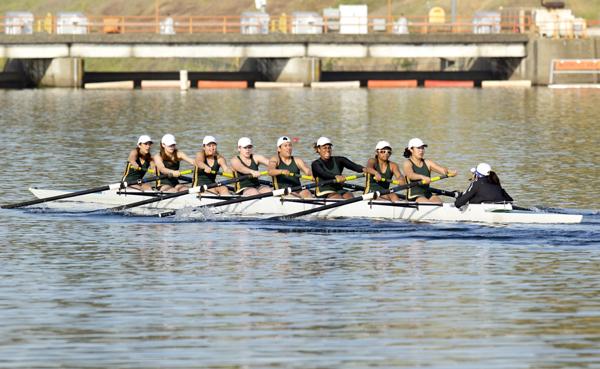 After 18 years of being part of the intercollegiate athletic program at Sacramento State, the Hornet rowing team has finally been admitted into a conference that offers a chance to qualify for the NCAA Championship.
The team has always been a member of the Western Intercollegiate Rowing Association, also known as WIRA. However, because WIRA is not a recognized conference by the NCAA, the Hornets are not given the option to take its game to the next level.
"We have been trying to get conference affiliation for many years," said head rowing coach Mike Connors. "We'll have more opportunities. (The chance to go to the NCAA championship) gives meaning to a conference championship beyond the fact that 'hey, I won a conference.' Now there's an additional prize."
The Hornets and the San Diego State rowing team will be the newest additions to Conference USA for the 2013-14 season. The conference has 10 other teams competing against each other; Sac State and San Diego will make it 12.
"Conference USA is an interesting rowing conference because most of the teams are affiliates and there's not a lot of members," Connors said. "They were open to expansion because some teams were leaving. In order to keep the depth of the conference high and membership up, they were willing to take in (Sac State) and San Diego State."
This year, the NCAA has implemented an automatic qualifier structure and the pool of teams expanded from 16 to 22. Only 11 teams have a chance to qualify to compete in the championship. The automatic qualifier structure means a team that comes out on top in its conference is automatically qualified to participate in the NCAA championship.
Connors said admission into a NCAA-recognized conference couldn't have occurred at a better time for the Hornets. Prior to the automatic qualifier rule, Sac State participated in the Pac-10 championship race hosted at the Sacramento State Aquatic Center on Lake Natoma against good competition. Once the new rule was announced, Pac-10 no longer allowed non-Pac-10 teams to participate in the race.
The overarching goal of a rowing team is to train for a year-end regatta, a race against competing rowing teams. The loss of the Pac-10 championship meant the season would end abruptly with no race to look forward to.
"From a scheduling standpoint, at the end of the year when no one is racing, we wouldn't have anyone to race against because everyone is in a conference and we're not," Connors said. "Conference USA adds meaning to our season. It defines goals. It defines our program's success. It's a road to greater riches that is now more open."
Coach Connors also said the conference will create a competitive atmosphere within the squad. Out of the 60 active members on the team, only 23 rowers will be able to go to championship.
The rowers are using this new chapter as an incentive to improve on their performance. 
Although there are not many seniors on the team, they have younger girls who will be able to gain more experience in preparation for the next season.
"I think it makes us better. We have to push harder and as a group we're motivated more because we have an actual championship to look forward to," said senior coxswain Shelley Zakskorn. "To be accepted into this conference and looking at the teams in it…feels pretty good to know that we are able to compete against these big teams and do well."
Zakskorn, who has been rowing for seven years with four years at Sac State, said the girls are doing great this season and are learning every day from their failures and strengths.
"For the six minutes and 45 seconds we're racing, it's the most painful thing in the world but at the end it's the best feeling and bonding experience ever," Zakskorn said.
The conference also opens up the door for better recruitment opportunities. High school rowers will come to Sac State knowing that they will be in a conference that has potential to go to the championship race.
"I'm excited because it'll be higher competition and we'll be able to recruit better girls because we are involved in a conference with the possibility of going to the NCAA. It's incredible," said junior port side rower Alyssa Padberg.
The team has the Lake Natoma Invitation today and tomorrow. The invitational will have UC Berkeley, Stanford, USC, Notre Dame de Namur University, University of Wisconsin, Kansas State, University of Tulsa and Washington State University visiting Sac State's home course.
"As a group, we're focusing on staying strong and setting up the rest of our season on a good note so we have somewhere to build from," Zakskorn said.
Maikalina can be reached on Twitter at @sh_sports