Men's hoops life on the road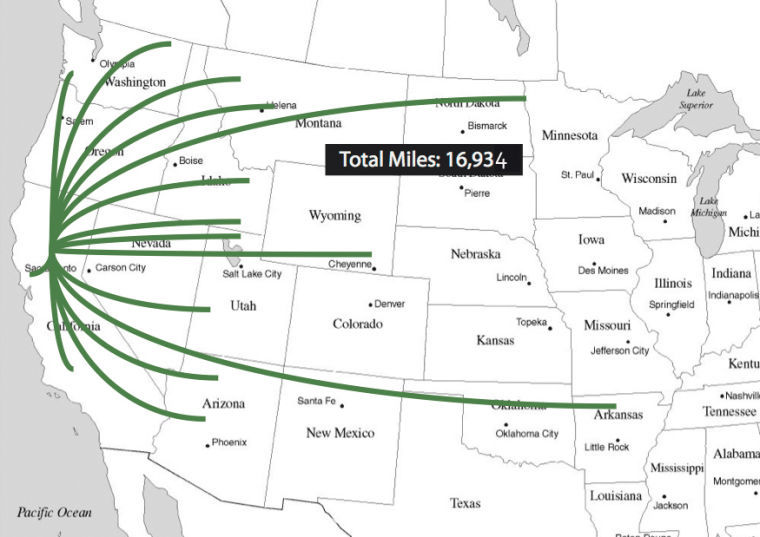 Whether it's on the road by bus or flying 30,000 feet in the sky, the physical and mental aspects of traveling can often be compared to as a rollercoaster ride for many sports athletes.
For the Sacramento State men's basketball team, there is no exception.
Having accumulated an estimated 16,934 miles on the road so far this season, it is hard not to image the amount of physical strain it can have on a player's body.
The way the Hornets road schedule is set up – playing one of their two games on Thursday and the other on Saturday – makes it hard to settle in one place.
Sophomore point guard Dylan Garrity said as an athlete the effects the road can have on the body is a hidden contract many do not initially see.
"It's tough," Garrity said. "The bus and plane rides eventually catch up to you, which leads us into the hotel rooms trying to rest our bodies and get ready for the next game."
While many of his teammates resort to going back to hotel rooms to rest directly after practice, senior forward John Dickson said he takes his recovery process a step further.
"I am probably the only person that takes an ice bath," Dickson said while laughing. "It is important to try and rest as much as possible, and to store as much energy you can while on the road."
For those who are not familiar of what an ice bath is, it is a form of sports therapy athletes do after an intense workout. Generally, three bags of regular-sized ice are poured into a receptacle, or bath tube – and sometimes salt is used – filled with water for the athlete to sit in for about 10 to 15 minutes.
According to Men's Fitness, the benefits an athlete gets from doing this is: a faster recovery, keeps muscles limber, reduces inflammation throughout the body, repairs muscles and, most importantly, it induces sleep, which helps when on the road.
Dickson also said school work is another thing that can't be pushed back while on the road.
"We find a way eventually to have study hall at the airports or hotel rooms for a few hours," Dickson said. "The coaches do a good job helping us make sure we get our studying done."
Aside from the effects traveling can have on the players and finding time for school work, the coaching aspects in drawing up a game plan for road games also presents a challenge that often requires working overtime.
Head coach Brian Katz said his preparation for the North Dakota University and Northern Colorado University games last week were planned a week in advance.
"I came in on Sunday and I looked at Northern Colorado first and felt good about the game plan there," Katz said. "Then, I looked at North Dakota on Monday for about four to five hours watching film and looking at the scouting report until I felt comfortable. Now, I go back to Northern Colorado for the next two days before the game on Thursday, so we are ready for no kind of shock."
As for his methods on helping his players deal with the traveling, Katz said his approach is simple.
"To help our players on the road we do two things," Katz said. "We shorten the practices up a little bit and then talk openly about them taking care of their bodies. Injuries can't be something that comes up last minute."
Katz said if players hold out on discussing issues regarding their health, it can have an impact on the game plan he and his coaching staff have prepared.
"We just talked about how playing on the road – it is a harsh reality already," Katz said. "You have to play a little better, execute a little better, play a little harder and shoot better when traveling to a different gym."
The Hornets will need to collectively put all the pieces together and pack their bags once more to conclude their season on a two-game road trip in Montana that could decide their tournament hopes.
Gabe can be reached on Twitter at @sh_sports