Former softball catcher returns to aid young starters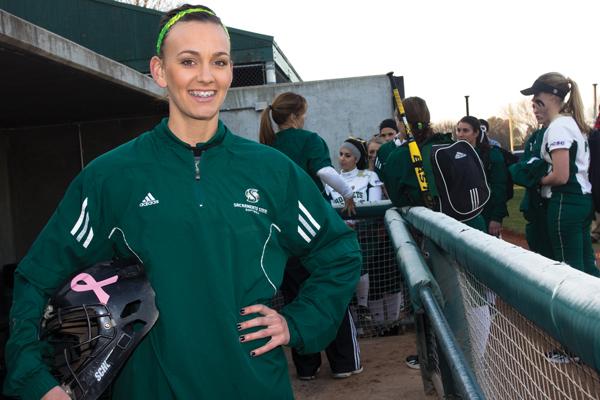 Sacramento State softball has a young team this year, so some of the older players have been assigned "big sister" roles to the younger players on the team. 
The catcher position was the most in need of a big sister role this season to help mold the new starting catcher, Kortney Solis, into a great one for the Hornets.
The former catcher Marissa Navarro, now a volunteer assistant coach for Sac State, is coming back to help teach the young group of catchers.
Navarro has been working with Solis on the fundamentals as a catcher so she is prepared during the games.
"I have worked with Kortney on her blocking and helping her judge the runners on the base paths so she doesn't freak out when the runners steal," Navarro said.
There were three players vying for the catcher position after last season:  two freshmen Solis and T.J. Watts; and sophomore Paris Prado.
Ultimately Solis ended up winning the job because of her ability to take charge and stay calm in close games.
"Kortney is really cool under pressure she leads very well and she works with our pitchers very well," Softball head coach Kathy Strahan said.
Navarro said Solis is a different player from herself when she played with the Hornets. Not only is size the difference.  But the talent Solis has in the catcher position is what sets her apart from Navarro.
"We have different body sizes; she is shorter while I am lengthier than her," Navarro said. "Our playing style of catcher is different as well. I have the arm strength while Kortney has the blocking and the defense."
Solis's played three years at the high school varsity level. Her best season came as a junior in high school hitting .482 with 22 runs, 23 RBIs, 13 doubles and two triples. She also helped lead her team to three straight San Joaquin Athletic Association co-championships.
Navarro's high school softball career was highlighted in her sophomore year, when she hit for the cycle against Modesto High School, and in her senior year, when she hit .347 with 15 RBIs. 
In seven games this season, Solis is hitting a .181 with one home run and two RBIs.  However, Navarro said there is still a learning curve for Solis only appearing in six games this season as the Hornet starting catcher.
Navarro said she is confident that Solis will adjust just fine in her old position.
"Once Kortney settles down and finally has the speed of the game down she is going to be a great catcher for the Hornet ball club," Navarro said.
Like Solis, Navarro had to adjust to the Division I level competition during her freshman year after she hit .154 with six hits and one RBI.
The main difference between the two freshman years is Navarro had seniors and juniors playing ahead of her while Solis has one other teammate more experienced than she is – Prado, who only played in six games last season.
Navarro said that Solis is easy to coach, so her adjustment phase might not take as long.
"Kortney will be a great fit because she can easily mold to the catcher position at the Division I level," Navarro said.
Solis has big shoes to fill behind the plate for the Hornets this year. Navarro's career at Sac State was great. Offensively, she hit .276 with 115 hits, 29 doubles, 15 home runs and 80 RBIs. Navarro defensively threw out 29 of 97 would be base stealers.
"The shoes that Marissa left for me are big but I just want to follow in her footsteps because she is a big role model to me," Solis said.
Navarro and Solis fit the big sister/little sister role quite well, with Solis making sure she learns the right way to be a Hornet catcher, from her role model Navarro.