Parrish's 39-point game leads women's basketball to a Pac-12 victory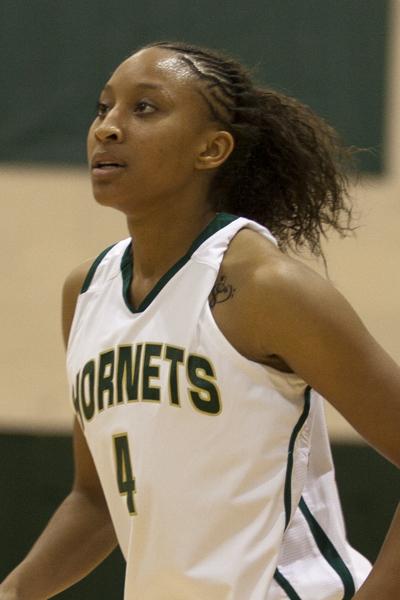 State Hornet Staff
December 1, 2012
When Se'nyce Parrish took the floor at the Gill Coliseum at Oregon State, she could not miss.
The junior guard from Clovis scored a game-high 39 points, which included nine 3-pointers in her team's 80-71 overtime win against the Beavers.
Parrish's performance was just six points shy from tying the school record for points in a single game that was set by Kristy Ryan 19 years ago.
"I don't think anyone thinks one person is going to be half your team's offense," said Hornets' head coach Jamie Craighead. "I know she can shoot the ball and it was just her being confident. She just keeps playing and competing."
Parrish played in all 31 games last year and was one of three freshman guards to earn playing time.
"It's been developing and she worked really hard this summer," Craighead said. "I have high expectations for her. Even if she doesn't go for 39 (points) she can contribute in so many ways."
The Hornets jumped out to an early 16-7 lead after a three-point play by Parrish with 14:38 left in the first half.
Sac State has struggled to hit shots from behind the 3-point line during its last two games, but against Oregon State, the Hornets shot 13-30 with baskets coming not only from Parrish, but also from Fantasia Hilliard and Alle Moreno.
Oregon State responded, however, tying the score at 30-30 when Jamie Weisner scored seven straight points. The Beavers continued to push and ended the half on an 11-point run.
In the second half, Parrish brought her team back to life. She scored three straight outside shots and plus a 3-point play eventually tied game once again.
The Beavers fought to take the lead with 30 seconds left in the game on a Weisner 3-pointer, but the Hornets quickly regained momentum when Parrish hit a 3-point basket of her own in front of the Sac State bench.
Oregon State struggled with free throws all game, but after a foul by Hilliard with six seconds left, Beaver guard Ali Gibson sunk two shots to send the game into overtime.
"I thought we had a chance to win it in regulation, but we came out and played pretty well," Craighead said. "It wasn't always perfect and it wasn't always pretty, but it was pretty close.
Sac State took control from the moment the overtime period started, allowing Oregon State only three points for the entire five minutes.
The win marks only the second time Sac State women's basketball has defeated a Pac-12 opponent. In 2009, the Hornets defeated Washington during head coach Jamie Craighead's inaugural season.
"This is all about a confidence builder — knowing that we can compete with a Pac-12 team that has very talented players," Craighead said. "(Oregon State) was projected to be in the top half of the conference and I think we will be able to compete in the Big Sky. It will be a long road ahead, but it feels good."
The Hornets continue their five game road trip today when they face Southern Illinois University, Edwardsville. Tipoff is at 5 p.m.
Ryan Kuhn can be reached on Twitter @rskuhn