Women's basketball squad running wild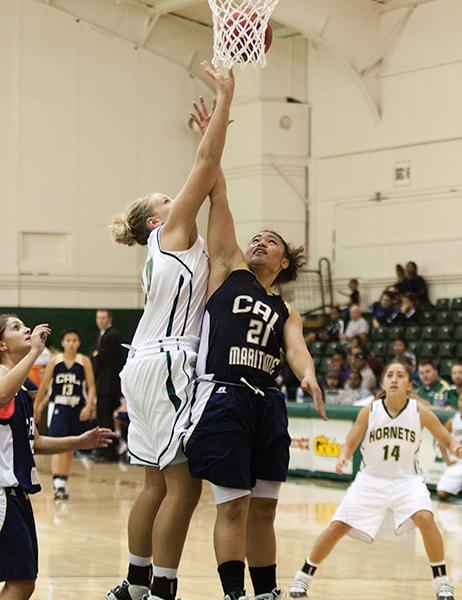 State Hornet Staff
October 30, 2012
If one were to walk into Yosemite Hall and peek inside the gymnasium, it would not be uncommon to see the women's basketball team sprinting up and down the court for the entire duration of their practice.
That is because head coach Jamie Craighead's style of basketball is 40 minutes of fast break offense and full court defense.
"My philosophy as a coach is that players make plays and this style lends to the players making the plays," Craighead said. "It's spread out and there is a lot of room to score and take good shots. I want basketball to be fun for our kids and I want them to love the game when they leave."
The up-tempo style is nothing new for the majority of the team who returned last season, but for the newest additions, Hornet basketball has come as a surprise.
"We probably run more than the track team in terms of our conditioning load," Craighead said. "Even a light day of practice is all full court, but less time of it."
The Hornets' up-tempo style led them to their first Big Sky tournament win in school history last season when they defeated Eastern Washington, 71-61. Sacramento State finished with a 13-19 record but won five out of its last six games.
This season, the Hornets return four players from the starting lineup, including forward Kylie Kuhns, who led the team in scoring and rebounds. In the backcourt, she will be accompanied by guards Allie Moreno and Fantasia Hilliard.
"We were a really young team last year, but everyone is a year older," Kuhns said. "It shows as a collective unit we are capable of doing something great. Since we didn't lose much there is a lot of trust in the pieces we have."
Kuhns not only led the team with 13 points and 11 rebounds per game but also finished No. 3 in the nation with 21 double-doubles.
But the Hornets will have to replace some of their offense from last season. Forward Emily Christensen graduated and while she contributed 12 points and five rebounds per game, Craighead said that players will have to step up and Christensen's minutes will be filled by a committee of players that could include Natasha Torgerson, Sadie Clements and Shanti Smith.
"We have people that are always behind that person who graduates who are waiting for their turn," Craighead said. "But I feel we do have people that can fill the gap. Our starters are solid but also I feel our bench is better than other teams."
Sac State starts its season Friday at 7 p.m. against the Academy of Art in an exhibition game and officially starts the season on the road in Southern California when the Hornets travel to Long Beach State, Nov. 9.
The Hornets will play eight of their 11 non-conference games on the road to start out the season, but will host local teams like rival UC Davis and the University of San Francisco.
"That just makes getting wins harder," Moreno said. "But when we come back home it's going to be a great feeling to come back to our fans and our gym where we know how to play."
Ryan Kuhn can be reached at @rskuhn