Celebrity Voters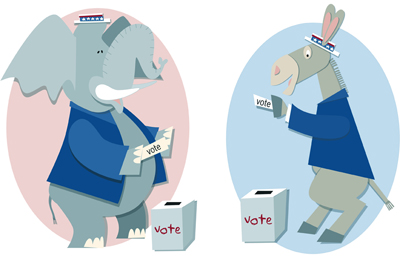 Celebrities have the ability to influence the public on everything, but their potential impact on elections and the political process is devastating considering they aren't always the most informed sources.
During the election season celebrities make their political opinions public to persuade fans to support their positions, but the public shouldn't use this to form political opinions.
Recently "Clueless" star Stacey Dash came out in support for presidential candidate Mitt Romney by posing in a red bikini in front of an American flag. Dash tweeted the pic and said Romney was "The only choice for your future," but without any real reasons as to why she supports him.
Although it is within Dash's right to support whoever she wants, she should provide some valid points instead of just sexualizing her position in order to get some attention.
Celebrities are allowed to have opinions and voice it to the public, but when they make ignorant political statements they are belittling the public's intelligence.
As disappointing as it is, the public doesn't always form opinions based on what their interests are because it's easier just to go along with what celebrities think.
The increasing popularity of reality television shows about the real lives of celebs, like the Kardashian family's handful of TV series, has made fans aware of every detail of their favorite celeb.
There are also social networking sites giving fans the idea they're directly connected to celebrities, like seeing their personal pictures on Instagram or latest thought bubble on Twitter.
Celebrities have gained so much power in the modern culture some even think they're qualified enough to run for office, like Kim Kardashian who has said she is interested in running for mayor of Glendale, Calif.
Consumer products, from food to electronics, have used the power of celebrity popularity for years to increase sales on anything from food to clothing to electronics.
Political campaigns are now recognizing the importance in emphasizing the support of a famous celebrity.
Building relationships with celebs could mean large donations, and increased popularity among a different group of potential voters.
But voters who go along with the opinions of celebrities are taking a risk, because this could lead to supporting issues that aren't within their own interests.
Just a few weeks ago, Lindsay Lohan made some news by coming out in support for Mitt Romney on her Twitter account. Then after the third presidential debate, when President Barack Obama proved victorious, Lohan once again went to Twitter and tweeted "#ProudOfObama as our commander in chief."
Clearly flip-flopping celebrities like Lohan shouldn't be considered valid sources for political opinions. She doesn't even know what her opinion is.
But then there are celebrities who are embraced by the political campaigns and are avid donors to those campaigns. These celebs are also used as tools to gain more votes.
A highly publicized celebrity and politician relationship is the one between President Obama and music mogul Jay-Z.
The musician and his wife, singer Beyoncé, have hosted many top-dollar fundraisers for the president's political campaigns over the years, raising millions of dollars for President Obama's campaign.
The couple and president have established a friendship and Obama has even offered Jay-Z parenting advice in recent reports.
Other celebrities, such as George Clooney and Clint Eastwood, have also made themselves known for being active in Washington as well as Hollywood for also hosting fundraising events for candidates.
This year's political conventions featured speeches from many well-known celebrities in an effort to revitalize campaigns in the public's eye.
The line between the political world and celeb influence appears to be fading, but it is important voters don't simply go along with their favorite actors or musicians for political perspectives.
Just because you love their movies and music doesn't mean they have the same political interests as you.
As an informed voter it's important to look at the issues and see where you stand, not where your favorite celeb stands.
Samantha can be reached at: [email protected]