Buzz of the Crowd: Football feels presence of Bloomfield's spirit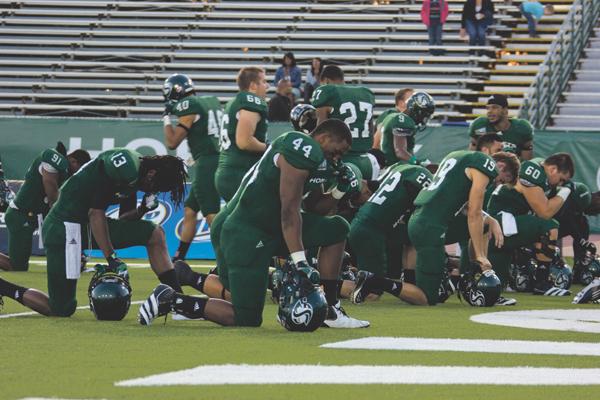 State Hornet Staff
October 31, 2012
Some believe that when a person dies it is not necessarily the end.
John Bloomfield has not been on the football field with his teammates since week one of the season, but his presence was felt when the Hornets knocked off No. 11 Cal Poly.
The death of their teammate has been extremely emotional to Sacramento State's football players, but before Bloomfield passed he unified the team, making them more than teammates. He made them a family.
There has been scrutiny displayed by the media that religion should be incorporated into sports. Each teammate has the choice to believe what he wants, but regardless of their individual beliefs, Sac State has come together through faith – in each other, in their coaches and in the school. This faith has only been enhanced by Bloomfield, both in life and in death.
Believing in something brings people together. Players can say they want to win, but if they have one common cause, it makes everyone work harder. Saturday night the team was not a group of individuals, they were a single identity. Before the game, the team walked on the field as a collective unit with their arms linked and, during 60 minutes of football, worked together knowing Bloomfield was watching over them.
Senior linebacker Todd Davis played with Bloomfield all last season and said they were boundary side brothers because they worked so well together on the short side of the field.
During the game, Davis said he could feel Bloomfield's presence, especially in the fourth quarter saying it was truly a special feeling.
Tragedy happens on teams far more often than it should. While coaches, players and fans find different ways to cope with the hardship, teams tend to rally behind their new cause.
In 2002, the St. Louis Cardinals lost pitcher Darryl Kile halfway through the season due to a fatal heart attack and in 2009, the Los Angeles Angels lost rookie pitcher Nick Adenhart after he died in a car crash.
While neither of these teams went on to win the World Series that season, their teams still had someone to believe in. Angels pitcher Jared Weaver still remembers Adenhart by writing his initials on the mound before every start.
"I feel like it's a way for him to kind of live on through me," Weaver said in an Orange County Register article on the third anniversary of Adenhart's death this past April.
As for Sac State players, it is unclear how they will each honor their teammate from here on out, but Bloomfield lives on by the way he has impacted his team.
"We lost a part of our family and it hits home pretty hard," said Sac State head coach Marshall Sperbeck. "But I think JB is always here. He made an impact on all of us and he is with us everyday."
Ryan Kuhn can be reached at @rskuhn