Scoring was aplenty on Saturday afternoon as Sacramento State defeated Cal Poly San Luis Obispo 41-30.
Both teams combined for 1,077 total yards, with Cal Poly having exactly one more than Sac State with 539 yards.
The Hornets' offense could not be stopped in the first half. They put 31 points up on the scoreboard in the first half and scored a touchdown on four of their first five offensive drives of the game.
As good as the Sac State offense was on Saturday, Cal Poly showed they could be just as dangerous. By half-time, Sac State had given up more yards to the Mustangs than they have against any other opponent this season.
Of the 539 yards the Cal Poly offense picked up, 494 of those were passing yards. The Mustangs, who came into the game with the second-fewest rushing attempts in the Big Sky Conference, only rushed the ball 14 times against the Hornets.
RELATED: Sac State must respond against Cal Poly after blowout loss

Commanding the Mustangs' offense was redshirt sophomore quarterback Sam Huard who had himself a game. Huard tallied up 483 passing yards on 37 completions, breaking the school's record for most completions in a single game.
Huard had a record-breaking game for Cal Poly and also put his name in the Sac State history book. He became the first opposing quarterback to throw for 400+ yards in one game against the Hornets since 2018. There's only been four quarterbacks to throw for more yards in school history.
Even though Sac State's defense gave up a high amount of yards and struggled to defend the pass, they made the important plays when they needed to. The Hornets' secondary picked off Huard twice and forced Cal Poly to go 2-12 on third down.
Junior safety Gavin Davis-Smith came up clutch for the Sac State defense in the second half. He was responsible for both interceptions and they both came at key moments. His first interception was on Cal Poly's first drive of the second half, an important stop as the Hornets failed to stop the Mustangs from scoring on their previous two drives.
The interception also happened to be Davis-Smith's first of his collegiate career, but he wasn't done there. With 6:55 left in the game and Sac State up 11, Davis-Smith secured his second interception of the game and sealed the win for the Hornets.
"It's just tendencies and film study," Davis-Smith said. "As the course of the game goes on, you'll get a feel for what they're leaning toward."
As strong as the quarterback play was on Cal Poly's side, Sac State's freshman quarterback Carson Conklin did not shy away from the challenge.

Conklin had the best game of his young career Saturday, throwing for 313 yards on 17 completions along with three touchdowns. He is the first Sac State quarterback this season to throw for over 300 yards in a single game.
Conklin was slinging the ball with confidence, regularly hitting on the deep shots he was taking, which allowed him to throw for more passing yards than he had all season. Conklin had five pass completions that went for 35+ yards. One player he was consistently connecting with was junior wide receiver Jared Gipson.
Gipson had a huge day with 154 yards on five receptions. The 154 receiving yards set a new career high for Gipson and he became the first Sac State player to have 150+ receiving yards in a single game since 2018.
"We practice that a lot," Conklin said about his connection with Gipson. "In practice, we work on it a lot, just build that connection and I trust him a lot."
Conklin and Gipson weren't the only ones who hit a new milestone. In the second quarter, senior tight end Marshel Martin IV caught his second touchdown of the season and the 27th touchdown of his Sac State career. The score moved him into second place for most career-receiving touchdowns in school history.
The Hornets' offense didn't just have a major game in the air. They also had a productive day on the ground, with 225 rushing yards on 37 carries.
Senior running back Marcus Fulcher had 121 yards on 20 carries, his second 100+ rushing-yard game of his career. Sophomore running back Elijah Tau-Tolliver also had a highly productive game with 99 yards on 9 carries to go along with two touchdowns.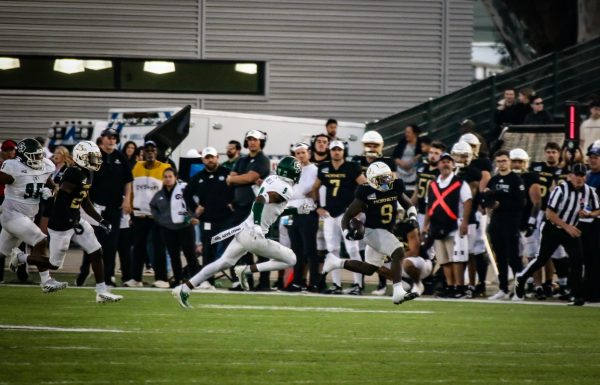 "It seemed like a really, really good performance," Sac State head coach Andy Thompson said. "There's a standard that everybody wants to try to play at and we had an opportunity tonight. We did a lot of great things and we're excited for this team and where we're going."
Sac State will now take the short trip to UC Davis for the Causeway Classic Saturday, Nov. 18th at 12 p.m.