Big Sky Conference reaches deal to broadcast on DirecTV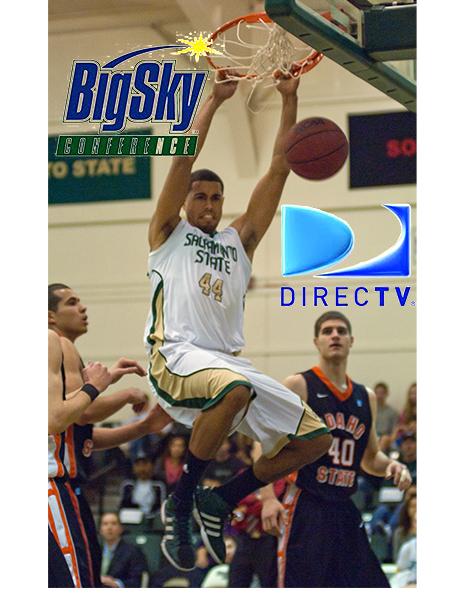 The Big Sky Conference will be changing its official TV partner and home for Big Sky football and men's basketball from Altitude Sports to ROOT SPORTS networks starting this summer.
The five-year deal was made with DirecTV Sports Networks, which owns the ROOT SPORTS networks. ROOT SPORTS consists of three networks which has more than 8.7 million viewers across 18 states.
The change will begin with the 2012 football season. The deal was set for broadcasting up to 18 Big Sky football games and 12 Big Sky basketball conference games each season, as well as the Big Sky quarterfinal and semifinal men's basketball tournament games.
Each game will broadcast in high definition with state-of-the-art graphic elements customized for the Big Sky, but no definitive schedule has been set yet for each team's air time.
Sacramento State Athletic Director Terry Wanless said the move, which takes place on July 1, is going to be a great chance for Sac State to be seen all around.
"It's an exciting opportunity for us as a league because it gives us by far the greatest number of exposures," Wanless said.
The previous deal with Altitude cost the Big Sky $100,000 among nine schools, which was about $11,000 per school.
Wanless said the new deal with ROOT SPORTS would save Sac State and the other Big Sky schools the money and bring them some money too.
"Right now, (the Big Sky) is paying a company, Altitude Sports, $11,000 per school to cover football only," Wanless said. "We are going to save $11,000 immediately, plus were going to get some residual dollars back from this contract."
The deal does not mean the games can only be watched on DirecTV, it just owns the ROOT SPORTS networks.
There are three ROOT SPORTS networks.
ROOT SPORTS Northwest and Rocky Mountain are mostly available on cable television if you are in the Western states and ROOT SPORTS Pittsburgh can be seen on cable television if you are in the Pittsburgh area.
As for Hornets fans, the ROOT SPORTS networks are not televised on local basic cable in Sacramento, but they can be seen on major cable providers including DirecTV, Comcast, DISH Network, Cablevision and many others with the sports packages they provide.
Sac State sophomore wide receiver Morris Norrise said he thinks the move will be good for the program, him and his teammates.
"It gives the team more exposure," Norrise said. "It also helps me and my teammates that have NFL dreams get seen by professional scouts and it expands our team's fan base."
With DirecTV as the rights holder, it will have the ability to distribute the games regionally and nationally.
"(DirecTV) has the rights to everything," Assistant Big Sky Commissioner Jon Kasper said. "They can choose what they want and there is no limit to the amount of teams that they can choose."
With many teams to choose from, Kasper said airtime will be spread out and every team is probably going to get a shot in the spotlight.
"You always got to remember even if they take four Montana games or four Montana State games, they're always playing someone in the Big Sky," Kasper said. "Teams are going to be exposed, everyone is going to be a part of this contract."
Kasper said DirecTV is intrigued by the schools in California: Sac State and the two new Big Sky additions of UC Davis and Cal Poly.
"(DirecTV has) expressed to us that our footprints match up very well and they want to showcase all the teams in the footprints," Kasper said. "(DirecTV) told us last week, 'We're very interested in what we can get done with your California schools and how we can get those games out there as well.'"
Wanless said he believes with the huge spotlight and the change to bring UC Davis into the conference, the Causeway Classic could be an intriguing game for DirecTV to choose to broadcast.
"After (Montana vs. Montana State), the Causeway Classic is probably the second game in terms of fan attendance in the league," Wanless said. "It's always been a non-conference game in the past, but now with Davis coming into the conference in football, that will make it more attractive. We think that the Causeway Classic will fit very nicely because of its popularity."
With ROOT SPORTS as the face of the Big Sky, Kasper said he believes the move makes the conference stronger and he said he likes where they are going.
"I think (the change) solidifies what we want to be in the west, in terms of football conferences," Kasper said. "You got the Pac-12 and the Mountain West, it's no secret right now the Western Athletic Conference is struggling, so we feel good about our position in the West."
Josh Stanley can be reached at [email protected]