Hornets lose second straight Causeway Classic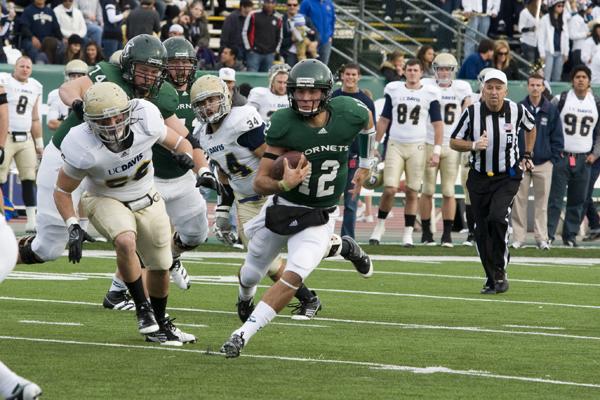 The Sacramento State Hornets football team found itself in a familiar position on Saturday, losing 23-19 to UC Davis in the 58th Causeway Classic.
A season marred with close losses and missed opportunities ended on another sour note for the Hornets.
"It was definitely tough just because I wanted to send the seniors out with a win," said freshman quarterback Garrett Safron.
Safron completed 11 of his 31 pass attempts for 155 yards. As usual, Safron was more comfortable and dangerous on his feet. He ran 14 times for 93 yards and one touchdown – a 30-yard score on the game's final play.
"It definitely (was) a learning experience, got to get better and come back strong next season," Safron said.
The Hornets were leading at half thanks to two Jason Diniz field goals and a defensive touchdown.
Diniz, who hadn't made a field goal since the Sept. 17 game at Weber State, and who took a couple games off to get in a better place mentally, successfully kicked field goals of 23 and 25 yards. He was one-for-seven on field goals this season prior to today's game.
"I talked to him before the game today and he said he felt good so we got him back in there," said Sac State head coach Marshall Sperbeck. "He's a freshman and he struggled early on for a couple weeks there but I think he's feeling better about things and got his swing back."
Defensive lineman Ben Cowger scored when he forced Aggies quarterback Randy Wright to fumble in the end zone and then pounce on the loose ball. It was his first career touchdown.
"All I know is that I was supposed to do my job, and that was to go to the outside," Cowger said. "As the crease opened up I just was in the right place at the right time."
Sac State's offense struggled to maintain drives against an Aggies defense that was ready for the Hornets' predictable offense.
"We knew they were very one-dimensional," said strong safety Byron Gruendl. "We knew (Safron) wasn't a very good passer so we knew he was looking to run the ball."
Most of Safron's pass attempts were intended for receivers running deep fade routes.
The offense was limited in what they could do, partly because of the Aggies' defense and partly because opening day starting quarterback Jeff Fleming was unable to play due to a concussion he suffered at Portland State two weeks ago.
Fleming's injury allowed the Aggies defense to focus on stopping the simpler, Safron-led offense.
Gruendl said he was surprised the Hornets didn't play sophomore quarterback Tommy Edwards, a more polished passer, when Sac State was down in the fourth quarter.
"Last year I felt like they did a lot more with their offense," Gruendl said. "Number 12 just came back, stepped back and threw fades all day. I felt like that was really their only pass play."
Sac State head coach Marshall Sperbeck was frustrated with how his offense played.
"I know we've certainly had better offensive days," Sperbeck said. "We just, you know, haven't had good consistency."
Davis' defense held Sac State to 269 total yards.
"I just thought it was a great effort. They didn't give Sac any consistency with their offense at all," said UC Davis head coach Bib Biggs. "(The defense) forced (Sac State) to do things that I don't think they really wanted to do and I think they ended up not feeling comfortable throwing the ball. If they got anything it was mostly off the quarterback scramble."
Davis' offense was carried by running back Colton Silveria who ran 22 times for 170 yards and a touchdown.
"Today Sac put seven in the box and we ran the ball very well." Biggs said. "I thought we knocked Sacramento around a little bit – our offensive line versus their defensive line."
Senior defensive ends Zack Nash and David Coleman combined for seven tackles and no sacks. Nash, the reigning Big Sky defensive player of the week, was coming off a five-sack performance against Idaho State.
"We really spend a lot of time on our protections," Biggs said. "We had a lot of zone slide schemes where we slid to (Nash). I give a lot of credit to our offensive line coach Brad Bedell."
Davis leads the all-time series 41-18.
Dante Geoffrey can be reached at asports@statehornet.com. You can follow him on Twitter: @dantegeoffrey.