Sac State football ready to kick off season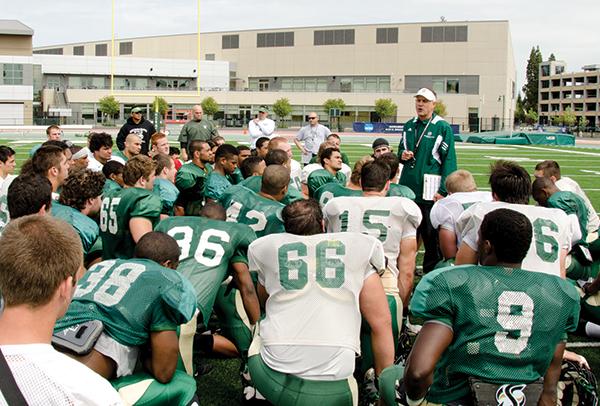 The Sacramento State football team and players are ready to bring a Big Sky Conference title home to Hornet Stadium after a season of success mixed with heartbreaking losses. 
Sac State received its first-ever top-25 ranking in the Football Championship Series era after finishing the 2010 season with an overall record of 6-5. The squad will start out ranked 24th for all schools in the Football Championship Subdivision. 
Players and coaches are encouraged by the attention they received on a national scale, and remain poised to carry out the predicted success.
"(Being ranked) feels good. I think we're getting better and I think people are taking notice of our improvements, but we're still not where we want to be," said head coach Marshall Sperbeck. "I feel like we can be at the top of our conference, and that's our goal."
Quarterback Jeff Fleming also said the team needs to stay focused and not get distracted by preseason ranking.
"It feels great, but we're not worried about (the ranking). We're just worried about ourselves, going out and playing our game and not beating ourselves," Fleming said.
The season opener begins Saturday in Corvallis, Ore., where the Hornets will play the Oregon State Beavers. During the offseason, the team had time to work on every aspect of the game.
"We had a productive spring-ball and we were fairly injury-free," said defensive coordinator Anthony Parker.
Parker said the key for a successful season is having the offense, defense and special teams collectively playing well in order for the team to win games this fall.
One aspect that will help is having the team at full strength with no injuries going into the season, Parker said.
A couple of key players were sidelined for portions of spring practices that included senior quarterback Fleming and senior wide receiver Chase Deadder. Those players are now back and ready to compete on the gridiron again.
 Fleming underwent surgery on his throwing elbow at the conclusion of the 2010 season, but said he is ready to play on Saturdays.
"I'm feeling great," Fleming said. "I did miss spring ball, but I'm ready to go. (The elbow) feels great." 
Senior defensive end Zach Nash had a breakout season last year earning second team All-American, first team All-Big Sky and was named Big Sky Conference Preseason Defensive Player of the Year.
Nash also set a school single-season record of 13 sacks during the 2010 season. Parker spoke highly of his defensive captain and said when Nash speaks, his teammates listen.
He said he is a leader by example and shows it by working hard every day.
"When you see (Nash) play on Saturdays, he's very relentless and doesn't quit. He doesn't take any plays off, which is something we ask all our guys to do," Parker said. "His example, I think, is contagious." 
Nash enjoyed the accolades last season, but he won't let his past performances cloud his determination.
"It feels good, everything you worked for finally pays off," Nash said. "I'm just going to keep doing what I'm doing and listen to what the coaches say." 
After watching game film of Oregon State's offense, Nash said the Sac State defense has been working hard and is going to be fast on the field.
"We're a lot faster than last year, a lot stronger and a lot bigger," Nash said. "Hopefully we can build on last year."
Sperbeck also said the team uses speed to swarm the opposing offense.
"We've got good team speed," Sperbeck said. "I think we've got some really solid returners coming back on defense. I think a lot of our success on defense is predicated on our movement and our speed and athleticism. And that's something we want to capitalize on."
With so many key returning players this season, the team is a tight-knit group. Nash said the team chemistry is better than any other team he's been on here at Sac State.
"Best I've had since I've been here and that's been five years," Nash said.
Part of what brought the team closer was the numerous close defeats it suffered during the 2010 season. Losing to the FCS National Champions, Eastern Washington Eagles; Causeway rival UC Davis; University of Montana and Montana State University by a combined 11 points has given this version of Hornet football the experience to finish games stronger.
"I'd like to think that having been in some of those close games, that we'll respond better this year and learn how to close some things out that we didn't do last year," Sperbeck said.
For now, focusing on Oregon State remains priority to coaches and players. Studying film and incorporating Oregon State's schemes into every practice is how the Hornets will prepare for Saturday's showdown.
Sperbeck said going up against a Football Championship Subdivision team of that caliber will be a useful in determining where the Hornets stand.
"It's our first game so it's a good measuring stick for us to see where we're at," Sperbeck said. "We're more focused on what we do and how we adjust to the environment. We want to be able to make improvements and build on whatever success we have that first game."
Fleming, who played for New Mexico State in 2009 before transferring to Sac State, said this game is no different than the rest.
"It's just another game. It's 11-on-11," Fleming said. "(We'll) just go out there and play our game and you never know what will happen."
Joe Fleming can be reached at sports@statehornet.com.