Cheap, healthy, or filling: Pick two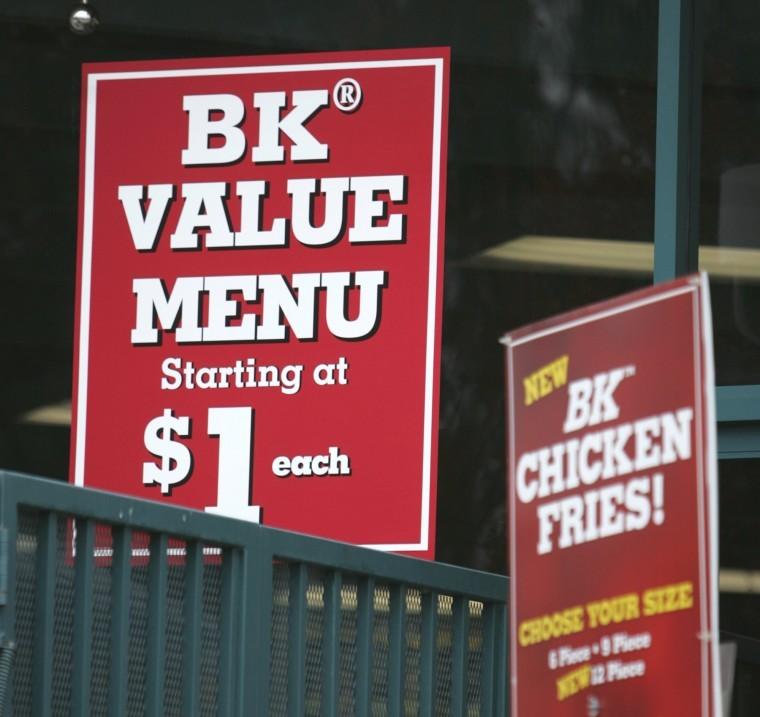 It's lunchtime, I've got two hours before class and I'm starving. Digging in my pocket results in a whopping $2. What can I get on campus for this measly amount?
The first thing that comes to mind is Burger King. For $2 and some change I can probably find on the ground, I can get a double cheeseburger. Isn't there any other option?
I was surprised to see that several of the restaurants on campus offer super low-cost options.
Miyagi Sushi has several things like miso soup, edamame and gyoza for under $2.50. The price is good, but the servings are small. Three gyoza is not likely to keep you going through the day and a cup of miso soup would not do anything to stop your stomach from rumbling.
At Togo's $3 will buy you a mini sandwich or a regular cup of soup. While the sandwich is small it can be filling if you cram it with veggies. You have to be careful, though, because they charge for extra veggies that don't normally come on the sandwich.
For $2.50 you can pick up an order of fries at Hula Dog, but that seems like an awful lot to spend for just French fries.
While there are food options on campus for broke students they are limited, and most will not come close to filling your stomach through hours of classes.
Some students carry food from home to get through the long days. Others just go hungry.
Lauren Robinson, junior recreation, parks, tourism administration major, will simply forego food if she has only a couple of bucks.
"I get coffee instead of food because the only things on campus worth eating are too expensive," Robinson said.
Others, like senior art major Sam Holland, will grab a quick snack from the vending machine if she hasn't packed a lunch.
"I can't afford anything here. Even Java City is too expensive," Holland said.
I was shocked when I recently saw the price of a pre-packaged sandwich at Java City was more than $6! However, you can pick up a pastry there for around $2, which is a good option for someone craving something sweet to get through the day.
While food is not free there should be options on campus for students who have super-limited funds. Even fast food restaurants realize that people have less money to spend these days and have begun offering extensive dollar menus. Unfortunately those aren't exactly healthy options.
There is an idea being pushed by the Associated Students Inc. Sustainability Committee Green Team to start a student-run garden.
Brian Hitchcock, a representative of the ASI Green Team, said that a student-run garden would offer an opportunity for clubs and organizations on campus to participate in growing produce that can be used at campus restaurants. It would also offer a farmers market.
If students were able to provide produce to campus food vendors it would presumably lower the cost, Hitchcock said. A farmers market would offer a quick and low-cost solution for students who want to grab a piece of fruit or some veggies between classes, he said.
Another option to consider is putting some low-cost food carts around campus. It would be easy to offer hot dogs, burritos and other small, but filling foods. A taco truck parked on campus might also be overrun by hungry students looking for a bargain.
In this economy it seems absurd to pay $5 or more for some lunch on campus, but attempting to spend any less usually won't do the trick. Restaurants on campus should offer more value menus that include enough food to make it worth eating. Creative solutions, like a student-run garden, could help future students avoid this issue altogether. Whatever the solution, let's make it quick, I'm hungry.