Double Coverage: A baseball junkie in search of a football team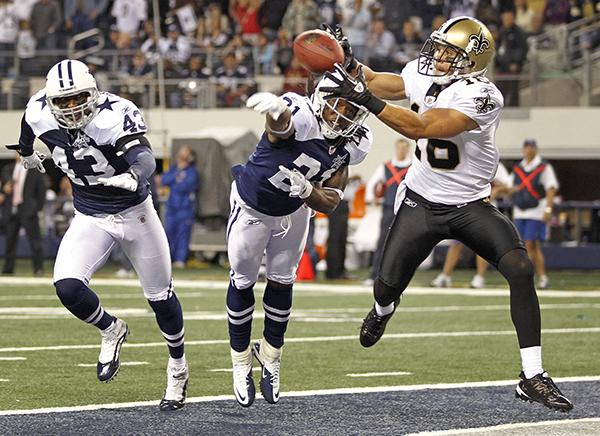 Cassie Kolias
I've always been a baseball girl. Baseball is and will definitely be my first love of all the sports.
When I fell in love with the baseball, it literally was like a whirlwind summer love affair that turned into a long-term relationship. I learned loyalty at a young age, and so far it always feels wrong to cheer for other sports. It feels like I am cheating on a boyfriend when I consider liking other sports. But now that I am a sports editor, it's pretty difficult to play sport favoritism in my department. I'm sure baseball wouldn't mind if I had some fun during its off season.
I have found my baseball loyalty of course, and recently I have pledged my love and loyalty to a basketball team. The next sport in question? Football.
In my quest for football loyalty I started out by posting a Facebook update asking for advice on which team I should follow. I got about eight different responses from friends, and decided to take the matter into my own hands and do some research.
The Oakland Raiders would be quite a logical choice for me, considering that my baseball team boyfriend, the Oakland A's, share a home with the silver and black. But I'm going to go ahead and knock them off first. I don't like to be predictable, and I hate that every September when I go to A's games, the baseball diamond looks terrible because of those jerks. Sure the A's came to the Coliseum two years after the Raiders, but still that is the place where my A's won three consecutive World Series championships, and it should not be defiled every September.
Next on the list is the San Francisco 49ers, which is another pretty obvious choice for a Bay Area girl. But no thank you, I will not rep any scarlet and gold. Simply put, I do not look good in gold and red as a mixture, and I also don't like that the team is moving to Santa Clara. I don't care about teams in Santa Clara. Peace out, S.F.
Now coming in as a new football fan, it would be easy enough for me to start loving a winning team. A lot like new baseball fans would gravitate toward the New York Yankees in baseball, if they knew nothing but the fact that the team has 27 World Championships under its belt. But I am not seeking to become a bandwagoner with my football team. I'm not going to lie to you, sometimes I am kind of a fan of underdogs. So I am going to go ahead and knock out the Dallas Cowboys and Pittsburgh Steelers because they have appeared in the Super Bowl the most times.
I also despise Brett Favre, so I am going to pass on the Minnesota Vikings because he is now on that team. This means I will also cross off the Green Bay Packers because he played most of his time with them, and at the time he was their golden boy. Someone needs to put that guy out of his misery, anyway.
Aside from hating bandwagoners and Brett Favre, I am also not quite a fan of complete losers. I don't want my heart broken every week my future team plays. So I will say goodbye to the Buffalo Bills, who have never won a Super Bowl despite making it four times. The Cincinnati Bengals are also out for similar reasons, but I also loathe Chad Ochocinco just for being a media whore and a general idiot for changing his name. Teams that have never made it to the Super Bowl are likely not about to be my new boyfriend, so that leaves out the Cleveland Browns, Jacksonville Jaguars and the Houston Texans.
At a glance the San Diego Chargers seem pretty appealing. They are still in my beloved California, so I would be able to show my Californian pride if I chose them. They have also never quite won a Super Bowl despite making it once. But I think I want to keep searching a little longer.
I kind of like the idea of the New England Patriots. They generally have the right amount of winning and losing for me to not be considered a bandwagoner at this point. But I'm not sure that I want to choose them just yet, so let's keep the Pats on the table.
My final consideration is the New Orleans Saints. I not only like that the state of Louisiana overcame such a tragedy and its football team came back up in 2009 to win the Super Bowl and gave the people something to believe in again, but I also like the numbers the team is posting this season. I could definitely see myself sporting the logo as well.
So who do I choose? Do I pick the three-time Super Bowl champion New England Patriots, or the underdog one-time Super Bowl champion New Orleans Saints. Drew Brees or Tom Brady? Black and Gold or Red and Blue?
Drum roll, please.
I'm ready for the Saints to come marching into my life.
Cassie Kolias can be reached at ck[email protected]