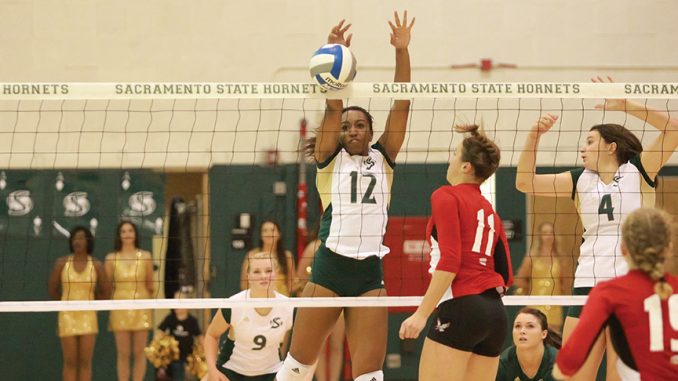 Sacramento State women's volleyball is currently in the midst of a four-game homestand, but the team is also battling for a spot in the Big Sky Tournament as well.
The Hornets (13-11, 7-3 Big Sky) have completed 80 percent of its regular season schedule and stand in second place, behind Northern Arizona (19-4, 9-1 Big Sky), in the Big Sky South division with six games remaining. Sac State, which is tied with Idaho State (12-11, 7-3 overall), must finish at least third in the south division in order to qualify for the postseason.
"(We must) continue to play better, I feel like we could do everything a lot better," said Ruben Volta, Sac State head coach. "Especially serving and passing here at home and just continue to play hard."
To get to this point, the Hornets had to endure a five-game road trip from Oct.1-15 in which the team went 2-3 against conference opponents Portland State (win), North Dakota (loss), Northern Colorado (win), Southern Utah (loss) and Northern Arizona (loss). Despite the 2-3 record, Volta said he was impressed by the ladies' performance in hostile territory.
"It's gone really well, we've played some really good volleyball time," Volta said. "It was a long, tough road trip for us, we won quite a few games on the road so I've been really happy."
The previous month of September proved to be just as tough as the Hornets went 6-8 during the stretch of nonconference games.
One of the main bright spots for Sac State has been senior setter Kennedy Kurtz, who won Big Sky Offensive Player of the Week honors on Sept. 26. But Kurtz didn't stop there as she now leads the Big Sky in assists with a total of 993 assists and is ranked second in the NCAA in assists.

"I mean, my hitters make me look good so I'd like to just shout out my hitters because I wouldn't have those assists without them," Kurtz said.
Another boost for the Hornets came in the form of junior outside hitter Shannon Boyle who was sidelined late last season with a herniated disk and disk bulge in her back. But the issues seem to be a thing of the past for Boyle, as she helped lead the team to a perfect 3-0 to start the season in August and currently ranks fourth in the Big Sky Conference with 302 kills.
With five of the last six games of the season being held at the Hornets Nest, Boyle and company will concentrate on catching up to Northern Arizona in the Big Sky South standings as the NAU Lumberjacks come to town today at 7 p.m.
"I think we all feel really good because we're all playing at home basically the rest of the season minus one game, so if we can keep the momentum at home that we started off (with earlier) in the season I think we'll be really good," Boyle said.

The following two tabs change content below.


Latest posts by Ryan Lewis (see all)