September 23, 2012
Although Sacramento State's Women's soccer team was hoping for a win, it was not enough to defeat Northern Colorado on its home field, losing 0-2. "We were playing hard, we were playing with a lot of heart, but our brains just seemed like we were turned off and our shape was bad," said Sac S...
September 23, 2012
The Sacramento State men's soccer team defeated the University of Las Vegas 3-2 in overtime today at Hornet Field. The Hornets (3-4-1) snapped a three game losing streak as they won their final non-conference game of the season. The Rebels (2-7-1) lost their second game in a row. With 22 minutes into the first ...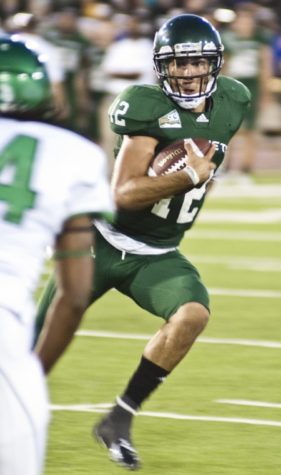 State Hornet Staff

September 22, 2012
Turnovers stopped Sacramento State from any type of celebrating during its 2012 conference opener.Hornets' quarterback Garrett Safron threw two interceptions and fumbled inside the 20-yard line, leading Sac State to a loss against the University of North Dakota, 35-13.North Dakota stepped away from...
September 21, 2012
Winds made it a tough win today for Sacramento State women's soccer team in its game against North Dakota, ending 1-0. Sac State head coach Randy Dedini said his team played against the wind the entire first half, which gave North Dakota nine chances to capitalize on corner kicks, but never finish...