World-class athlete speaks on post traumatic growth
The importance of normalizing mental health on a college campus
Sacramento State hosted the Science and Practice of Post-traumatic Growth conference Saturday, April 29, 2023, at the Harper Alumni Center. Organized by the Department of Health and Human Services, the conference informed attendees about ways to manage their mental health, learn to acknowledge their strengths and grow past their traumas. 
Keynote speaker, Charles Clark, is an athlete, motivational speaker and creator of the Thrive Planner, a planner tailored to help each client's specific need to reach their personal goals. Clark was once known as one of the fastest men in the world and is currently a three-time NCAA National Champion and USA Track and Field Champion silver medalist.
"Champions aren't made on gameday; it takes a daily commitment," Clark said. "My goal today was to get rid of the stigmas surrounding mental health, make it easier for people to create change that's needed to work on difficult things and make progress."
Touching on the recent draft selection of Sac State's very own Marte Mapu, Clark said that at every level of success, there are different levels of commitment involved.
"I think athletes just adapt, but there's constant pressure because now this is their livelihood at that point," Clark said.
Topics brought up by the audience ranged from post traumatic growth, biochemistry, molecular medicine, and behavioral neuroscience, all the way to psychophysiology.
"You can't be mentally tough if you're not mentally healthy," Clark said.
Story continues below photo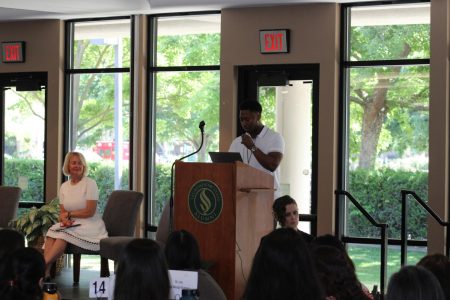 Among the 180 students, there were also work professionals, volunteers, seven guest speakers and three panelists. Sac State Professor Dr. Joyce Mikal-Flynn said that a main takeaway was recognizing personal and community strength and growth in the aftermath of trauma.
"Do you incorporate growth principles and practices in your own life?" Mikal-Flynn said. "If so, how do you promote your resilience? How do you promote your growth mindset?" 
The speakers and panelists incorporated audience interaction during their conference, taking questions from students like third-year social work major Amber Phu. Phu said she left the conference with a better feeling of self-importance. 
"There is absolutely no one that will help you, yourself, like yourself can help you," Phu said. "I was raised on tough love, so hearing that was a great affirmative reminder that it's never a 'why me?' It's 'Why not me?' Because I am the one, I can do it."
Survival stories told by panelists seemed to resonate with students in attendance. Fourth-year health and science major Roshni Hayer said panelists like T.J. Shushereba changed her outlook on life.
"No dream is too big," Hayer said. "Anything that you set your mind to you can accomplish. Many students have an A plan, but often settle for that B plan because they feel that they can't achieve it."